Benjamin Netanyahu indicted for bribery and fraud
Charges come at a fraught time for the country's politics - and it is hard to see a way out for the prime minister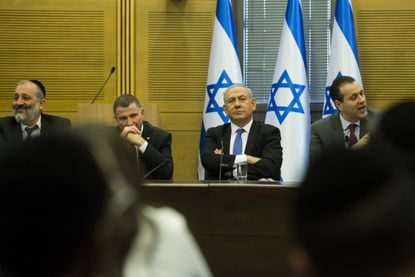 (Image credit: Getty Images)
Prime Minister Benjamin Netanyahu was formally indicted yesterday for bribery, fraud, and breach of trust, making him the first Israeli prime minister to be charged with a crime while in office.
In bringing the formal charges, Israel's Attorney General Avichai Mandelblit concluded almost three years of investigations in three separate cases.
The news had been expected, but is particularly ill-timed for Netanyahu. Isreali politics is in a desperate situation, after two elections in eight months have failed to provide the country with a viable government. The prime minister was already fighting for his political future, now that has been made significantly harder, and if prosecutors get their way, he could end up behind bars.
Subscribe to The Week
Escape your echo chamber. Get the facts behind the news, plus analysis from multiple perspectives.
SUBSCRIBE & SAVE
Sign up for The Week's Free Newsletters
From our morning news briefing to a weekly Good News Newsletter, get the best of The Week delivered directly to your inbox.
From our morning news briefing to a weekly Good News Newsletter, get the best of The Week delivered directly to your inbox.
The charges against Netanyahu
The cases against Netanyahu are known as cases 1000, 2000, and 4000, and they all centre around trading official favours. Police allege that Netanyahu formed deals with two major Israeli media companies, whereby they would provide favorable media coverage to him and criticise his opponents, and in return the prime minister would interceded with regulators and lawmakers to provide benefits to them and cripple their rivals.
They also allege "that the prime minister and his wife, Sara, accepted more than $260,000 worth of luxury goods in exchange for political favours," says The Washington Post.
"Bribery charges carry a sentence of up to 10 years in jail and/or a fine," reports Reuters. "Fraud and breach of trust carry a prison sentence of up to three years."
"Netanyahu has called the investigation a 'witch hunt,' and his allies have called it the product of a 'deep state' conspiracy against Mr. Netanyahu," says The New York Times, which points out that the Israeli prime minister's tactics bare "striking parallels to President Trump's characterisations of the investigations against him."
Isreali politics deadlocked
Two elections in the last eight months have failed to provide Israel with a majority government. In April and September, the two largest parties, Netanyahu's Likud, and Benny Gantz's Blue and White, came out of elections almost neck and neck, both far short of a majority.
In the weeks that followed, uncommon levels of political polarisation, plus a host of intractable issues, meant both Netanyahu and Gantz failed to form coalitions.
Hours before the indictment was announced yesterday, Israel's president, Reuven Rivlin, took the unprecedented step of mandating the Knesset - the country's parliament - to try to choose a majority-wielding leader for themselves.
Any member of parliament (MK) can in theory now become prime minister if they can patch together the 61 votes needed to command a government. They have 21 days to try, but if they cannot, as is likely, Israel faces the grim prospect of yet another election, a situation Rivlin implored them to avoid.
"When the last two Knesset terms began, I asked you to set aside your election swords and clean away the dirt," Rivlin told MKs. "I told you that political considerations must no longer be what solely guides you… The disruptive politics must end… Your political fate is not more important than the fate of an old lady in a hospital."
It was Gantz's announcement on Wednesday that he had failed to form a coalition that prompted Rivlin to turn to the Knesset.
–––––––––––––––––––––––––––––––For more political analysis - and a concise, refreshing and balanced take on the week's news agenda - try The Week magazine. Start your trial subscription now–––––––––––––––––––––––––––––––
Is there a way out for Netanyahu?
Netanyahu always planned to use his position as prime minister to combat the charges against him. In April, he attempted to pass a law that would have made all members of the Knesset free from prosecution. It was abandoned after being decried as self-serving and authoritarian.
That is only one example of the many ways he has already attempted to protect himself from the criminal charges, and each of them would have been more likely to succeed had he commanded a majority government.
Problematically for Netanyahu, however, the very fact of the indictments hanging over him is part of the reason he failed to form a government in the first place.
"The two issues are deeply intertwined," explains Israeli newspaper Haaretz. "One of the main roadblocks to the formation of a governing coalition was the refusal of Netanyahu's potential partners in a unity government to serve as ministers in a government led by a prime minister under criminal indictment."
Now, with the indictments no longer theoretical but real, the question becomes whether this could become an election-swinging issue. This is potentially the biggest danger currently facing Netanyahu, as the most probable outcome at this point is that there will be another national poll in the near future. Polls say he might now lose, which would mean he would face trial without the protection of his office.
"We've seen consistently that a big majority of the public, about two-thirds, do not think a prime minister can serve and at the same time try to clear his name in court," said Yohanan Plesner, president of the Israel Democracy Institute.
The indictment weakens Netanyahu at a time when he is already fighting the toughest battle of his political career, and on top of everything else he now faces increased pressure from inside his own party.
"If we go to new elections, it will not be reasonable to think that the prime minister will be successful in forming a government after the third elections," said Likud MK Gideon Sa'ar, a long-standing internal rival to Netanyahu, at the Jerusalem Post's diplomatic conference in Jerusalem. "I think I will be able to form a government, and I think I will be able to unite the country and the nation."

Continue reading for free
We hope you're enjoying The Week's refreshingly open-minded journalism.
Subscribed to The Week? Register your account with the same email as your subscription.