Dominic Cummings: five unanswered questions about the Durham lockdown breach
PM's top adviser says he has not offered his resignation and has no regrets over breaking the rules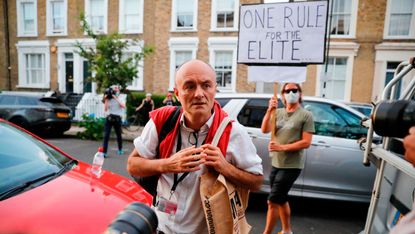 (Image credit: Peter Summers/Getty Images)
The prime minister's top adviser has said he has no regrets about his two breaches of Britain's coronavirus lockdown laws, despite lingering questions about how he behaved.
Dominic Cummings told a Downing Street press conference yesterday that he had acted "responsibly and legally", adding that he did not "regret what I did" even if "reasonable people might disagree".
Some senior Conservative MPs remain "aghast" at Boris Johnson's decision to sacrifice significant political capital to protect the unelected bureaucrat, says the BBC's political editor Laura Kuenssberg.
Subscribe to The Week
Escape your echo chamber. Get the facts behind the news, plus analysis from multiple perspectives.
SUBSCRIBE & SAVE
Sign up for The Week's Free Newsletters
From our morning news briefing to a weekly Good News Newsletter, get the best of The Week delivered directly to your inbox.
From our morning news briefing to a weekly Good News Newsletter, get the best of The Week delivered directly to your inbox.
And many MPs, journalists and members of the public still have questions the would like answered.
Why could Cummings not stay in London?
The prime minister's adviser claimed that he left London because there was no one he could "reasonably" ask to take care of his four-year-old son if he and his wife became ill at the same time.
Cummings referred to that possibility as "exceptional". But with more than 260,000 confirmed cases of the virus in the UK, ill parents needing childcare solutions during the pandemic has been fairly commonplace.
"Given the sacrifices made by others, critics have queried why Mr Cummings, as someone involved in setting the lockdown rules, could not call on any friends or family in London to assist them in adhering to the restrictions," says ITV News.
Ultimately, Cummings "made no reference to his son being looked after by family members", says the broadcaster. The only reason to travel with coronavirus - which Cummings and his wife believe they had - was if there was an extreme risk to life, something Cummings did not say he believed to be the case.
Why did he not tell Boris Johnson before he left?
Cummings claims that he did not tell the prime minister about his trip to Durham, admitting that "arguably this was a mistake".
"I did not ask the prime minister about this decision. He was ill himself and he had huge problems to deal with," Cummings said.
"The prime minister's time is just about the most valuable commodity that exists in the government. The honest truth about my job is that there are endless problems all day long, and I can't go to him all day, asking him 'what do you think about that', 'what do you think about the other', otherwise what's the point of having people like me around?"
Cummings said he told the prime minister of his trip a week after arriving in Durham, when they both had coronavirus. He added that neither of them remember the conversation because they were both in "bad shape", says The Telegraph.
Why did he drive to Barnard Castle?
While staying in Durham, Cummings drove 30 miles to Barnard Castle, a regional beauty spot, and got out of the car to sit by the river. He was joined by his wife and son.
It was not until weeks later that the law changed to allow travel for exercise and outdoor pursuits. However, Cummings claims that he took the trip to make sure he was fit to drive back to London, using the journey to test his eyesight.
"We were all going to go back," he said. "My wife said we should drive down the road and you should see if you can actually drive, and see if your vision is weird or if you're okay. She didn't want to risk a nearly 300-mile drive with our child."
But, "if Cummings had concerns over whether his eyesight was good enough to drive to London, why was he confident enough to drive 30 miles to Barnard Castle, with his wife and son in the vehicle?" asks The Guardian.
Last night, Johnson insisted it was "very, very plausible" that Cummings went to Barnard Castle because of problems with his eyesight. The prime minister added: "I'm finding that I have to wear spectacles for the first time in years, because, I think, of the likely effects of this thing."
Johnson told a Daily Mail interviewer in 2014: "I'm now so short-sighted, I'm blind! My eyes used to be fantastic but now..."
The weekend that Cummings and family drove to Barnard Castle, a new government campaign was launched to remind people "that even at a time when people might wish to spend time together, the rules still applied", says The Guardian.
–––––––––––––––––––––––––––––––For a round-up of the most important stories from around the world - and a concise, refreshing and balanced take on the week's news agenda - try The Week magazine. Start your trial subscription today –––––––––––––––––––––––––––––––
Where did he stop on his journey to and from Durham?
Cummings said that he made the 260-mile trip to Durham without stopping, adding that he only stopped for petrol on the journey back to London.
This would mean he drove 260 miles to Durham, completed a 60-mile round trip to Barnard Castle, then drove 260 miles back to London - a total of 580 miles - and only stopped for petrol once.
Cummings did, however, admit to feeling sick on his trip to Barnard Castle, the day before the drove to London - saying that he stopped on the way.
Did he leave the house when he had coronavirus?
Cummings admitted at the press conference that in addition to the Barnard Castle visit, he took a walk in the second week of his stay in Durham "after I started to recover" from coronavirus symptoms - not when he had fully recovered.
On 9 April, according to the government guidelines, outdoor exercise was not permitted for people with coronavirus symptoms. Cummings had also not been in self-isolation for a full 14 days at this point.
Cummings said that the walk all took place on his father's land and that he was not at risk of bumping into anyone else.

Continue reading for free
We hope you're enjoying The Week's refreshingly open-minded journalism.
Subscribed to The Week? Register your account with the same email as your subscription.