10 things you need to know today: November 18, 2016
Obama calls on Trump to get tough with Russia, Trump offers Michael Flynn and Jeff Sessions top positions, and more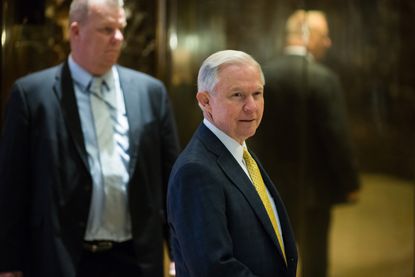 (Image credit: Kevin Hagen/Getty Images)
1. Trump offers Michael Flynn, Jeff Sessions top positions
Donald Trump has reportedly asked retired Lt. Gen. Michael Flynn to be his national security adviser, and Alabama Sen. Jeff Sessions to be his attorney general. Flynn is retired from the U.S. Army and resigned as head of the Defense Intelligence Agency (DIA) in 2014, forced out over his leadership style and, he said, his hardline views on Islamist extremism. Sessions, for his part, has long been tough on free trade and immigration, and has historically opposed prison sentencing reform, legalizing marijuana, same-sex marriage, and curbing the war on drugs.
2. Trump to discuss possible Cabinet post with Romney
President-elect Donald Trump plans to meet with Mitt Romney to discuss a possible Cabinet post for the former Massachusetts governor. Romney, the Republican Party's 2012 presidential nominee, criticized Trump harshly during this year's campaign, calling the billionaire businessman a "phony" who was "playing the American people for suckers." Trump now is considering nominating Romney as secretary of state. Trump met Thursday with South Carolina Gov. Nikki Haley, who also reportedly is being considered for the job. Former New York City mayor Rudy Giuliani, a senior Trump adviser, also is believed to be in the running.
Subscribe to The Week
Escape your echo chamber. Get the facts behind the news, plus analysis from multiple perspectives.
SUBSCRIBE & SAVE
Sign up for The Week's Free Newsletters
From our morning news briefing to a weekly Good News Newsletter, get the best of The Week delivered directly to your inbox.
From our morning news briefing to a weekly Good News Newsletter, get the best of The Week delivered directly to your inbox.
3. Obama urges Trump to get tough on Russia
President Obama joined leaders from Germany, Britain, France, Italy, and Spain on Friday to discuss security and economic concerns the U.S. shares with its trans-Atlantic partners. The meeting, held in Germany in what is likely Obama's last such gathering as president, came a day after Obama made his strongest public comments yet since last week's U.S. election, saying that President-elect Donald Trump must take the job seriously and "stand up to Russia" when necessary. "If you're not serious about the job, then you probably won't be there very long," Obama said. German Chancellor Angela Merkel, a close ally of Obama's, said she was approaching the incoming Trump administration "with an open mind."
4. Trump holds first meeting with foreign leader, Japan's Shinzo Abe
President-elect Donald Trump met with Japanese Prime Minister Shinzo Abe in New York on Thursday, his first face-to-face talk with another world leader since winning last week's election. During the campaign, Trump said U.S. allies in Europe and Asia should pay more for the umbrella of protection provided by the U.S., such as American troops stationed in Japan. Abe said after the meeting that he had "great confidence" in Trump and believed they could build a relationship of trust. Trump has received 32 congratulatory phone calls from foreign leaders in the nine days since the election, all arranged directly through his staff rather than through the State Department in accordance with diplomatic tradition.
5. Clapper resigns from intelligence post as Trump builds security team
Director of National Intelligence James Clapper said Thursday that he had submitted his resignation letter. Clapper had said previously that he was "counting the days" until he could step down at the end of President Obama's final term, and he told members of the House Select Committee on Intelligence it "felt pretty good" to be able to do it. Clapper is stepping aside as President-elect Donald Trump builds his own national security team.
6. Yellen says rate hike could come 'relatively soon'
Federal Reserve Chair Janet Yellen said Thursday that an interest rate hike "could well become appropriate relatively soon" if incoming economic data reinforces recent evidence that employment is gaining strength and inflation is edging up to the Fed's 2 percent target rate. Yellen, in remarks to Congress' Joint Economic Committee, reiterated Fed indications that any rate increases would be "gradual." Yellen did not allude to expectations that President-elect Donald Trump plans to cut taxes and boost spending on infrastructure projects, which investors expect to speed up inflation and economic growth.
7. Trump takes credit for keeping a Ford vehicle's production in U.S.
President-elect Donald Trump claimed credit Thursday for keeping a Ford plant in Kentucky. "No Mexico," Trump tweeted. Ford, however, had not been planning to move the plant; it was going to move production of its low-selling Lincoln MKC utility vehicle and keep the same number of jobs as it increased production of the Ford Escape, which is also produced at the plant. The company said it had told Trump of its decision to cancel the production shift, and that it was "encouraged that President-elect Trump and the new Congress will pursue policies that will improve U.S. competitiveness and make it possible to keep production of this vehicle here in the United States."
8. Tesla and SolarCity shareholders approve merger plan
Tesla Motors shareholders on Thursday overwhelmingly approved the electric car maker's proposed acquisition of SolarCity, a solar-panel maker. SolarCity shareholders also strongly backed the deal, which is valued at $2 billion. Billionaire entrepreneur Elon Musk is the chairman and largest stockholder of both companies, and he hopes the merger will create a one-stop source for green technology for their cars and homes. "I think your faith will be rewarded," Musk told Tesla shareholders, promising them that "some really amazing stuff will be coming out."
9. U.S. snow cover at historic low
The Lower 48 state are experiencing record low snow cover so far this year, the National Oceanic and Atmospheric Administration reported this week. "How unusual is this?" NOAA writes. "National snow analyses have been compiled by NOAA's National Operational Hydrologic Remote Sensing Center since 2003 and, during that time, never have the first two weeks of November shown such small amounts of snow." Only 0.2 percent of the country is covered in snow, most of it in the high Sierra Nevada, Rocky, and Cascade mountains. 2016 is on track to be the hottest year on record, although a snowstorm developing in the Rockies is expected to sweep the High Plains and Minnesota later this week.
10. Cubs' Bryant and Angels' Trout win MVP awards
Chicago Cubs slugger Kris Bryant and Los Angeles Angels center fielder Mike Trout won Major League Baseball's most valuable player awards on Thursday. Bryant, the National League MVP, hit .292 with 39 home runs, and hit homers in Game 5 and Game 6 of the World Series to help the Cubs win their first championship since 1908. Trout, the American League MVP, was the first player from a losing team to win the award since Alex Rodriguez in 2003. Trout — who also won in 2014 and placed second in 2012, 2013, and 2015 — hit .315 with 29 homers and led the majors in runs (123) and on-base percentage (.441).
The Associated Press The New York Times

Continue reading for free
We hope you're enjoying The Week's refreshingly open-minded journalism.
Subscribed to The Week? Register your account with the same email as your subscription.