10 things you need to know today: February 21, 2017
Trump names new national security adviser, protesters hold "Not My Presidents Day" rallies, and more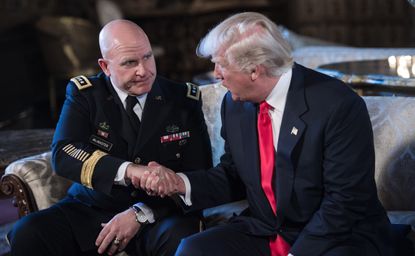 (Image credit: NICHOLAS KAMM/AFP/Getty Images)
1. Trump picks Army strategist H.R. McMaster as national security adviser
President Trump on Monday announced that he had picked Army Lt. Gen. H.R. McMaster, a respected military strategist, as his new national security adviser. McMaster replaces Michael Flynn, who was ousted last week for withholding information on his communication with Russia's ambassador from Vice President Mike Pence. In an appearance at his Mar-a-Lago club in Palm Beach, Florida, Trump introduced McMaster as "a man of tremendous talent and tremendous experience" who is "highly respected by everyone in the military." Trump's first choice to replace Flynn, retired Navy Vice Adm. Robert Harward, turned down the job.
2. Trump opponents hold 'Not My Presidents Day' rallies
Protesters held "Not My Presidents Day" rallies in cities across the country on Monday, using the federal holiday honoring past presidents to criticize President Trump's policies on issues such as immigration and the environment. "While we acknowledge that Donald Trump holds the current title, the policies he's trying to put in place are not the beliefs shared by the majority of the people," said Nova Calise, a TV production manager and an organizer of a New York event. Events in Atlanta, New York, Chicago, Los Angeles, and other cities drew crowds ranging from hundreds to thousands of people.
Subscribe to The Week
Escape your echo chamber. Get the facts behind the news, plus analysis from multiple perspectives.
SUBSCRIBE & SAVE
Sign up for The Week's Free Newsletters
From our morning news briefing to a weekly Good News Newsletter, get the best of The Week delivered directly to your inbox.
From our morning news briefing to a weekly Good News Newsletter, get the best of The Week delivered directly to your inbox.
3. Russia's United Nations ambassador dies suddenly
Russia's United Nations ambassador, Vitaly Churkin, died while working at his desk in New York, the Russian Foreign Ministry said on Monday. He was 64. The tough-talking envoy clashed with the U.S. on numerous issues, including the conflicts in Syria and Ukraine. A career diplomat, he also had served as his country's ambassador to Canada and Belgium, and its liaison to the North Atlantic Treaty Organization. During his tenure at the U.N., Churkin frequently sparred with Obama administration ambassador Samantha Power, saying she was pretending to be "Mother Theresa" when she accused Russia of complicity in the "massacring" of civilians in Syria by pro-government forces.
4. Israeli soldier sentenced to 18 months for killing immobilized Palestinian attacker
An Israeli soldier, Sgt. Elor Azaria, received an 18-month prison sentence on Tuesday for killing a wounded Palestinian knife-attack suspect in a case that has divided Israel. A military court last month found Azaria guilty of manslaughter, which carries a maximum sentence of 20 years. Prosecutors had sought a three- to five-year sentence, but Palestinians wanted Azaria sentenced to life. Azaria, who was 19 at the time of the killing, was charged after video emerged showing him fatally shooting Abdel Fattah al-Sharif, 21, in the head as he was sprawled on the ground, injured and subdued after he and another man allegedly stabbed a soldier.
5. Milo Yiannopoulos loses book deal and CPAC speaking slot
Controversial Breitbart News editor Milo Yiannopoulos on Monday lost a speaking slot at the Conservative Political Action Conference and a $250,000 Simon & Schuster book deal after a pair of videos surfaced in which he made controversial statements about pedophilia. In one of the clips, he appears to speak sympathetically about pedophilia, and in the other he jokes about having a sexual encounter with a Catholic priest as a child. Yiannopoulos said on Facebook that he regrets how his comments were interpreted, and is "horrified by pedophilia." "I am a gay man, and a child abuse victim," he wrote. "My own experiences as a victim led me to believe I could say anything I wanted to on this subject, no matter how outrageous."
6. Iraqi forces drive ISIS from village overlooking Mosul airport
Iraqi government forces continued their push toward western Mosul on Monday, driving Islamic State fighters out of a key village overlooking the area's airport, less than 48 hours after the launch of an offensive to retake the city. Mosul is Iraq's second largest city, and the last major urban center held by ISIS. Pro-government forces already have regained control of the city's eastern side, but ISIS fighters remain dug in on the western side, where neighborhoods full of narrow, winding streets offer them protection. ISIS last month destroyed the five major bridges connecting the city across the Tigris River.
7. Wisconsin Jewish community center evacuated as wave of threats continues
A wave of threats against Jewish community centers (JCCs) across the U.S. continued on Monday. The Harry & Rose Samson Family Jewish Community Center in Whitefish Bay, Wisconsin, was evacuated briefly for the second time in three weeks after somebody phoned in a bomb threat. The latest scare came on a day when at least 10 Jewish facilities across the U.S. received threats. Threats have been recorded against 54 JCCs in 27 states and one Canadian province since early January, according to the JCCA, an association of JCCs. Also on Monday, police in St. Louis said that over the weekend, vandals damaged dozens of headstones at a Jewish cemetery in the city's University City neighborhood.
Journal Sentinel The Washington Post
8. Protesters urge British Parliament to oppose Trump state visit
Thousands of protesters rallied outside British Parliament on Monday calling for lawmakers to oppose a planned state visit by President Trump. Inside, members of Parliament were debating whether to sign off on a meeting between Trump and Queen Elizabeth II. Prime Minister Theresa May invited Trump on her recent visit to Washington. The invitation came shortly before Trump signed his travel ban, which critics in the U.K. called discriminatory. Opposition Labor Party member of Parliament Paul Flynn said Trump had acted "like a petulant child," and honoring him with a state visit would be inappropriate, especially since no U.S. president has received such an honor in his first year in office. The debate is largely symbolic, as Parliament does not have the power to cancel the visit and the government has defended it as an appropriate way to reaffirm the "special relationship" between the U.K. and the U.S.
9. Norway joins international abortion fund to offset Trump cuts
Norway's prime minister, Erna Solberg, announced Monday that the country is "increasing its support for family planning and safe abortion," joining an international effort to raise money to offset President Trump's ban on U.S. funding for international groups that offer information on abortion. Solberg said Norway was pledging $10 million to the initiative in 2017. The Netherlands started the global fund in January, saying Trump's gag rule would create a funding shortfall of $600 million over four years. Sweden, Denmark, Belgium, Luxembourg, Finland, Canada, and Cape Verde also have signed on. "At a time when this agenda has come under pressure, a joint effort is particularly important," Solberg said.
10. 4 U.S. tourists, Australian pilot die in Australian plane crash
Four U.S. tourists and an Australian pilot were killed Tuesday when their twin-engine plane crashed shortly after takeoff in Melbourne, Australia. Relatives, via social media, identified two of the Americans as Greg Reynolds De Haven, 70, and Russell Munsch. De Haven's sister Denelle Wicht said on Facebook that her brother was "on a once in a lifetime trip to Australia" with friends. The pilot reported a catastrophic engine failure and the plane, a Beechcraft Super King Air, crashed into an outlet mall adjacent to the airport, erupting in a fireball. No one on the ground was hurt. The crash occurred 45 minutes before the mall was to open.

Continue reading for free
We hope you're enjoying The Week's refreshingly open-minded journalism.
Subscribed to The Week? Register your account with the same email as your subscription.