10 things you need to know today: October 25, 2017
Two Republican senators step up criticism of President Trump, Clinton campaign helped pay for Russia dossier research, and more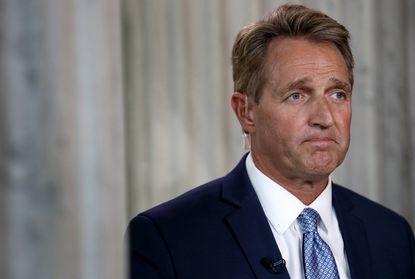 (Image credit: Getty Images)
1. Two GOP senators escalate criticism of Trump
Two Republican senators harshly criticized President Trump on Tuesday. Sen. Jeff Flake (R-Ariz.), a frequent critic of President Trump, announced that he would not seek re-election in 2018, saying he refused to remain "complicit or silent" in the face of Trump's "reckless, outrageous, and undignified behavior." Sen. Bob Corker (R-Tenn.), who has already announced his retirement, said Trump was a liar whose legacy would be "the debasement of our nation." Trump dismissed Corker as a "lightweight" who couldn't get re-elected as a "dog catcher." White House Press Secretary Sarah Huckabee Sanders said Flake was so unpopular — he trailed the likely Democratic nominee, Rep. Kyrsten Sinema, and potential primary challengers in recent polls — that his decision not to run again was "probably a good move."
2. Clinton, DNC lawyer helped fund Trump-Russia dossier research
Hillary Clinton's campaign and the Democratic National Committee helped fund the opposition research that produced a controversial dossier on President Trump's alleged ties to Russia, The Associated Press and The Washington Post reported Tuesday, citing people familiar with the matter. The research firm Fusion GPS started compiling the dossier for a Republican client during the primaries, and in March 2016 it contacted Perkins Coie, a law firm representing Clinton's campaign and the DNC, about picking up the financing. Fusion GPS hired former British intelligence officer Christopher Steele, who reported that Russia was trying to help Trump win and had compiled potentially damaging dirt on him. Trump has called the dossier "phony stuff," and claimed it was just part of a political smear campaign.
Subscribe to The Week
Escape your echo chamber. Get the facts behind the news, plus analysis from multiple perspectives.
SUBSCRIBE & SAVE
Sign up for The Week's Free Newsletters
From our morning news briefing to a weekly Good News Newsletter, get the best of The Week delivered directly to your inbox.
From our morning news briefing to a weekly Good News Newsletter, get the best of The Week delivered directly to your inbox.
The Associated Press The Washington Post
3. Trump lifts refugee ban, imposes tougher screening
President Trump signed an executive order on Tuesday lifting a suspension on admitting refugees to the U.S., imposing tighter screening for high-risk applicants. Administration officials said people from 11 unidentified countries would face another 90-day review to weed out potential security threats. Trump temporarily halted the refugee program shortly after taking office in January, when he imposed his temporary travel ban as part of an effort to step up efforts to prevent terrorists from getting into the U.S. He has aggressively scaled back the refugee program by capping the number of people fleeing persecution who can enter the U.S. at 45,000 per year, the lowest number in more than three decades.
4. Senate blocks rule letting consumers sue their banks
The Senate late Tuesday voted to block new regulations that would let consumers sue their banks, with Vice President Pence casting a vote to break a 50-50 tie. House Republicans have already approved scrapping the rule, so now the legislation just needs President Trump's approval. The change will give big banks their most significant victory since Trump took office promising to undo regulations he said were strangling the economy. Experts estimated the lawsuits the rule would have allowed could have cost big financial institutions billions of dollars. The vote marks a setback for the Consumer Financial Protection Bureau, which wrote the rule to let customers take banks to court rather than going through mandatory arbitration, as required in most credit card and bank account agreements.
5. Appeals court rules U.S. must let undocumented teen get abortion
A federal appeals court Tuesday overturned a lower court ruling that had blocked a pregnant undocumented teenage immigrant from getting an abortion. The Trump administration has blocked the 17-year-old teen, known only as Jane Doe, from leaving a government-contracted facility to have the procedure. She came to the U.S. as an unaccompanied minor, and a few weeks ago she received a state judicial order allowing her to terminate her pregnancy without parental consent. The Trump administration argued in court that it had not "put any obstacle in her path," but was "refusing to facilitate an abortion."
6. Chinese President Xi Jinping gets second five-year term
China's Communist Party officially granted President Xi Jinping a second five-year term on Wednesday as it unveiled its new slate of members on the Politburo Standing Committee to the media. The announcement of Xi and the six other leaders, all men, broke with recent precedent by not including someone in the lineup as a potential heir to Xi. The move fueled speculation that Xi was being set up to stay in power beyond 2022. "Xi Jinping Thought on Socialism with Chinese Characteristics in a New Era" was inserted into the party's constitution as a guiding principle during a party meeting held once every five years, elevating Xi to a status shared only by the historical figures Mao Zedong and Deng Xiaoping.
7. Puerto Rico effort to restore power faces setbacks
Five weeks after Hurricane Maria crippled Puerto Rico, islanders are actually losing power, rather than gaining it back. Just 18 percent of Puerto Ricans currently have electricity, down 3.2 percent from earlier this month, BBC's James Cook reports. "It's like going back in time," Kevin Jose Sanchez Gonzalez, 25, said of living without electricity. An estimated 73 percent of Puerto Ricans now have drinkable water and 79 percent of gas stations are open. On Monday, The Washington Post reported that the Puerto Rico Electric Power Authority (PREPA) signed a contract worth up to $300 million with Whitefish Energy to work on the island's ravaged electrical infrastructure. When Maria hit, two-year-old Whitefish — based in Interior Secretary Ryan Zinke's hometown — had just two employees.
8. FBI documents say evidence suggests Sandy Hook killer had sexual interest in children
The FBI released documents Tuesday saying there was evidence the Newtown school shooter, Adam Lanza, had a sexual interest in children. The more than 1,500 pages of documents on the December 2012 shooting, which left 20 first-graders and six educators at Sandy Hook Elementary School dead, included statements from an unidentified woman, who said she had an "online relationship" with Lanza. She told the FBI that Lanza had said adult-child sexual relationships could be "possibly beneficial to both parties," although he acknowledged they could be "unhealthy." The records also included a document from the FBI's behavioral analysis unit that said, "The shooter did not 'snap,' but instead engaged in careful, methodical planning and preparation."
9. Dodgers beat Astros in Game 1 of World Series
The Los Angeles Dodgers beat the Houston Astros 3-1 on Tuesday night to take a 1-0 lead in the World Series. Los Angeles, playing before a home crowd at Dodger Stadium during a record-breaking heat wave, got a lift from Clayton Kershaw's dominant pitching. Kershaw struck out 11 Astros in seven innings, the most strikeouts for any pitcher in Game 1 of a World Series in nearly 50 years. Chris Taylor and Justin Turner each had home runs, driving in all of the Dodgers' runs. Game 2 of the World Series will be played Wednesday night at Dodger Stadium.
10. Emmy-winning actor Robert Guillaume dies at 89
Actor Robert Guillaume, best known for playing the acerbic butler Benson DuBois in Soap and Benson and voicing Rafiki in The Lion King, died Tuesday in Los Angeles. He was 89. Guillaume's wife, Donna Brown Guillaume, said he had been battling prostate cancer. Guillaume won two Emmys for his portrayal of Benson, and a Grammy in 1995 for narrating a read-aloud version of The Lion King. He received a Tony nomination in 1977 for his performance as Nathan Detroit in an all-black production of Guys and Dolls, and starred in a Los Angeles production of Phantom of the Opera, the first black man to play the role. While starring in Sports Night in 1999, Guillaume had a minor stroke, which was written into the show.

Continue reading for free
We hope you're enjoying The Week's refreshingly open-minded journalism.
Subscribed to The Week? Register your account with the same email as your subscription.