10 things you need to know today: December 4, 2017
Tensions rise as the U.S. and South Korea start military drills, Congress faces another tough week with a shutdown looming, and more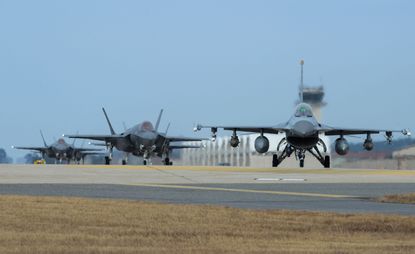 (Image credit: Senior Airman Colby L. Hardin/U.S. Air Force via Getty Images)
1. North Korea threatens response to U.S.-South Korea military exercises
Hundreds of South Korean and U.S. military aircraft, including two dozen stealth jets, started five days of war games on Monday, a week after North Korea test-fired its longest-range intercontinental ballistic missile ever — one that could target the U.S. East Coast. The U.S. Seventh Air Force said the timing was not in response to any provocation by Pyongyang. The training exercises are held each year in the late fall. North Korean state media said the drill pushed the Korean Peninsula "to the brink of nuclear war" and that the U.S. and South Korea would "pay dearly for their provocations." On Saturday, National Security Adviser H.R. McMaster said the risk of war with North Korea is "increasing every day."
2. GOP pushes stopgap funding measure as shutdown threat looms
Congress this week is tasked with negotiating a deal to avoid a shutdown of some federal agencies. Current government funding runs out Friday, though House Republican leaders are proposing a two-week extension through a "continuing resolution" that would keep the government funded until Dec. 22. Democrats are demanding a deal on protecting young undocumented immigrants as part of a budget agreement, but Republicans don't want to include the immigration fix, suggesting a possible deadlock. House Minority Leader Nancy Pelosi (D-Calif.) and Senate Minority Leader Chuck Schumer (D-N.Y.) announced Monday that they agreed to meet with President Trump at the White House on Thursday — one day before funding is set to elapse — to "discuss the year-end agenda."
Subscribe to The Week
Escape your echo chamber. Get the facts behind the news, plus analysis from multiple perspectives.
SUBSCRIBE & SAVE
Sign up for The Week's Free Newsletters
From our morning news briefing to a weekly Good News Newsletter, get the best of The Week delivered directly to your inbox.
From our morning news briefing to a weekly Good News Newsletter, get the best of The Week delivered directly to your inbox.
3. McConnell says Alabama voters should 'make the call' on Moore
Senate Majority Leader Mitch McConnell (R-Ky.) said Sunday that Alabama voters should "make the call" in the state's special Senate election Dec. 12. Last month, McConnell joined numerous other political leaders in saying that he believed several women who have accused former state Supreme Court judge Roy Moore, the GOP candidate, of pursuing sexual relationships with them when they were as young as 14, and he was in his 30s. At the time, McConnell said Moore should "step aside." Moore has bounced back in polls after falling clearly behind Democrat Doug Jones after the scandal erupted. In two new polls released over the weekend, Moore has a slight lead in one and trails narrowly in the other.
4. Trump lawyer says tweet was his 'mistake'
President Trump's personal lawyer said Sunday that he was the one who posted a controversial tweet on Trump's account that sparked accusations that the president had essentially boasted about obstructing justice. The tweet was meant to brush off former National Security Adviser Michael Flynn's guilty plea on a charge of lying to the FBI about his Russia contacts. "I had to fire General Flynn because he lied to the Vice President and the FBI. He has pled guilty to those lies," the tweet said. "It is a shame because his actions during the transition were lawful. There was nothing to hide!" Trump's lawyer, John Dowd, told Axios that the tweet was "my mistake," and was not meant to say Trump knew Flynn had lied to the FBI but said nothing, only that Flynn had no reason to lie. "I'm out of the tweeting business," Dowd said.
5. Venezuela to launch cryptocurrency to sidestep 'blockade'
Venezuelan President Nicolas Maduro said Sunday that his populist, socialist government would launch a cryptocurrency called the "petro" to help it contend with a U.S.-led financial "blockade." The digital currency will be backed by Venezuelan oil reserves and other natural resources to keep the financial sanctions from driving its economy further into chaos. "Venezuela will create a cryptocurrency ... the 'petro,' to advance in issues of monetary sovereignty, to make financial transactions, and overcome the financial blockade," the leftist Maduro said in his weekly Sunday televised broadcast. "The 21st century has arrived!" Opposition leaders questioned whether Maduro's beleaguered administration could pull off the launch, and said it would need congressional approval to even try.
6. CVS to buy Aetna for $69 billion
Pharmacy chain CVS Health Corp. will buy health insurer Aetna for $69 billion, the companies announced Sunday. The merger is one of the largest in the health-care industry in the past decade, creating a company with drug stores, health-plan management services, and insurance. CVS will pay $207 a share for Aetna, a 29 percent premium on Aetna's share price on Oct. 25, before news of the negotiations broke. CVS also will assume Aetna's debt, bringing the value of the deal to $78 billion. The companies expect $750 million in synergies, but the main benefit is that the deal will help them develop a new way of delivering care, creating what the companies' CEOs said would be "10,000 new front doors for the health-care system" at CVS stores and clinics.
The Associated Press Bloomberg
7. Clemson, Oklahoma, Georgia, Alabama get college football playoff berths
Clemson, Oklahoma, Georgia, and Alabama have won spots in the college football playoffs, the selection committee announced Sunday. Clemson, Oklahoma, and Georgia were widely expected to get in. Alabama got the nod over Ohio State in a controversial judgment call. Ohio State lost by 15 to Oklahoma and by 31 to Iowa, while Alabama's only loss was an away game to Auburn. Clemson, the defending national champion, hosts Alabama on New Year's Day in the Sugar Bowl. They played in the last two title games, with Clemson winning last season and Alabama the year before. Oklahoma and Georgia will meet in the Rose Bowl.
Editor's note: This item originally misstated the rankings of the five teams. We regret the error.
Atlanta Journal-Constitution The Associated Press
8. California teen confesses to molesting 50 children over 8 years
A California teenager, 18-year-old Joseph Hayden Boston, turned himself in to police and confessed to molesting more than 50 children across Southern California since he was 10 years old, according to authorities. Boston reportedly called his mother to tell her that he had assaulted two boys, ages 8 and 4, at a Riverside motel, and she took him to a police station, according to Riverside police spokesman Officer Ryan Railsback. Boston was arrested on suspicion of two counts of oral copulation on small children, and was jailed in lieu of $1 million bail.
9. U.S. tourist killed by shark off Costa Rica
A 49-year-old Wall Street financial executive, Rohina Bhandari, was killed by a tiger shark while scuba diving off an island in Costa Rica. Bhandari, 49, was surfacing with a group near Cocos Island, a national park 300 miles from the mainland, when their guide spotted the shark approaching. He tried to scare it away but it attacked, biting Bhandari's legs. The guide went to her aid and was bitten, too. The group got Bhandari to shore, where a group of doctors who had been diving nearby tried to help, then pronounced her dead. Bhandari was a senior director of the private equity firm WL Ross & Co., which was founded by Commerce Secretary Wilbur Ross. The dive guide was hospitalized in stable condition.
10. Met Opera suspends conductor James Levine after sex abuse allegations
New York's Metropolitan Opera on Sunday suspended famed conductor James Levine after three men accused him of sexually abusing them when they were teens. Peter Gelb, the Met's general manager, made the decision after learning of the allegations from The New York Times. While awaiting results from an investigation by an outside law firm, Gelb said, "based on these news reports the Met has made the decision to act now." The allegations date as far back as 1968, when two new accusers, both 17 at the time, say Levine, then 25, pressured them into mutual masturbation. The third accuser, Ashok Pai, filed a police report in Illinois last year alleging years of sexual abuse starting in 1986, when he was 16. Levine, 74, declined to comment.

Continue reading for free
We hope you're enjoying The Week's refreshingly open-minded journalism.
Subscribed to The Week? Register your account with the same email as your subscription.