10 things you need to know today: March 12, 2020
Trump announces 30-day ban on travel to U.S. from Europe, WHO declares coronavirus outbreak a pandemic, and more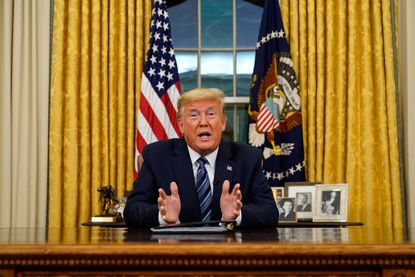 (Image credit: Doug Mills-Pool/Getty Images)
1. Trump suspends travel to U.S. from continental Europe
President Trump on Wednesday announced a 30-day suspension of travel from most of Europe to the United States as part of an effort to limit the spread of the new coronavirus. Trump said in a rare Oval Office address that starting Friday people would be barred from entering the U.S. from Europe, excluding the United Kingdom. He said Europe had not acted quickly enough to contain the "foreign virus," and that clusters of infections in America had been "seeded by travelers from Europe." "We made a life-saving move with early action on China. Now we must take the same action with Europe," Trump said, referring to restrictions on travel from China he imposed in February. Trump also announced "emergency action" to provide financial aid to business owners and individuals hit with losses due to the outbreak.
2. WHO declares coronavirus outbreak to be pandemic
The World Health Organization on Wednesday declared the coronavirus outbreak to be a pandemic and warned that countries around the globe are not acting as aggressively as they should to contain the virus. "We are deeply concerned both by the alarming levels of spread and severity and by the alarming levels of inaction," WHO Director-General Tedros Adhanom Ghebreyesus said. The announcement came as the Trump administration is discouraging all nonessential travel to Europe, raising the region to a Level 3 travel advisory. German Chancellor Angela Merkel warned Wednesday that as much as 70 percent of her country's population could wind up infected.
Subscribe to The Week
Escape your echo chamber. Get the facts behind the news, plus analysis from multiple perspectives.
SUBSCRIBE & SAVE
Sign up for The Week's Free Newsletters
From our morning news briefing to a weekly Good News Newsletter, get the best of The Week delivered directly to your inbox.
From our morning news briefing to a weekly Good News Newsletter, get the best of The Week delivered directly to your inbox.
3. Sanders vows to continue campaign despite setbacks
Sen. Bernie Sanders (I-Vt.) on Wednesday acknowledged that he was "losing the debate over electability" to his rival for the Democratic presidential nomination, former Vice President Joe Biden, after Biden's latest primary victories the day before. Sanders said, however, that it was important for him to continue his campaign because "a strong majority of the American people support our progressive agenda." He said he would participate in a debate with Biden scheduled for Sunday. Sanders, who has called for Medicare-for-all, challenged Biden to spell out how he would address pressing problems including access to health care, income inequality, and climate change. "What are you going to do?" Sanders said as he rattled off the issues.
4. Supreme Court allows Trump's 'Remain in Mexico' policy to continue
The Supreme Court on Wednesday ruled that the Trump administration can continue its "Remain in Mexico" policy requiring people trying to cross the border to seek asylum to wait on the other side of the border while immigration authorities process their cases. The court said the administration could continue enforcing the policy while the justices consider an appeal of lower court rulings that the program was unlawful. Only Justice Sonia Sotomayor argued that the policy should be halted. The policy, formally known as the Migration Protection Protocols, began in January 2019 and over its first 13 months in full operation resulted in the return to Mexico of more than 60,000 migrants. The Justice Department argued "it has been an enormously effective and indispensable tool" in addressing "the migration crisis on our southwest border."
5. Immunologist: Coronavirus is 10 times more lethal than seasonal flu
Dr. Anthony Fauci, director of the National Institute of Allergy and Infectious Diseases, told lawmakers during a House Oversight Committee hearing Wednesday that COVID-19 — the disease caused by the novel coronavirus — is probably about 10 times more lethal than the seasonal flu. President Trump has often compared COVID-19 to the flu, which affects tens of thousands of Americans each year, in an effort to calm people down, but Fauci clearly wasn't trying to downplay the seriousness of the virus' spread. Fauci is a member of the White House's coronavirus task force. At the same time, he did clarify that 10 times figure actually brings the new coronavirus' fatality rate lower than official estimates, which hover around 3 percent.
6. Stocks continue plunge after Trump announces restrictions on travel from Europe
U.S. stock index futures dropped sharply again early Thursday following President Trump's announcement of emergency aid to businesses affected by the coronavirus outbreak, and a 30-day ban on travel from continental Europe. Futures for the Dow Jones Industrial Average, the S&P 500, and the Nasdaq were down by more than 4 percent several hours before the opening bell. On Wednesday, the Dow lost 5.9 percent, putting it more than 20 percent below the highs it hit in mid-February and officially in a bear market, ending an 11-year bull run. Wednesday's losses came as the World Health Organization declared the coronavirus outbreak a pandemic. "You call this thing a pandemic and all hell breaks loose," said Peter Tuz, president of Chase Investment Counsel in Virginia.
7. 3 U.S. coalition troops killed in rocket attack on Iraq base
Two Americans and another member of the U.S.-led coalition in Iraq were killed Wednesday in a rocket attack on a base near Baghdad, a U.S. military spokesman said. At least 12 people were wounded. Five of them were in serious condition. The strike could escalate tensions between the United States and Iran about two months after the two sides exchanged deadly attacks, including a U.S. drone strike that killed a top Iranian commander, Qassem Soleimani, in Baghdad. In Wednesday's attack, about 18 Katyusha rockets hit Camp Taji about 17 miles north of Baghdad. Such weapons have been associated with Iranian-backed militias. The rockets were fired from northeast Baghdad, and Iraqi forces found a truck rigged with rockets a few miles from the base, the U.S. military said.
8. NBA suspends season, NCAA bars fans from March Madness
The NBA said it was suspending the professional basketball season "until further notice" after Wednesday night's games to prevent the spread of the new coronavirus. The decision came after a Utah Jazz player tested positive for the sometimes deadly flu-like virus. The NCAA announced Wednesday that it would hold the men's and women's basketball tournaments as scheduled, but prohibit fans from attending. "While I understand how disappointing this is for all fans of our sports, my decision is based on the current understanding of how COVID-19 is progressing in the United States," NCAA president Mark Emmert said. "This decision is in the best interest of public health, including that of coaches, administrators, fans and, most importantly, our student-athletes." The tournament, known as March Madness, still will be televised.
9. Judge sentences Harvey Weinstein to 23 years in prison
Judge James Burke on Wednesday sentenced Harvey Weinstein to 23 years in prison for his conviction last month on charges of sexually assaulting Mimi Haleyi in 2006 and raping Jessica Mann in 2013. The 67-year-old disgraced movie producer's lawyers had asked the judge for a sentence of just five years, arguing that anything longer would amount to a "de facto life sentence." "I really feel remorse for this situation," Weinstein said. Prosecutors had asked the judge to consider Weinstein's "total lack of remorse," and applauded the sentence, as did leaders of the #MeToo movement the case fueled. Weinstein will serve his sentence on Rikers Island in New York. He is still facing further charges in Los Angeles.
10. Tom Hanks says he and wife, Rita Wilson, have coronavirus
Oscar-winning actor Tom Hanks announced Wednesday that he and his wife, Rita Wilson, had tested positive for the COVID-19 coronavirus in Australia. "We felt a bit tired, like we had colds, and some body aches," Hanks said in a statement. "Rita had some chills that came and went. Slight fevers, too. To play things right, as is needed in the world right now, we were tested for the coronavirus, and were found to be positive." Hanks, who was in Australia to start work on a film about Elvis Presley, said he and Wilson, both 63, would be "tested, observed, and isolated for as long as public health and safety requires." Hanks is the most prominent entertainment celebrity to go public with a coronavirus diagnosis.

Continue reading for free
We hope you're enjoying The Week's refreshingly open-minded journalism.
Subscribed to The Week? Register your account with the same email as your subscription.