10 things you need to know today: November 2, 2020
Trump and Biden push for strong turnout in campaign's final weekend, Texas Supreme Court rejects GOP push to throw out ballots, and more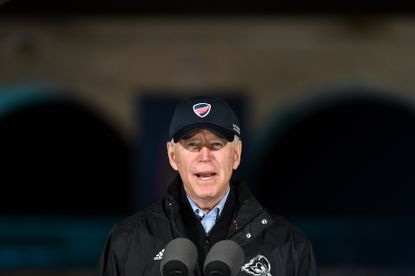 (Image credit: JIM WATSON/AFP via Getty Images)
1. Trump, Biden appeal for big turnout on campaign's final weekend
President Trump held a flurry of rallies in Michigan, Iowa, North Carolina, Georgia, and Florida on Sunday and into early Monday, as Democratic presidential nominee Joe Biden made a final appeal for votes in the battleground state of Pennsylvania. With 90 million ballots already cast by mail or early in-person balloting, election experts said the candidates' final messages were meant to boost turnout rather than win new support. Trump, who plans appearances in several more states on Monday, downplayed the recent coronavirus surge and told supporters "a great red wave is forming." He also continued to question the integrity of the election, threatening a court battle in the crucial battleground state of Pennsylvania. Biden held two events in Philadelphia on Sunday, telling Pennsylvania the election is in their hands. "The truth is, to beat the virus, we've first got to beat Donald Trump," Biden said.
2. Texas high court rejects GOP push to throw out 127,000 votes
The Texas Supreme Court on Sunday rejected a push by conservative activists and Republican candidates to pre-emptively throw out nearly 127,000 votes cast in largely Democratic Harris County, the state's most populous. The ballots in question were cast at drive-through polling sites that many people used to reduce the risk of coronavirus exposure. The state's all-Republican high court denied the request without explaining its decision. The Republican plaintiffs are pushing a similar lawsuit in federal court, arguing that drive-through voting violates the U.S. Constitution. There is a hearing in that case scheduled in Houston on Monday, the day before Election Day. Harris County, home to Houston, tested the drive-through service in the July primary runoff, allowing voters to pull up in their cars and vote using an electronic tablet.
Subscribe to The Week
Escape your echo chamber. Get the facts behind the news, plus analysis from multiple perspectives.
SUBSCRIBE & SAVE
Sign up for The Week's Free Newsletters
From our morning news briefing to a weekly Good News Newsletter, get the best of The Week delivered directly to your inbox.
From our morning news briefing to a weekly Good News Newsletter, get the best of The Week delivered directly to your inbox.
3. Late Reuters polls show battleground states still close
More late polls showed Democratic presidential nominee Joe Biden widened his lead over President Trump in three potentially key Rust Belt states that Trump narrowly won in 2016, according to Reuters/Ipsos polls released Sunday. Biden led Trump by 10 percentage points in Wisconsin and Michigan, and by seven points in Pennsylvania. Biden has led in these states since mid-September, and expanded his edge in the final two weeks of the campaign. Reuters also is polling likely voters in North Carolina, Florida, and Arizona, three other potentially crucial swing states. Biden's lead in Florida, a must-win for Trump, narrowed from four percentage points to two, 49 percent to 47 percent, compared to the last poll. Biden's lead in Arizona narrowed from three points to two, and his edge in North Carolina fell to one point from three.
4. FBI investigates alleged harassment of Biden campaign bus
The FBI is looking into allegations that a convoy of Trump supporters harassed a Joe Biden campaign bus, CNN reported Sunday, citing a law enforcement source familiar with the investigation. The incident occurred Friday when the Biden campaign bus was traveling from San Antonio to Austin as part of an effort to get Biden voters to cast ballots on Texas' last day of early in-person voting. Vehicles with Trump flags that were part of a "Trump Train" pulled up on all sides of the bus. Occupants in the vehicles shouted profanities, and slowed down, forcing the tour bus to slow to 20 miles per hour on Interstate 35, a Biden campaign official said. President Trump tweeted a video of the incident, saying, "I LOVE TEXAS!"
5. White House adviser apologizes for Russian outlet interview
White House coronavirus policy adviser Scott Atlas apologized Sunday for giving an interview to RT, a Russian media outlet backed by the Kremlin. "I recently did an interview with RT and was unaware they are a registered foreign agent," Atlas tweeted. "I regret doing the interview and apologize for allowing myself to be taken advantage of. I especially apologize to the national security community who is working hard to defend us." The intelligence community has concluded that Russia tried to influence the 2016 election to help President Trump, and warned that it was trying to boost his candidacy again in Tuesday's presidential election. In his Saturday interview with RT, Atlas said the U.S. coronavirus death toll, which now exceeds 230,000, is "tragic," but that there's a "gross distortion" of the crisis in the media.
6. Rescuers search for earthquake survivors as Turkey death toll rises
Rescuers on Sunday continued searching in the Turkish port city of Izmir for survivors of Friday's powerful 7.0 magnitude earthquake. Turkey's Disaster and Emergency Management Presidency raised the death toll from the quake. It stood late Sunday at 64, with 62 deaths in Turkey and two on the Greek island of Samos. More than 900 others were injured, with eight reported to be in intensive care. Dozens more remained unaccounted for. A 70-year-old man identified as Ahmet Citim was pulled alive from the rubble of a destroyed residential building 33 hours after the temblor. He was taken to a hospital but his condition was not immediately announced. Thousands of rescuers were sent to help search collapsed buildings, some using mechanical diggers.
7. Report: Nursing home staffing fell at crucial point in pandemic
Dozens of nursing homes had potentially dangerous shortages of caregivers in some of the deadliest days of the coronavirus crisis, limiting care for many vulnerable residents, The Wall Street Journal reported Sunday, citing federal data. Up to 127 hard-hit nursing homes in New Jersey and New York had nurse staffing levels in April that were at least 25 percent below those on comparable days in 2019. More than 300 nursing homes with coronavirus outbreaks had at least one day when staffing levels dropped to more than 40 percent below where they were at the same time last year. "That's really endangering the residents," said David Grabowski, a nursing-home expert and professor of health-care policy at Harvard Medical School. "Problems happen during the pandemic when you don't have sufficient staffing on that given day."
8. Trump reportedly tells insiders he'll declare victory early
President Trump has told confidants he'll declare victory on Tuesday evening if he's leading the election, Axios reported Sunday, citing three sources familiar with his private comments. Trump denied he planned to declare victory prematurely, but added that "it's a terrible thing when ballots can be collected after an election." Axios' Jonathan Swan reported that Trump had privately said he would stick to a plan to declare victory early even if there were still uncounted votes in crucial states like Pennsylvania that could alter the shape of the Electoral College in subsequent hours or days. Axios said Trump had talked through this scenario over the last few weeks. To claim he had reached the 270 Electoral College votes needed to win, Trump would need to have commanding leads in most battlegrounds, such as Ohio, Florida, North Carolina, Texas, Iowa, Arizona, and Georgia.
9. Trump suggests at rally he might fire Fauci
President Trump suggested at a campaign rally early Monday in Florida that he might fire Dr. Anthony Fauci, the top U.S. infectious disease expert, shortly after Tuesday's election. Trump expressed frustration over media coverage of surging coronavirus infections, and his supporters started chanting, "Fire Fauci!" Trump responded: "Don't tell anybody but let me wait until a little bit after the election," Trump said, thanking the crowd for the "advice." The comments came after Fauci criticized the White House response to the pandemic in an article published in The Washington Post over the weekend. Fauci warned that the nation would have to deal with "a whole lot of hurt" as the pandemic worsens. Trump has told largely maskless crowds that the United States is "rounding the turn" in the fight against the virus, but new infections have hit record levels.
10. Judge orders USPS to follow 'extraordinary measures' to deliver ballots
A federal judge on Sunday ordered the U.S. Postal Service to remind senior managers they have to follow "extraordinary measures" to deliver ballots ahead of Tuesday's presidential election. Voters are casting a record number of mail-in ballots so they can avoid the risk of coronavirus infection at crowded polling places. U.S. District Judge Emmet Sullivan said that the postal service must use "special procedures" it has in place to make sure it "delivers every ballot possible by the cutoff time on Election Day." USPS has agreed to do so. Sullivan also said that every ballot must have a legible postmark, and that the postal service must remind managers to make every effort to deliver ballots with a local destination on the same day.

Continue reading for free
We hope you're enjoying The Week's refreshingly open-minded journalism.
Subscribed to The Week? Register your account with the same email as your subscription.