10 things you need to know today: November 16, 2020
Trump says Biden "won" but election was "rigged," U.S. coronavirus cases surpass 11 million, and more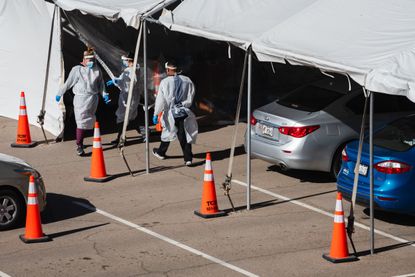 (Image credit: JUSTIN HAMEL/AFP via Getty Images)
1. Trump says Biden 'won' but insists election was 'rigged'
President Trump on Sunday tweeted that President-elect Joe Biden "won because the Election was Rigged," Trump's first acknowledgement that he lost the Nov. 3 election. An hour later, Trump walked back the comment in another tweet. "RIGGED ELECTION. WE WILL WIN!" the president wrote. "He only won in the eyes of the FAKE NEWS MEDIA. I concede NOTHING! We have a long way to go. This was a RIGGED ELECTION!" The nation's news outlets have projected Biden the winner with 306 electoral votes to Trump's 232. Biden won the popular vote by more than five million. Numerous Republicans and former Trump administration officials have called on Trump to drop his unfounded allegations that Democrats stole the election through voter fraud.
2. U.S. coronavirus cases rise above 11 million
The number of U.S. coronavirus cases surpassed 11 million on Sunday as infections continued to skyrocket across the country. It took just eight days for the country to add another million cases after the 10-million threshold was crossed, the fastest such jump since the pandemic began. It took 10 days to get from nine million to 10 million, and 16 days to reach nine million from eight million. The U.S. has now recorded more than 246,000 coronavirus deaths. The Midwest is the region with the most cases per capita. North Dakota became the latest state to require face coverings. Michigan and Washington on Sunday became the latest states to announce broad new restrictions on private gatherings and many businesses. Michigan ordered high schools and colleges to halt in-person classes.
Subscribe to The Week
Escape your echo chamber. Get the facts behind the news, plus analysis from multiple perspectives.
SUBSCRIBE & SAVE
Sign up for The Week's Free Newsletters
From our morning news briefing to a weekly Good News Newsletter, get the best of The Week delivered directly to your inbox.
From our morning news briefing to a weekly Good News Newsletter, get the best of The Week delivered directly to your inbox.
3. Biden aide says lockdown would be 'last resort'
One of President-elect Joe Biden's top coronavirus advisers said Sunday that a national lockdown of businesses and schools would be a "measure of last resort" to fight the ongoing surge in COVID-19 cases across the United States. The number of infections has grown by 5 percent or more in 47 states in the past week, with a national average over the past week of 145,401 new cases per day. "In the spring we didn't know a lot about COVID, we responded, in a sense, with an on-off switch," Dr. Vivek Murthy, a former U.S. surgeon general tapped to help lead Biden's newly named COVID-19 task force, told Fox News Sunday. "We just shut things down because we didn't know exactly how this was spreading and where it was spreading, but we learned a lot more since then."
4. Peru's interim president steps down after protests
Peru's interim president, Manuel Merino, stepped down on Sunday on his sixth day on the job, facing mounting protests. Merino, the former head of Congress, took power after legislators unexpectedly voted to remove popular President Martin Vizcarra. "I present my irrevocable resignation," Merino said in a video address. "I call for peace and unity of all Peruvians." Merino's departure left a power vacuum, plunging the South American into a constitutional crisis as it wrestles with the coronavirus pandemic. Protesters insisted that if Congress is to pick the next president, lawmakers must choose someone who voted against impeachment. "It can't be that the Congress that got us into this crisis gives us the solution," Vizcarra said Sunday.
5. Trump campaign drops part of Pennsylvania lawsuit
President Trump's campaign on Sunday dropped part of its lawsuit seeking to stop Pennsylvania from certifying its election results. Trump's lawyers revised their lawsuit by removing accusations that election officials unlawfully kept the campaign's observers from watching as votes were counted. The campaign had claimed that because of this, more than 600,000 votes cast in Pittsburgh and Philadelphia needed to be invalidated. Now, the lawsuit focuses on an allegation that some Democratic-leaning counties unfairly let voters correct errors made on mail-in ballots, while GOP-leaning counties didn't. A Democratic Party attorney said "just a handful of ballots" were affected, and this would have "absolutely no impact" on President-elect Joe Biden's 68,000-vote margin of victory in the state.
6. Obama rules out post in Biden administration
Former President Barack Obama on Sunday ruled out working formally in President-elect Joe Biden's administration. "I will help him in any ways that I can. But now, you know, I'm not planning to suddenly work on the White House staff or something," Obama told anchor Gayle King on CBS This Morning. King responded: "No Cabinet position for you, Mr. President?" Obama replied: "There are probably some things I would not be doing, 'cause Michelle would leave me. She'd be like, 'What? You're doin' what?'" Obama said there was "no legal basis" for President Trump's claim that Biden won because of election fraud, and that he was confident that Biden and Vice President-elect Kamala Harris will take office in January as scheduled despite Trump's refusal to concede.
7. Sex-abuse claims against Boy Scouts reach 82,663 as deadline arrives
The number of sex-abuse claims against the Boy Scouts of America stood at 82,663 on Sunday ahead of a Monday deadline established in Delaware bankruptcy court. The cases against scout leaders occurred over decades. The organization, established in 1910, sought refuge in the bankruptcy process this year, hoping to survive the demands for damages as the abuse cases piled up. "The response we have seen from survivors has been gut wrenching," the Boy Scouts of America said in the statement. "We are deeply sorry." After the Monday deadline set by a judge, the cases will be vetted. The national scouting organization will set up a victims' compensation fund. The group has more than $1 billion in assets and a network of Boy Scouts councils that own camps and other properties.
8. Hurricane Iota expected to hit Central America as Category 4 storm
Hurricane Iota strengthened rapidly on Sunday and neared Nicaragua and Honduras early Monday with top sustained winds of 145 miles per hour. Iota is expected to make landfall in the Central American nations as a potentially devastating Category 4 storm, the second to hit Nicaragua and Honduras in two weeks. Iota became the 30th named storm of the 2020 Atlantic hurricane season on Friday. It is the 10th to intensify rapidly, with its top sustained winds increasing by 35 miles per hour within 24 hours. Forecasters said Iota could hit parts of Nicaragua or Honduras that were devastated when Hurricane Eta made struck on Nov. 3 as a Category 4 storm. This would be the first time Nicaragua has been hit directly by two major hurricanes in the same year. Eta caused flooding and mudslides that killed 120 people.
National Hurricane Center Weather.com
9. SpaceX launches a new era of space flight
SpaceX on Sunday launched a Falcon 9 rocket carrying the private space firm's Crew Dragon spacecraft "Resilience" into orbit, its first with a full crew. The mission, which followed a test flight earlier this year, made entrepreneur Elon Musk's SpaceX the first private company with a working system for sending astronauts into space, and bringing them back. Crew Dragon Resilience is carrying NASA astronauts Mike Hopkins, Victor Glover, Shannon Walker, and Japanese astronaut Soichi Noguchi to the International Space Station. Crew Dragon is expected to dock late Monday. The mission is a landmark for NASA, which has had to rely on Russian spacecraft to get its astronauts to the Space Station since the retirement of the space shuttle fleet in 2011.
10. Dustin Johnson breaks a record in Masters win
Dustin Johnson won the Masters Tournament at Augusta National in Georgia on Sunday, earning his first ever green jacket with a 4-under-par 68 on the final day. That gave Johnson a record-low 268 over the four days of play. Australia's Cameron Smith and South Korea's Sungjae Im tied for second, but finished five strokes back. Johnson is one of the most talented golfers in the world, but the 36-year-old had only won one major golf championship, the 2016 U.S. Open, before Sunday's victory at Augusta. The win came after many close calls — Johnson finished in the top 10 of each of the last four Masters, including a tie for second in 2019.

Continue reading for free
We hope you're enjoying The Week's refreshingly open-minded journalism.
Subscribed to The Week? Register your account with the same email as your subscription.