Argos named and shamed among minimum wage offenders
Retailer now owned by Sainsbury's admits it underpaid staff by £2.4m in February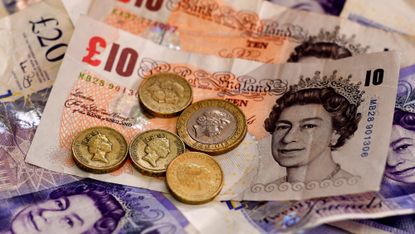 (Image credit: PAUL ELLIS/AFP/Getty Images)
HMRC cleaners go on strike over living wage cuts
26 July
Cleaners at HM Revenue and Customs in Merseyside went on strike yesterday, saying they have not benefited from the new "national living wage" even though they work indirectly for the government department responsible for enforcing it.
The workers, who are employed by subcontractor ISS and tasked with cleaning the HMRC building, say their employer has offset wage increases by cutting their hours, leaving them no better off.
Subscribe to The Week
Escape your echo chamber. Get the facts behind the news, plus analysis from multiple perspectives.
SUBSCRIBE & SAVE
Sign up for The Week's Free Newsletters
From our morning news briefing to a weekly Good News Newsletter, get the best of The Week delivered directly to your inbox.
From our morning news briefing to a weekly Good News Newsletter, get the best of The Week delivered directly to your inbox.
The minimum hourly rate for a person over the age of 25 was increased by 50p to £7.20 in April. Incremental increases are to continue over the lifespan of this parliament until the wage it is worth 60 per cent of median earnings, which should take it above £9.
While it has been credited with helping to boost disposable incomes to a post-crisis high, there have been complaints that some employers have made cuts elsewhere to manage the cost.
In particular, retailers such as the big supermarkets were criticised for curbing premium pay rates on Sundays and bank holidays to pay for the changes, while B&Q was forced to back down and offer compensation to staff to ensure nobody loses out for two years.
Speaking to The Guardian, the Public and Commercial Services Union said ISS had made "cynical mathematical calculations to avoid allowing some of their lowest paid workers the meagre benefit" of the living wage.
The cut in hours had left workers "under pressure to do more for less and unable to deliver a proper service", it said.
Group secretary Martin Kelsey added: "They are a multinational corporate making hundreds of millions of profit a year refusing to pay a few people on absolute poverty wages a few pence an hour more."
HMRC said the pay of cleaners in its offices was not its responsibility "as they are employed by an external contractor who sets the terms and conditions of their employment".
The dispute has "highlighted the difficulty governments face in tackling low pay when a large proportion of employment is outsourced and chains of responsibility are opaque", adds the Guardian.
National living wage sends disposable income to post-crisis high
21 June
The national living wage has helped send average household disposable income to its highest level since the financial crisis.
Monthly data compiled by the Centre for Economics and Business Research (Cebr) for Asda has tracked consistent double-digit annual increases in spending power for the past 18 months, the Daily Mail reports.
The national living wage, which came into force in April with a rate of £7.20 an hour for people aged 25 and over, pushed up average income to £632 a week in May.
At the same time, key costs have continued to fall at a time when inflation has been running at near-zero for months. The survey found food and drink prices dropped 2.8 per cent year-on-year in May, while transport and clothing costs also fell.
Official surveys from last October and March this year show that household income has risen above its pre-recession peak and has been rising over the past three years.
Higher net income should mean consumers are able to continue to spend relatively freely, the key feature of the UK's economic recovery so far. But Asda notes there are uncertainties, such as the EU referendum, to contend with in the short term.
"While costs continue to fall for UK households and spending power growth begins to accelerate once more, the long-term picture is more difficult to predict as we wait to see the impact of the EU referendum's decision on the nation's pockets," a spokesperson said.
Living wage: B&Q to compensate workers over premium pay cuts
13 April
B&Q has offered to compensate staff and negotiate further over proposed changes to premium pay following the introduction of the national living wage.
The climbdown shows the pressure that is mounting on firms seeking to offset the cost of paying a higher minimum rate by cutting pay elsewhere.
In the case of Kingfisher-owned B&Q, it had cut "Sunday pay and reduced bank holiday pay and bonuses for some staff", notes The Guardian. This was to pay for a rise in basic pay for all staff to £7.66 an hour from 1 April, ahead of the £7.20 initial rate of the new living wage.
Labour backbencher Siobhain McDonagh cited the company during Prime Minister's Questions in March, as she called for action to prevent any worker losing out as a result of the new law coming into force.
No such rule was announced, but fellow Labour MP Chris Leslie noted in the Commons yesterday that any employer found to be cutting perks faced provoking ire and losing customers.
B&Q became a touchstone case and was the subject of a Change.org petition signed by 136,000 people.
The company has now promised to compensate staff to ensure nobody loses out over the next two years. It also emphasised that its pay deal includes all staff, not just those over 25, as demanded under the new law, and that employees are paid a bonus of up to ten per cent and for breaks.
"Over the next two years, we will continue to work with our colleagues to look at ways we can enhance our overall reward package to ensure we remain one of the best and most attractive employers in retail," a B&Q spokesperson said.
The deal is similar to that of Tesco, which is paying all existing staff £7.62 and new employees £7.24 from July but which also cut some premium pay and limited night shift allowances. It offered the 15 per cent of employees affected a one-off payment of 18 months' worth of the difference.
Food chain Eat was revealed this week to have cut lunch breaks for staff, saving around £3.60 per staff member per shift, but similarly extended the living wage to staff of all ages. Cafe Nero has stopped offering staff free food at lunch, replacing this with a voucher for a 65 per cent discount.
The living wage is expected to rise in every year of this parliament and to reach 60 per cent of median earnings by 2020, when it should be above £9 per hour.
National living wage to boost pay for millions - but debate goes on
01 April
The National Living Wage comes into effect today, with the debate about its costs and benefits far from settled.
Effectively a big increase in the minimum wage for all but the youngest workers,the policy has been denounced as a "tax on business" and applauded elsewhere as a progressive broadside against inequality.
As of today, over-25s will earn at least £7.20 an hour, a sum that will increase each year towards the target of 60 per cent of UK median pay by 2020, a figure expected to be about £9.35 an hour.
Already relatively high by international standards, this will make the UK's low-pay threshold "one of the highest" minimum wages of all the developed economies, says the Financial Times.
Economic consequences
The Chancellor hopes the living wage will reduce the £30bn bill for working tax credits by shifting responsibility for low-paid workers from the state to private business.
"It can't be right that we go on asking taxpayers to subsidise through the tax credit system the businesses who pay the lowest wages," Osborne has said.
While the potential consequences have been widely disputed, critics warn of job losses as businesses struggle to meet a huge increase in their wage bill. Employers are already cutting Sunday pay in return for lifting wages.
Analysis by the Low Pay Commission has revealed that retailers will be take the biggest financial hit. With the new changes affecting more than 300,000 workers, retailers claim they will have to find up to £3bn more a year to pay staff by 2020.
Opponents also warn that customers may find themselves paying more at the till to make up the difference. Retailer Next has said it will have to increase prices to cover the expected £27m cost of implementing the pay rise.
If other businesses follow suit, we could end up in a vicious circle where the living wage rises but the cost of living also goes up as businesses attempt to cover the cost. For the record, though, Next insisted the higher charges would be partially offset by productivity gains and that the wage rises would still amount to a net gain for employees.
Job-killing automation
In a new book, influential Conservative backbencher David Davis said he was worried the change would also accelerate firms' investment in job-killing automation. He argued that a minimum income should be provided by taxpayers, not employers, in reference to a radical policy that is set to be trialled in Ontario, Canada.
Yet the majority of those on the left and right support a rise, which is expected to benefit up to 1.5 million people initially and 4.5 million eventually.
For some, it does not even go far enough as it remains below the level of the independent - and voluntary - amount set by the Living Wage Foundation, which says the minimum a person needs to live on comfortably is currently £8.25 around the country and £9.40 in London.
This national living wage is "a great step forward", says the Huffington Post, "although calling it the 'national living wage' is wrong. It is simply an increase to the national minimum wage - albeit a significant one."
National living wage to boost pay for 4.5 million workers
30 March
A higher minimum wage that comes into force for most workers this week will provide a boost for up to a third of those employed in the UK's low-pay "hotspots", according to a new analysis.
Under the new rules, workers aged 25 and above are guaranteed to receive at least £7.20 per hour, rising each year to a target of 60 per cent of median earnings by 2020, when the minimum wage is expected to be above £9 per hour.
Although some have complained the rules do not apply to younger workers and that companies will mitigate some of the effects by reducing out-of-hours premium pay rates and other perks, the foundation believes 30 per cent or more of those in the lowest-paying areas of the country will benefit.
"The area with the highest number of beneficiaries, with 35 per cent of employees receiving a wage increase, will be Torridge in Devon," The Guardian notes. "Rossendale in Lancashire, Woking in Surrey, Castle Point in Essex, Forest Heath in Suffolk and Mansfield in Derbyshire were also in the top 10."
George Osborne unveiled the policy at his summer Budget last year in a bid to make a pitch for the political centre ground. The Chancellor was looking to justify £4bn of cuts to working tax credits he has since been forced to abandon.
But according to the Institute for Fiscal Studies, savings that are still going ahead for working age benefits will more than offset the increase in wages for many, especially for those with more than two children.
In an analysis reported in the Financial Times, the think-tank estimates that by 2019, "the average household in receipt of in-work benefits will have gained an extra £198 thanks to the national living wage… [but] they will have lost £754 a year in benefits".
For those with children, the average gain of £172 is more than counteracted by £909 in benefit and tax credit reductions.
Most of this is actually due to a "four-year freeze in working age benefits and tax credits" that will keep cash payments level but amount to a real-terms reduction.
From April 2016 and April 2017 respectively, there will also be a reduction in premiums for housing benefit and tax credits for households with children, including the loss of the £10-a-week "family element" as well as the loss of any additional support for the third child onwards under tax credits.
These latter cuts only apply to new claims, so people who are currently receiving benefits and do not cease their claim for a prolonged period will not be affected.

Continue reading for free
We hope you're enjoying The Week's refreshingly open-minded journalism.
Subscribed to The Week? Register your account with the same email as your subscription.