Understanding the national living wage
How Chancellor George Osborne's new pay structure will affect workers, bosses and the wider economy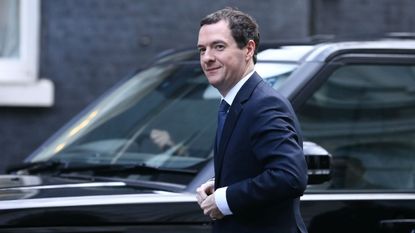 (Image credit: JUSTIN TALLIS/AFP/Getty Images)
Sign up to our 10 Things You Need to Know Today newsletter
A free daily digest of the biggest news stories of the day - and the best features from our website
Thank you for signing up to TheWeek. You will receive a verification email shortly.
There was a problem. Please refresh the page and try again.
Last summer Chancellor George Osborne announced a new living wage. He declared that by 2020 workers would earn at least £9 an hour.
Next month his living wage comes into force, but that doesn't necessarily mean your pay packet is going to swell. Here's everything you need to know ahead of the big change.
What is the national living wage?
Subscribe to The Week
Escape your echo chamber. Get the facts behind the news, plus analysis from multiple perspectives.
SUBSCRIBE & SAVE
Sign up for The Week's Free Newsletters
From our morning news briefing to a weekly Good News Newsletter, get the best of The Week delivered directly to your inbox.
From our morning news briefing to a weekly Good News Newsletter, get the best of The Week delivered directly to your inbox.
From 1 April the living wage will come into law. It will be set at £7.20 an hour, 50p more than the current minimum wage. This means someone earning the living wage working 35 hours a week will get an annual income of £13,104, £910 more than someone earning the highest level of minimum wage now.
"The idea is that it will provide a wage which is high enough for workers to have a normal standard of living," says Jane Crosby, an employment law expert at Hart Brown. "It's expected to boost the wages of six million people."
Who is entitled to it?
All workers aged over 25 who aren't in the first year of an apprenticeship, self-employed or volunteers will be required by law to earn at least the national living wage.
If you are aged under 25 you will continue to only be entitled to the national minimum wage. At present that means under 18s receive £3.87 an hour (rising to £4 in October), 18-20 year olds get £5.30 (increasing to £5.55) and those aged 21 to 25 get £6.70 (rising to £6.95).
Why is it being introduced?
The minimum wage has received a lot of criticism because research shows it is impossible for people to house and feed themselves in some part of the country on just £6.70 an hour.
Research by the Living Wage Foundation found that workers in London need to earn £9.40 an hour to be able to live in the capital, while people elsewhere in the country need £8.25 an hour to be able to provide for themselves.
Osborne pointed out that at present taxpayers are having to make up the shortfall created by businesses not paying their employees properly through working tax credits.
"It can't be right that we go on asking taxpayers to subsidise through the tax credit system the businesses who pay the lowest wages," said Osborne.
However, the new living wage isn't actually enough to live on according to the figures from the Living Wage Foundation - or at least not yet in most parts of the country.
What's the downside?
"Big firms are slashing overtime, cutting recruitment and axing staff perks to pay for the new national living wage," warns Rupert Steiner in The Daily Mail. Tesco, B&Q, Whitbread and many other businesses are trying to trim their budgets so they can afford the national pay rise, according to the newspaper.
Consumers may find themselves funding the pay rise too. Retailer Next has said it will increase prices to cover the expected £27m cost of implementing the pay rise. If other businesses follow suit we could end up in a vicious circle where the living wage rises but the cost of living also goes up as businesses attempt to cover the cost with price rises.
Some firms, however, reckon that the wage rises are affordable in the context of productivity increases. Aldi, Lidl and Morrisons for example have set pay rates for all workers, not just those over the age of 25, of £8.20 to £8.40 an hour from April, well above the minimum.
National living wage: all you need to know
23 February
In a little more than five weeks, George Osborne (pictured above) will embark on what Sarah O'Connor describes in the Financial Times as a "bold experiment" to force up the wages of low-paid workers across the country.
Variously denounced and applauded as a "tax on business" and a progressive broadside against inequality, the change will have far reaching effects not just on employee pay packets and employer profits, but also on the wider economy. Here's everything you need to know.
What is the national living wage?
It's essentially an increase in the minimum wage and above being phased in over several years for those aged 25. Starting on 1 April with a 50p rise in the lowest rate to £7.20 an hour, the threshold will be increased each year with the aim of reaching 60 per cent of median pay across the UK by 2020, when it could be as high as £9.35 an hour.
It should not be confused the voluntary living wage set out by the Living Wage Foundation, which is an independent rate calculated by experts at Loughborough University for the UK as a whole and set by the Greater London Authority in the capital as the minimum required for a decent standard of living. This is currently £9.40 in London and £8.25 elsewhere.
How generous is it?
As minimum wages go, it's pretty high, with the eventual rate certain to be "one of the highest" of all the developed economies in the Organisation of Economic Cooperation and Development according to the Financial Times.
It must be pretty popular, then?
It's hard to tell. The Left are highly critical of a measure brought in by a Conservative chancellor while some of the Tory's traditional business backers see it as onerous. Employers in some sectors in particular, such as pubs and restaurants, have warned of closures, while fears of a care home crisis forced Osborne to give councils new powers to raise local tax rates to increase care budgets.
It is to be supposed that the lowest-paid workers themselves will be pretty happy when they get what amounts to an eight per cent pay rise – and ripple effects are expected to see similar benefits higher up the pay scale.
What's the economic rationale?
Osborne's motivation was in part to decrease the £30bn bill for working tax credits, which are paid to top up inadequately low pay. In fact, he originally combined the change with direct cuts to these in-work payments but was forced to back down. The bill will come down, though, as people are lifted out of the lower thresholds of pay at which tax credits apply.
Will there be wider consequences?
Almost certainly, but exactly what is a matter of dispute. Critics warn of job losses as businesses struggle to meet a huge increase in their wage bill, but this is routinely dismissed by advocates for the policy who point out the same alarm was sounded when the national minimum wage was introduced in 1997.
More positively, there will be a big increase in wages this year, coming just as organic pay growth had largely stalled during a period of rock-bottom inflation. This could make the case for interest rate rises earlier if it translates to pricing pressures, although some think there is slack in productivity that could soak most of this up in the short term.
How have employers responded?
Better than others in some sectors and there are the usual array of winners and losers. Retailers have caught the attention of the press most and it's very much a mixed bag: from the likes of Aldi upping its hourly rate for all workers, irrespective of age, to £8.40 to its "big four" rival Tesco setting a rate of £7.62, but cutting things such as anti-social pay and bonuses.
The Daily Mirror cites several such examples where changes are having knock-on consequences, including B&Q telling staff it plans to cut Sunday supplements to fund the move. High street pharmacist Boots is tying the move into a more substantial restructuring already underway and said it will result in the loss of an additional 350 assistant manager jobs.
What's the verdict?
There will remain plenty of people unhappy with the proposals, but ultimately most less-well-off workers – even those already paid above the minimum rate - should earn more as companies seek to maintain pay differentials. This will be broadly welcomed and, so long as it doesn't result in mass job losses, should boost spending power, too, which would be a boon for the economy.
Continue reading for free
We hope you're enjoying The Week's refreshingly open-minded journalism.
Subscribed to The Week? Register your account with the same email as your subscription.
Sign up to our 10 Things You Need to Know Today newsletter
A free daily digest of the biggest news stories of the day - and the best features from our website