Argos named and shamed among minimum wage offenders
Retailer now owned by Sainsbury's admits it underpaid staff by £2.4m in February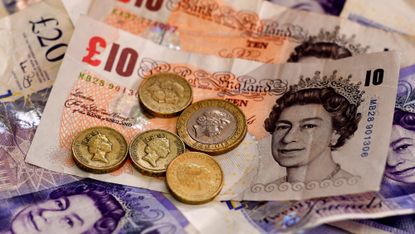 (Image credit: PAUL ELLIS/AFP/Getty Images)
Tesco pleads for rethink from Osborne
13 November
Tesco chief executive Dave Lewis has pleaded with George Osborne to ease the burden of the 'national living wage', which is being phased in over the next four years.
Speaking to the Confederation of British Industry's annual conference this week, Lewis warned that retailers need help from the government as they contend with shrinking margins and rising costs. He singled out the new minimum pay rate which, says The Guardian, will cost Tesco £500m by 2020.
Subscribe to The Week
Escape your echo chamber. Get the facts behind the news, plus analysis from multiple perspectives.
SUBSCRIBE & SAVE
Sign up for The Week's Free Newsletters
From our morning news briefing to a weekly Good News Newsletter, get the best of The Week delivered directly to your inbox.
From our morning news briefing to a weekly Good News Newsletter, get the best of The Week delivered directly to your inbox.
Under the new rules, all employees over the age of 25 must be paid at least £7.20 per hour by next April, rising to 60 per cent of median earnings by 2020, when the rate is expected to be more than £9. Tesco currently pays £7.39 per hour, but Lewis pointed out it also offers a range of other benefits such as a staff pension, bonuses and store discounts, which it may need to sacrifice to balance costs.
"We have a good history of paying well, and we were supportive of the living wage when it was announced," he said in the Daily Telegraph. "But my concern is that there is now pressure to increase base pay at the expense of benefits, and I don't think that is a simple answer."
Lewis was particularly critical of business rates, which the government is currently reviewing. The Guardian reports that the firm's rates bill has risen by 35 per cent during a period when profits are being squeezed by upheaval across the sector. Business rates are now more than twice as high as Tesco's corporation tax bill, Lewis says.
Writing in the Financial Times, Neil Collins was unsympathetic to Tesco's complaints. He said the corporation tax bill is smaller because it is based on falling profits and that the business rate costs are the same for Tesco's rivals, which are performing better and making generous pay offers that exceed the new minimum wage (see below).
"If the competitors make Mr Lewis's life hard, that is too bad. They will have to pay the national average wage too, so he must make better use of his staff to compete… with Tesco shares almost back down to their post-crisis nadir, you have to wonder whether he is starting to seek excuses for failure."
Minimum wage: care home crisis could add £3bn to NHS bill
11 November
Several reports this week have made the case for billions of pounds of additional government funding to be put into the care homes sector, to avoid an even bigger bill – and a bed-blocking crisis – falling on the already strained NHS.
The think tank ResPublica has published a study, backed by the GMB union, which claims that as many as 37,000 beds ­– the equivalent of about 1,500 care homes – could be lost by 2020, The Guardian reports. ResPublica says there will be a funding gap of £1.1bn by 2020, more than a third of which relates to the new national living wage that is set to increase the wages of most workers to more than £9 per hour and add £382m to staff costs.
Chai Patel, the executive chairman of HC-One, one of the biggest care home providers, told the Financial Times that the total funding shortfall for the sector was £2bn, while the Local Government Association estimates that the shortfall could be as much as £2.9bn. Julian Evans, head of healthcare at Knight Frank, told the paper that "7,300 care homes that operate with less than 30 beds… have a very real chance of closing down".
Separate research from the industry analysts LaingBuisson found that the number of care home beds has already declined in the past year for the first time in a decade, by 1,500 beds to 451,400, according to the Financial Times. This report says that the minimum wage rise will reduce operating margins by 4 per cent, after a period in which local authority funding has fallen by six per cent in real terms since 2011, and "lead to a wave of business failures among even moderately geared operators".
With care homes currently receiving around £500 for each patient per week, compared to an average hospital stay cost of around £3,000, ResPublica's director Phillip Blond says he fears "the worst case scenario is the most likely, that these residents will flood our local general hospitals costing £3bn per year by 2020".
If 37,000 patients were forced to stay in NHS hospitals, they would take up one in four available overnight beds at a time when bed-blocking is already on the rise across the NHS.
Blond says that he supports the pay increase for low-paid workers and that "the national living wage must be brought in", but that "it will damage the residential care sector" which means that the government needs to provide additional funds to fill the gap.
Minimum wage: living wage disparity increases
3 November
Britain's 'voluntary' living wage will rise by 40p to £8.25 per hour, it was announced yesterday, while the figure for London, where living costs are highest, will be upped by 25p to £9.40.
More than 2,000 businesses, including Lloyds and Unilever, have signed up to the voluntary scheme, which now covers almost 70,000 workers. The annual figure is based on the cost of living and set by the Living Wage Foundation based on calculations by the Greater London Authority and the Centre for Research in Social Policy at Loughborough University.
The government's initial compulsory 'national living wage', due to come into force next April, is well below that announced on Monday. It will require all businesses to pay workers aged over 25 at least £7.20 an hour.
Paul Kenny, general secretary of the GMB union, said Monday's increase in the London living wage proved that the rate introduced by the chancellor was a "sham". Green party leader Natalie Bennett called the government offer "pitiful" by comparison.
Under the government's policy, the rate will rise each year with a view to reaching 60 per cent of median earnings by 2020, when it is expected it will be as high as £9.35 an hour. It is controversial and business leaders in the pubs sector have attacked the rate as unaffordable, while experts have argued it is exacerbating a funding crisis for the care sector.
Chancellor George Osborne has said he hopes the reforms will prompt a broader boost to pay rates that will affect all workers – and there is evidence this is already working. Sainsbury's, Lidl, Morrisons and, most recently, Aldi, have sparked a wage war in the supermarket sector that will see staff of all ages paid a rate above the new over-25s minimum next April.
In a report published on Sunday, the auditors KPMG and the TUC union claim that almost six million workers in the UK were paid less than the independent living wage. Part-time, female and young workers are most likely to earn less.
Minimum wage: billions needed to plug care home 'cash crisis'
02 November
An increase in the minimum wage for most workers to £9 by the end of the decade will exacerbate a "cash crisis" in the care sector, experts have warned.
The Conservative chairwoman of the all-party Commons select committee on health, former GP Sarah Wollaston, told The Observer the government must provide more money to councils to help prop up care funding, as measures to boost pay to lower-paid staff further exposes a funding gap for local authorities.
Under the national living wage, the minimum hourly rate for over-25s will rise to £7.20 next April and then to 60 per cent of median earnings by 2020, when it is expected to be well in excess of £9. The Local Government Association (LGA) has said this will add £1bn to the cost base for care.
Additional pressures on in-home services include a crackdown on firms not paying carers for travel between appointments, which in some cases has resulted in aggregate pay rates falling below the national minimum wage.
"There has been a longstanding gap in funding for social care and this will become much more severe if there is not adequate recognition of the rising costs the sector will face as a result of the living wage. Otherwise, we will see more care providers pulling out of the sector," Wollaston said.
Spending review
Councils have had their budgets cut by 40 per cent since 2010 and are currently paying an average of £13.66 an hour for care. With the wage changes the "true" cost of care will rise to £16.70 per hour, allowing just 50p profit, the UK Homecare Association previously told the BBC.
The LGA reckons the funding gap could total as much as £2.9bn a year by the end of this parliament. This includes the latest £1bn hit from wage rises, an existing funding shortfall of as much as £1bn and the ongoing increase in demand on services from an ageing population.
A spokesman for the Department of Health pointed to the Better Living Fund – up to £3.8bn earmarked in the NHS budget to provide care in the community – as a crucial source of funding in helping to drive down social care costs. The statement also crucially said the "overall costs of providing social care will be considered as part of the spending review" next month.
The LGA has called on the government to allocate the £6bn proceeds of delaying a cap on care costs for individuals. There will be strong pressure to divert the funds of up to 40 per cent saved from departmental spending cuts (and not needed to meet a targeted cost reduction of £20bn) towards the care sector, although a number of other cash-strapped areas are also vying for any spare money.
Minimum wage: Aldi trumps rivals in wage war
26 October
The supermarket sector has been affected over the past year or more by a ferocious price war and now it also appears to be in the grip of a wage war.
Ahead of the introduction of new minimum wage rules next April for those over the age of 25, the discount grocer Aldi has pledged to pay its workers a minimum of £8.40 per hour from then on – and as much as £9.45 per hour for those in its London stores.
This is well ahead of the initial rate of the so-called national living wage of £7.20 next year. It even beats the current rate of the independent living wage, which is advocated by campaigners and currently set at £7.85 and £9.15 in London.
The chancellor, George Osborne, will be pleased that competition appears to have broken out among private sector employers. He has frequently argued that there will be a wider 'ripple effect' on wages as a result of the policy and this, too, will offset other cuts such as his tax credit reforms.
Lidl and Morrisons have in recent weeks pledged to pay their workers £8.20 an hour, with Lidl offering £9.35 an hour to staff in London. Sainsbury's has also marginally improved the minimum wage coming in next April with a £7.36 pay rate, but it says this matches Morrisons' new deal because the store also pays for breaks.
Aldi similarly pays for breaks, so its pay deal is comfortably the best in the sector. The German discounter, which counts half of Britain's households as shoppers, says it will not need to increase prices in order to fund the move.
"Just as Aldi won't be beaten on the low prices of our products, we are also committed to offering the best pay and benefits in the industry," Matthew Barnes, Aldi's UK & Ireland chief executive, told The Daily Telegraph.
Quoted in The Guardian, Maureen Hinton, group research director at the retail research agency Conlumino, said wages were a "big topic" for the supermarkets and that amid the ongoing price war and battle for customers, being seen to be taking a moral lead on wages is "another way of giving them an edge from a marketing point of view".

Continue reading for free
We hope you're enjoying The Week's refreshingly open-minded journalism.
Subscribed to The Week? Register your account with the same email as your subscription.