Hinkley Point 'will cost public double the amount it should'
National Audit Office says nuclear project is 'risky and expensive' and has 'uncertain' economic benefits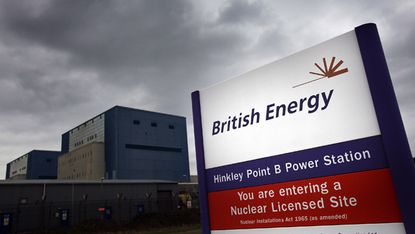 (Image credit: Getty Images)
Sign up to our 10 Things You Need to Know Today newsletter
A free daily digest of the biggest news stories of the day - and the best features from our website
Thank you for signing up to TheWeek. You will receive a verification email shortly.
There was a problem. Please refresh the page and try again.
Work on Hinkley Point to being 'in weeks'
22 October
French energy giant EDF says construction work on the next generation of UK nuclear power plants will begin "within weeks", following the announcement last night that China has agreed to fund a third of the £18bn cost of the first reactor in Somerset.
The deal between EDF Energy and China's General Nuclear Power Corporation (CGN) was signed in the presence of David Cameron and Chinese President Xi Jinping on Wednesday evening and forms part of a £30bn investment programme. It will be the largest inward investment ever brought to Britain and will involve building the first nuclear plant in the West since the Fukushima disaster in 2011.
Subscribe to The Week
Escape your echo chamber. Get the facts behind the news, plus analysis from multiple perspectives.
SUBSCRIBE & SAVE
Sign up for The Week's Free Newsletters
From our morning news briefing to a weekly Good News Newsletter, get the best of The Week delivered directly to your inbox.
From our morning news briefing to a weekly Good News Newsletter, get the best of The Week delivered directly to your inbox.
But the new reactor at Hinkley Point is not expected to open until 2025, eight years later than had originally been planned.
The government says 25,000 jobs will be created by the new plant, which will produce enough energy for six million homes (seven per cent of the UK's total energy needs). Two other stations in Suffolk and Essex could follow. If approved, the third site in Bradwell would make use of Chinese nuclear technology – another first in the West.
The government has been criticised for setting a high price guarantee for electricity produced at Hinkley Point. Greenpeace said this could mean higher energy bills for consumers. Some security experts have also raised concerns about allowing China a central role in Britain's nuclear future. David Cameron's former special adviser Steve Hilton called China a "rogue state" this week, and said the UK should be imposing sanctions instead of coaxing cash from its leaders.
With Germany and Japan turning their back on nuclear power, there are many who will question the new deal. But with older power stations closing down and renewable sources not yet ready to take their place, the government says Britain will suffer an energy shortfall unless it creates new nuclear capacity.
Other deals confirmed during President Xi's visit include, the Daily Telegraph says, a £2bn tie up between Falkirk-based Alex Dennis Ltd and China's BYD to manufacture new electric buses, a £200m injection from China Investment Group to support a television training programme at the University of York, and a £100m investment from Chinese infrastructure group SinoFortune into a new theme park in Kent.
Xi stumps up for Hinkley Point – and much more besides
21 October
Chinese President Xi Jinping's state visit to the UK will reap significant tangible benefits today as China "puts the seal" on its contribution to a new nuclear power facility at Hinkley Point in Somerset.
According to early reports, China has agreed to cover about 30 per cent of the cost of the plant under a deal brokered by the chancellor George Osborne during his visit to China last month. This is the first part of a package for three new nuclear power stations – one of which will be designed and built by a Chinese state entity. It is just one of an estimated £30bn worth of deals to be signed during President Xi's four-day visit.
During his first speech of the tour, Xi sidestepped the British steel crisis, as well as human rights concerns, and hailed a "bright future" between the two nations. Britain and China are "interdependent", bound by "friendly ties" that will deepen during the course of his visit, the Chinese president said.
Last night there were reports of minor skirmishes between human rights protesters and pro-China supporters during a state carriage procession to Buckingham Palace. "Though there was no violence, lots of pushing and shoving from both sides required the police to intervene," Channel 4 News reports.
President Xi's visit has been criticised by activists who accuse Cameron of turning a blind eye to China's human rights abuses. It has also reportedly irritated some of Britain's more traditional allies, including the US, where the Chinese leader's visit last month was marked by friction over cyber-theft and Beijing's perceived aggression in maritime territorial disputes in the Pacific.
Chris Johnson, a former China analyst at the Central Intelligence Agency, told the Financial Times that the US was able to flex muscle with China's leaders in a way that Britain could not. "Barack Obama can stand next to Xi Jinping and tell him the ways in which he sucks. UK leaders cannot do that.
Nonetheless, a potentially tense opening day passed largely without incident. Those protesting against China's human rights record were kept far from the procession, with their banners all but eclipsed by "I love China" flags, the BBC reports.
But the day was marred by an announcement from Tata Steel that it was cutting 1,200 jobs in the north of England, blaming the layoffs on cheap Chinese imports, as well as the strong pound. Defence Minister Phillip Hammond said David Cameron would raise the issue of China "dumping" steel on the market with Xi before the end of his visit.
Hinkley Point deal paves way for Chinese nuclear reactor in UK
20 October
A deal to allow work to begin on the first new British nuclear reactor in a generation has finally been agreed.
Haggling between French energy giant EDF and Chinese officials over the first plant at Hinkley Point, Somerset finally concluded yesterday, The Guardian reports. Costing £24.5bn and at least seven years behind schedule, the project has so far struggled to attract outside investors.
Even with the injection of Chinese cash, EDF is planning asset sales of around €10bn to shore up its balance sheet ahead of the projects, the Financial Times says.
State-backed China General Nuclear Power Corporation will take a financial interest of around a third in Hinkley Point, considerably less than the 40 per cent stake EDF had been seeking. China will also invest in a second development at Sizewell in Suffolk, before leading on a third project based on its own designs at Bradwell in Essex.
Hinkley Point has faced wide-ranging criticism. Environmental campaigners have protested at the redeployment of nuclear technology, which produces toxic waste, while rival energy groups have branded the hefty subsidies on electricity costs promised to backers as being poor value for money.
Others, including defence experts, have also criticised the involvement of the Chinese in UK energy security, warning that plans to let the Chinese build a plant of their own design constitutes a threat to national security.
The deal coincides with the visit to the UK of Chinese president Xi Jinping and is expected to be announced tomorrow, with a final agreement that will effectively be "a point of no return" coming before the end of the year.
Hinkley Point deal poses 'threat to national security'
16 October
Britain's military leaders have raised the alarm over a perceived "threat to national security" arising from a multibillion pound nuclear deal with China, which sources claim could be signed as early as next week.
A "well-placed defence source" told the Times that senior military officers are "very concerned by the prospect of China building a nuclear power station in Britain". The source cited fears that "trapdoors or backdoors" could be inserted into computer systems in order to bypass British control in the event of a diplomatic row.
Under a deal that chancellor George Osborne is brokering, China would invest in a wave of three new power stations being built in the UK. State nuclear groups China National Nuclear Corporation and the China General Nuclear Power Group would take stakes in stations being built by the French company EDF at Hinkley Point in Somerset and Sizewell in Suffolk. They would then design and develop a third plant using Chinese technology at Bradwell on the Essex coast.
The projects are "the biggest elements in what Osborne calls the 'golden relationship', which forecasters say will bring £100bn in Chinese investment into Britain over the next decade".
Chinese support is also seen as critical to getting nuclear development off the ground, with the £24.5bn Hinkley Point plant having been hit by a number of delays, including external investors pulling out. The completion date was originally 2017 but is now unlikely to be before 2024.
The Daily Telegraph reports that a "heads of agreement" could finally be signed between EDF and Chinese officials next week, which would enable the first new UK nuclear plant in a generation to go ahead. This would be a preliminary stage before a final version of the complex deal, running to some 21,000 pages, is completed over the coming months. The final agreement related to Hinkley Point extends over 70,000 pages.
A final sticking point appears to be the size of the stake the Chinese companies are being asked to take. EDF is pushing for a 40 per cent interest, while officials are thought to want to go no higher than 30 per cent.
Hinkley Point deal closer after Osborne's £2bn guarantee
21 September
"A new nuclear power station at Hinkley Point in Somerset will be part-funded by Chinese money" after all, says Sky News, as it reports on George Osborne's pledge to provide a £2bn loan guarantee to rescue the long-delayed project.
Chinese support will allow French developer EDF to commit to building plants at both Hinkley Point and Sizewell in Suffolk.
Speaking during a visit to China, the Chancellor said the deal "paves the way for Chinese investment in UK nuclear", referring to a related plan for another reactor to be built at Bradwell in Essex – the first in the West to use an exclusively Chinese design. Details of the arrangement are expected to be confirmed during a Chinese state visit to the UK next month.
Government guarantees are required, the BBC's Richard Anderson says, because nuclear plants are "mind-bogglingly expensive to build". Hinkley Point will be the most expensive in the world, at close to £25bn, with the "initial" £2bn in guarantees likely to increase substantially before construction is complete.
The development has been controversial not only because of the up-front costs, nor the safety issues that have put paid to its original 2019 target to produce power, but also because of a price guarantee offered by the government. Under the terms of the deal, EDF will receive twice the current wholesale price of electricity for the power generated at Hinkley.
However, the Chancellor has said these pricing guarantees are in fact "not set in stone" and could be revised before the deal is signed.
The BBC's Robert Peston says the unit prices currently being discussed look "scarily expensive". But he notes the deal is motivated as much by broader strategic interests such as energy security – spare power capacity is at its lowest levels for years and falling – and represents an attempt to use "a bloated sprat to catch a ginormous mackerel" in the form of increased inward investment from China in the years to come.
Continue reading for free
We hope you're enjoying The Week's refreshingly open-minded journalism.
Subscribed to The Week? Register your account with the same email as your subscription.
Sign up to our 10 Things You Need to Know Today newsletter
A free daily digest of the biggest news stories of the day - and the best features from our website