Morrisons 'baffled' to be named UK's worst shop
New Which? survey seems to contradict findings of separate supermarket study in February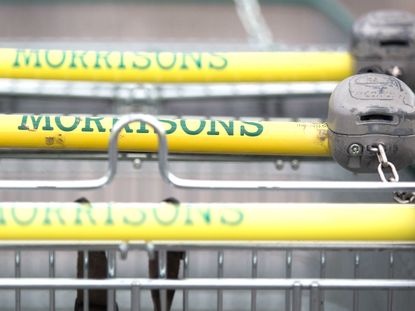 Sign up to our 10 Things You Need to Know Today newsletter
A free daily digest of the biggest news stories of the day - and the best features from our website
Thank you for signing up to TheWeek. You will receive a verification email shortly.
There was a problem. Please refresh the page and try again.
Morrisons shares hit by latest salvo in supermarket price wars
02 August
Morrisons has fired the latest shot in the prolonged and brutal supermarket price wars after it announced it was cutting the price of hundreds of its products.
It is "at least the third" time this year that the Bradford-based "big four" grocer has embarked on broad-based price reductions to lure customers and compete with discounters Aldi and Lidl, says The Independent.
Subscribe to The Week
Escape your echo chamber. Get the facts behind the news, plus analysis from multiple perspectives.
SUBSCRIBE & SAVE
Sign up for The Week's Free Newsletters
From our morning news briefing to a weekly Good News Newsletter, get the best of The Week delivered directly to your inbox.
From our morning news briefing to a weekly Good News Newsletter, get the best of The Week delivered directly to your inbox.
Overall prices have been falling across the supermarket sector for two years and deflation is currently running at an annual 1.4 per cent.
All the big four have sacrificed profits to shore up market share. Asda, whose sales have been in freefall, has been given permission by its US parent Walmart to abandon its focus on margins and target sales volume in order to stem its customer exodus.
When this was announced a month ago, it sent share prices across the sector tumbling – and much the same reaction greeted the Morrisons announcement.
The supermarket's own share price closed down 2.3 per cent yesterday and was down a further 0.8 per cent this afternoon at 180.1p. Tesco shares are down more than 1p since their Friday settlement, while Sainsbury's are down more than 2p.
Morrisons says the price reductions are not just about its price war with rivals, but also a response to concerns about the fall in the pound since Brexit.
As 40 per cent of products on supermarket shelves are imported, this has triggered fears that prices could be set to spiral higher, piling pressure on squeezed household finances at a time when wages are rising only modestly.
"We are constantly listening to our customers and know they are concerned about whether food prices will go up following the Brexit vote, especially on imports," Andy Atkinson, Morrison's customer and marketing director, said.
One area that has already seen a new bout of price jostling is petrol. A 2p cut by Morrisons last week was matched by Tesco and Asda putting in place a national price cap of 105.7p on petrol and 106.7p on diesel, reports the Yorkshire Post.
Morrisons to take on staff as My Local enters administration
30 June
Morrisons is set to re-employ hundreds of staff from the convenience store estate it sold off last year, after the buyer, My Local, confirmed it has filed for administration.
My Local is said to have already shut as many as 90 of its sites in recent days, reports the Daily Telegraph. This has resulted in the loss of around 1,200 jobs, says The Guardian, on top of those caught in a previous cull of 25 stores.
This leaves around 35 shops unaccounted for. The Telegraph suggests three of these are "expected to close imminently", with buyers being sought for the remainder by administrators KPMG. The Co-operative Group has been cited among the potential bidders.
Morrisons sold off the convenience stores for £25m last October after long-standing complaints over high rents and poor locations. Buyers My Local were a new company led by retail veteran Mike Greene and backed by turnaround investor Greybull Capita.
"This is the first time in 20 years that the convenience sector is not growing strongly," said Greene yesterday. "The reality is that while we more than halved the rate of losses, the management team has been unable to return the business to profitability."
The "big four" supermarket group said last week it "would re-employ any colleagues that want to re-join" and who were with the business when ownership changed hands last October.
At the time of the sale, the chain employed 1,658 people across the UK. It is not known if those affected by the previous wave of closures are covered by the pledge. Morrisons said staff would be offered another role within six months.
As for those who have joined My Local since it was spun out, Morrisons said it would "welcome their application for any vacancies available with our stores, logistics or manufacturing sites".
The Telegraph says that in addition, "several national retailers and supermarket chains are committed to considering employees for any available roles."
Morrisons is also likely to face a £20m bill for rental liabilities, which it guaranteed for five years as part of the original sale.
Closures so far "include branches of the former Morrisons chain in Twickenham, Rochdale, Torquay, Maidstone and Cheltenham, where staff are said to have been laid off without redundancy pay".
Morrisons promises to protect workers if My Local collapses
22 June
Morrisons has promised to protect most of the 1,700 workers set to lose their jobs if the My Local convenience store chain collapses into administration, says the BBC.
Its owners filed notice of its intention to appoint administrators yesterday, according to The Guardian. The move is a precursor to a formal administration process, which gives the business ten days' protection from creditors while it attempts to resolve its financial difficulties.
Accountancy firm KPMG is working with management on a number of options, including the sale of ten stores to the Co-operative Group. It is not certain whether the filing will result in administrators being appointed.
My Local was formed after the buyout of Morrisons' 140-strong convenience store estate last year by retail veteran Mike Greene, with the backing of the turnaround investor Greybull Capital. Since then, 25 stores are thought to have closed amid poor trading.
Conditions have not much improved for the remaining stores, which have long been the subject of analyst criticism over their apparently poor location and high rents. Most occupy former Blockbuster video stores acquired following the DVD rental chain's collapse.
Morrisons agreed to guarantee several of the stores' rental leases for up to five years as part of the sale. This amounts to a liability of as much as £20m if My Local falls into administration.
In a statement issued today, the grocer said it would not leave workers high and dry. "If no buyer is found, and stores close, we will welcome our former colleagues back to a job at Morrisons."
The pledge applies to staff who worked at the chain when it was owned by Morrisons, the BBC adds, "although anyone hired in the interim will be considered".
The bid to save jobs comes as former BHS owner Sir Philip Green vowed to rehire up to 1,000 BHS staff who worked at in-store concessions for BHS, such as Dorothy Perkins and Wallis. This still leaves as many as 10,000 BHS staff facing imminent unemployment.
Morrisons singled out by watchdog over supplier payments - again
21 June
Morrisons has hit the headlines over its payment demands on suppliers for a second time, with claims the grocer demanded one-off sums of as much as £2m.
A case study published by the Groceries Code Adjudicator (GCA), Christine Tacon, cites 19 requests for payments that were above and beyond agreed deals, contravening obligations under an industry code of conduct laid out in 2009, The Guardian says.
The paper first reported the allegations last July, quoting emails Morrisons sent to suppliers asking for funding to support the cost of investment in areas such as staffing.
In one, added the Guardian, Morrison's legal team had offered to help "construct arguments that are credible" to justify the demands.
However, Tacon said a formal investigation was not necessary as Morrisons had taken "swift action" to rectify the matter.
"Chief executive David Potts ordered an internal investigation in which 66,000 emails were examined and employees interviewed, with disciplinary action taken when appropriate, including the departure of some staff," the Guardian adds.
Potts said: "These events happened a year ago and since then much has been achieved to ensure they don't happen again. However, we are sorry they happened in the first place."
This is the second time the grocer has been singled out by the GCA: a separate case study was published in 2014 related to overcharging of suppliers. Then, as now, the firms were reimbursed.
Elsewhere, Morrisons is said to be facing a £20m liability relating to the My Local convenience store estate it sold for £25m last year. The Guardian says KPMG have been brought in amid tough trading conditions, with administration or the sale of some stores potentially up for consideration.
As part of the sale to retail veteran Mike Green, who is backed by turnaround investor Greybull Capital, Morrisons guaranteed a number of store leases in the even that My Local collapses.
Morrisons shows signs of turnaround – but poor payout hurts shares
10 March
Morrisons' "back-to-basics" turnaround seems to be bearing fruit, but a reduction in its investor payout amid falling underlying profits has hit its shares this morning.
First, the good news. The supermarket revealed that in the fourth quarter, like-for-like sales at stores open more than one year increased for the first time in four years, albeit by a modest 0.1 per cent. It also "bounced back into profit" on an overall pre-tax basis for the whole of 2015, notes The Guardian, with a positive reading of £217m comparing to a loss of £792m.
However, there were negatives that show the strain on the supermarket sector amid an onslaught from discounters Aldi and Lidl. The BBC notes that underlying profits stripping out one-off expenses fell to £242m from £345m, reflecting a declining store estate and a fall in like-for-like sales over the 12 months of two per cent. Revenues dipped 4.1 per cent to £16.1bn.
Critically for investors, the Financial Times points out a final dividend of 3.5p was proposed that would take the final annual payout to 5p – well down on last year's 13.65p. Shares in the company were down 2.1 per cent to 197.8p at 10.25am.
Chief executive David Potts, who took over last March and has been trying to turn around Morrisons' fortunes by closing unprofitable shops, selling off its expensive convenience store network and simplifying its in-store offer, said the results were "positive" but showed the company's turnaround would "take time".
The board also noted that it "recognises the importance of sustainable dividends to shareholders" and that from this year, it will seek to up payouts to a level that is covered around two times by earnings per share.
Alongside the overhaul of its core supermarkets, Morrisons is also pinning its hopes for sales growth on a deal with Amazon that will open up its fresh and frozen produce to the online retailer's subscription customer base. It is also renegotiating its delivery deal with Ocado to cover the whole of the UK.
Continue reading for free
We hope you're enjoying The Week's refreshingly open-minded journalism.
Subscribed to The Week? Register your account with the same email as your subscription.
Sign up to our 10 Things You Need to Know Today newsletter
A free daily digest of the biggest news stories of the day - and the best features from our website