Morrisons 'baffled' to be named UK's worst shop
New Which? survey seems to contradict findings of separate supermarket study in February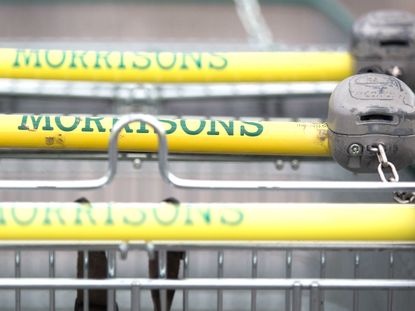 Sign up to our 10 Things You Need to Know Today newsletter
A free daily digest of the biggest news stories of the day - and the best features from our website
Thank you for signing up to TheWeek. You will receive a verification email shortly.
There was a problem. Please refresh the page and try again.
Morrisons sales up again after best ever Halloween
17 November
Morrisons' turnaround continues, helped in the past three months by a big boost in Halloween-related sales.
The supermarket reported its fourth consecutive quarter of rising like-for-like takings, which strip out the effect of new store openings and closures.
Subscribe to The Week
Escape your echo chamber. Get the facts behind the news, plus analysis from multiple perspectives.
SUBSCRIBE & SAVE
Sign up for The Week's Free Newsletters
From our morning news briefing to a weekly Good News Newsletter, get the best of The Week delivered directly to your inbox.
From our morning news briefing to a weekly Good News Newsletter, get the best of The Week delivered directly to your inbox.
Comparable sales were up 1.6 per cent for the 13 weeks to 30 October compared to the same period last year. Revenues related to Halloween surged 20 per cent to a new record, in part because of an expanded product selection.
"The supermarket group decided to offer more Halloween products after listening to customers," says the Guardian. It intends to focus more on similar seasonal events in the coming years, too.
Price cuts – overall prices were down one per cent in the period compared to last year – and the launch of a new premium range, The Best, also had a positive impact.
The new product line taps into increasing customer segmentation, with the rise of Aldi and Lidl giving rise to a trend of consumers "shopping around" for bargains on staples and spending some of the savings on luxuries.
Morrisons it intends to "launch more The Best products in the run-up to Christmas".
Total sales at the group are still falling, however, and were down 1.2 per cent in the past three months as the turnaround plan saw a number of underperforming stores close and the sale of Morrisons' convenience store estate.
The grocer's biggest challenge in the coming months is managing the fall in the pound and the impact on prices and margins, say analysts.
In the eyes of many, the supermarket has already lost one PR battle on this front after it increased the price of Marmite by 12.5 per cent following an increase in wholesale costs by manufacturer Unilever. However, these were rejected by Morrisons' rival Tesco, who it is widely assumed will increase its prices by a smaller amount.
Neil Wilson, a markets analyst at ETX, told the BBC: "Morrisons has got to be careful with how it handles the weaker pound as margins compress further, although overall it's better placed than most as it sources more from the UK."
Morrisons shares were up 1.4 per cent this afternoon, at 224.4p.
Morrisons shares soar after third successive sales rise
15 September
Morrisons shares are surging this morning after the grocer reported a third successive quarterly sales rise and its first increase in first-half profit in four years.
The supermarket's group stock price was up close to eight per cent to around 209p by 11am, adding more than £350m to its market value of £4.87bn.
In results covering the six months to the end of July, Britain's fourth-largest grocer reported a 13.5 per cent rise in pre-tax profits to £143m. That's the first increase for the first half of a year since 2012, notes the BBC.
Total sales fell marginally by around 0.4 per cent, to a fraction above £8bn, but this was mostly due to the closure of underperforming stores.
On a like-for-like basis, comparing sales at stores open for more than a year and still trading, takings were up by 1.4 per cent for the six months, reports the Daily Telegraph. For the three months to July the rise was higher at two per cent.
This has prompted bosses to declare that the group has not yet seen any ill-effects from the Brexit vote in June.
Since taking over early last year as chief executive, David Potts and his new management team have being undertaking a "back-to-basics" turnaround.
This has seen the company sell its expensive convenience store estate, close a number of loss-making larger stores and offload non-core assets such as its stake in the US online grocer Fresh Direct.
Morrisons has also signed potentially lucrative partnerships with the e-commerce giant Amazon and renegotiated its oft-criticised website deal with Ocado.
The supermarket's positive results are also rubbing off on its established rivals, with Tesco and Sainsbury's shares rising 2.8 and 1.4 per cent respectively.
Morrisons could 'deliver best half-year sales in four years'
12 September
Morrisons, the UK's fourth biggest supermarket chain by market share, is set this week to "deliver its best half-year sales performance in four years", says the Daily Telegraph.
The paper says analysts are "pencilling in" a 0.7 per cent like-for-like lift in half-year sales in stores that have been open for more than a year when the firm reports its latest figures on Thursday. This would be the best half-year gain since 2012.
New management has been in place at the store since March 2015, beating expectations after "stunning the market with a post-Christmas sales recovery".
The store's chief executive David Potts has been undertaking a "back-to-basics" turnaround, closing underperforming stores, offloading a costly convenience store estate and slashing prices on around 4,000 product lines in order to compete more effectively with the likes of Aldi and Lidl.
Morrisons has also renegotiated its much-criticised online deal with Ocado, giving it greater geographic range and reducing long-run payments. The store has signed an agreement with Amazon to provide own brand products for its Amazon Fresh offer.
Morrisons is going further with its Amazon tie-up, too, after announcing that it will install lockers that allow subscribers to pick up orders at a convenient time.
Trevor Strain, chief financial officer of Morrisons, told the BBC that he believed the option to pick items up "from one of our hundreds of conveniently located supermarkets will be attractive" and help to bring customers into the stores.
There are more than 1,000 Amazon lockers in locations such as shopping centres, convenience stores, airports, train stations and universities. Customers who cannot wait at home are able to access the lockers using a unique barcode.
Morrisons shares were up 1.2 per cent this afternoon to 194p.
Morrisons sells stake in US online grocers Fresh Direct
17 August
Bosses of supermarket group Morrisons are continuing the "dismantling of the legacy left by former chief executive Dalton Philips", says the Daily Telegraph.
The latest step in this process has come with the sale of its stake in US online grocery business Fresh Direct for £45m. That represents a £14m profit for the company over the five years it has been invested.
More importantly, it continues the strategy of chief executive David Potts, who launched a back-to-basics turnaround last year in the face of declining fortunes.
In particular, "overreach" by the business during the Dalton years has been addressed through the closure of underperforming stores, the sale of its loss-making convenience store estate and a radical rethink of its online strategy.
Last week, Morrisons announced an overhaul of its website deal with Ocado that will see it pay millions less in fees in the coming years and massively extend its delivery reach.
That followed the announcement earlier this year of a big deal with Amazon in which the supermarket supply own-brand fresh and frozen goods to the internet giant's Prime customers.
Previous online investments that turned sour include the purchase of children's toys and accessories retailer Kiddicare, which The Guardian reports Morrisons bought for £70m at around the same time as it invested in Fresh Direct.
It had hoped to expand the business through physical stores, but the investment flopped and it was forced to abandon the project in 2014, at a cost of £163m.
Morrisons to save millions in new Ocado deal
10 August
Morrisons is set to save millions of pounds a year and massively extend the reach of its online service under a new deal with its website partner Ocado.
From 2018, the supermarket will halve to £4m the amount it currently pays to fund the research and development of online-only Ocado and will no longer be required to forfeit 25 per cent of future profit over the next 15 years from the currently loss-making service.
In addition, Morrisons' online offer will be extended to the half of the country it cannot currently reach by allowing it to stock-pick from its own local stores in order to plug any gaps in provision.
As a result, home deliveries will be available in London, Scotland, East Anglia and the north-east of England, reports The Guardian. A wider range of non-food products will also be offered to customers.
In return, the store will make a one-off investment to fund 30 per cent of the cost to develop Ocado's new delivery hub in Erith, south-east London, which is due to open in 2018.
The new arrangement contains far fewer restrictions on Ocado striking deals with other retailers. Morrisons' primary competitors – Tesco, Sainsbury's, Asda, Aldi and Lidl – will remain off-limits, but the likes of Marks and Spencer, the Co-Op and others will be fair game.
Analysts say the renegotiation benefits both parties, rather than just extricating Morrisons from a much-criticised deal agreed by its former management, which left it trailing behind its peers and cost an upfront £176m in set up and licensing expenses.
The original deal was signed in 2013 and saw Ocado set up, launch and take on management of Morrisons' online shopping service a long time after its main rivals had made the move, says the BBC.
The renegotiation was triggered when the supermarket signed a distribution deal with Amazon in March. Under the new terms, its own-brand fresh and frozen food was made available to customers of the online giant's new same-day subscription grocery service.
Continue reading for free
We hope you're enjoying The Week's refreshingly open-minded journalism.
Subscribed to The Week? Register your account with the same email as your subscription.
Sign up to our 10 Things You Need to Know Today newsletter
A free daily digest of the biggest news stories of the day - and the best features from our website