Morrisons 'baffled' to be named UK's worst shop
New Which? survey seems to contradict findings of separate supermarket study in February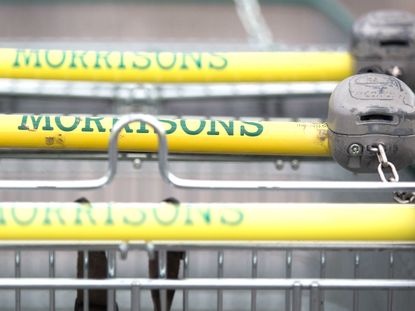 Sign up to our 10 Things You Need to Know Today newsletter
A free daily digest of the biggest news stories of the day - and the best features from our website
Thank you for signing up to TheWeek. You will receive a verification email shortly.
There was a problem. Please refresh the page and try again.
Morrisons regains place in FTSE elite after Amazon deal
3 March
David Potts's turnaround of Morrisons may be far from complete but an about-face in the fortunes for its shares certainly is after the company returned to the FTSE 100 following an absence of just three months.
The stock hit a high of 208p last March, after Potts's appointment as chief executive, before embarking on a prolonged slump in the face of a sector shake-up, notes the Yorkshire Post. With discounters Aldi and Lidl eroding the grocer's market share, the price fell by 28 per cent during the nine months to December, culminating in its relegation from the group after a tenure of 14 years.
Subscribe to The Week
Escape your echo chamber. Get the facts behind the news, plus analysis from multiple perspectives.
SUBSCRIBE & SAVE
Sign up for The Week's Free Newsletters
From our morning news briefing to a weekly Good News Newsletter, get the best of The Week delivered directly to your inbox.
From our morning news briefing to a weekly Good News Newsletter, get the best of The Week delivered directly to your inbox.
Morrisons has been one of the worst affected of the supermarket "big four" by the persistent deflation and fragmentation in grocery shopping. It has also had issues with an expensive convenience store estate, which it has since sold, and in its online offering - its £170m contract with Ocado was so restrictive that after two years, it had yielded just a three per cent market share.
Now the grocer is going back to basics in stores, cutting the fat in terms of unprofitable supermarkets, but most eye-catchingly of all is its deal with Amazon to provide fresh and frozen food to the online giant's subscription customers. Leverage gained from this agreement also enabled it to reset the terms of its contract with Ocado and roll out deliveries nationwide.
Morrisons' shares had been creeping higher since the turn of the year, after a crucial, albeit marginal sales improvement over the festive period and have surged 13 per cent since the tie-up with Amazon was signed at the beginning of this week. Indeed, the stock is up a massive 39 per cent since 2 December to 206.5p this morning – putting it almost back to parity over the past year.
As a result, the regular quarterly review of the FTSE 100 index yesterday saw the grocer regain its top table seat. Gaining or losing a place in the index can exacerbate a positive or negative move for shares since they are then automatically bought or sold by the many passive funds that track the index, Reuters says.
Among the four firms relegated was Sports Direct, which has slumped 40 per cent since December amid a spate of corporate governance concerns.
Is Morrisons' deal with Amazon a game-changer?
01 March
"Morrisons' shares up six per cent; Ocado's down eight per cent," notes The Guardian's Nils Pratley. "It's hard to argue with the market's snap judgment on Monday's strategic shuffles in the online grocery market."
The divergence was the result of a surprise announcement that Morrisons - previously the smallest of the "big four" supermarkets and one of those struggling to come to terms with the shake-up in the wider sector - had struck a key deal to supply fresh and frozen food to online giant Amazon's subscription customer base.
It's seen as a big coup for the Bradford-based business and marks an attempt both to find new revenues amid a brutal price war in its core business and to extract a potentially lucrative silver lining from the frightening posturing of Amazon on the fringes of supermarkets' territory. Shares in Tesco, the UK's largest grocer, fell two per cent.
What is more, commentators note the agreement also leverages one of Morrisons' key advantages compared to its main rivals - that it manufactures much of its own food rather than outsourcing. "Morrisons can still hope to make a profit as a manufacturer and wholesaler on its Amazon lines, even if it is surrendering the retailer's profit margin," says Pratley.
For internet supermarket Ocado, however, the deal is very bad news. It had been the grocer's exclusive online partner with a responsibility for building Morrisons.com's operation and handling deliveries. The deal was signed by former Morrisons chief executive Dalton Philips and runs until 2038, although new boss David Potts is thought to dislike it.
Now, faced with competition from the online rival it fears most, Ocado has been forced into making concessions that, when formalised, will see it using stock from local Morrisons stores to expand deliveries across the country and cede space in its new delivery hub near London - effectively for free.
The Daily Telegraph's Christopher Williams says investors will have woken up to the fact that Amazon is also now unlikely to buy out Ocado at its massive 90 times multiple to earnings. Instead, it could rapidly begin to eat into market share. In that context, the eight-per-cent sell-off can even look like a generous response, regardless of comments of a "win-win" arrangement.
For Morrisons – and Amazon – the introduction of a few hundred lines into nascent Amazon Prime and Amazon Pantry services that have not yet reached critical mass is hardly a game-changer, but it has the potential to be hugely positive.
It could also be a flash in the pan that lays a path for a broader future assault, warns Williams. "Once [Amazon] has the measure of British grocery habits, could it jettison Morrisons and launch an all-out assault on the traditional food retailers?" he asks.
Possibly, but as Williams goes on to say: "Potts may have decided that in the supermarket industry's parlous state he does not have the luxury of paranoia".
Morrisons 'coup' as it beats 'big four' rivals to Amazon Prime deal
29 February
Morrisons has scored a major victory over its "big four" rivals after it secured a potentially lucrative distribution deal with online behemoth Amazon.
The agreement will allow customers of the Amazon Prime Now or Amazon Pantry subscription services access to hundreds of Morrisons' own fresh and frozen food.
It essentially opens up Amazon's existing and growing client base to the grocer, with orders being placed through the online retailer's platform and fulfilled through Morrisons' storage and distribution network.
Larger grocers had been readying themselves for the battle with Amazon as it continues its move into the sector. It already offers around 4,000 non-fresh grocery lines but was expected to partner with a big established firm – or even buy online fresh-food retailer Ocado – to make the leap to perishable goods.
Instead, it has opted to sign a deal with Morrisons, which has been among the worst affected by the supermarket shake-up caused by the rapid growth of discounters Aldi and Lidl. "This is a bit of a coup for Morrisons in that Amazon could have gone with one of the bigger players," Richard Hyman, an independent retail analyst, told the Financial Times.
"This is a low risk and capital light wholesale supply arrangement that demonstrates the opportunity we have to become a broader business," said Morrisons boss David Potts in a statement.
The deal will not affect the grocer's relationship with Ocado, which provides the infrastructure for its own online shopping channel. A separate agreement signed between the two extends this arrangement and gives Morrisons some of the space in Ocado's new distribution centre in Erith, in London.
This means Morrisons' online shopping will be available across the UK for the first time, notes The Guardian, and gives the supermarket a vital hub to satisfy third-party orders through Amazon. Most Amazon Prime customers in the UK are currently located in London.
Morrisons shares were up 4.5 per cent by 10.25am to 196.3p.
Morrisons intensifies supermarket price war with assualt on 'essentials'
02 February
Morrisons has fired the latest volley in the bitter supermarket price war, slashing the cost of more than 1,000 "essential" products.
The Bradford-headquartered supermarket, which has struggled in recent years amid an onslaught from discounters Aldi and Lidl, said it would cut the price of basic goods and especially fruit and vegetables by as much as 19 per cent. Sky News says the products will remain at their lower prices for a minimum of three months.
"We continue to listen carefully to customers and they have told us they want lower prices, particularly on fresh food and everyday essentials," said chief executive David Potts.
Deflation has gripped the supermarket sector in the past 18 months, as established grocers respond to the rapid market-share gains by the German discounters. Asda was the latest to announce another round of price cuts in its stores that would equate to an investment of around £500m.
Along with other "big four" grocers, Morrisons is in the middle of a more substantial turnaround to reposition itself amid the sector shake-up. More people now eschew a single weekly shop and instead visit multiple retailers, with higher-end brands such as Waitrose and Marks & Spencer and low-cost competitors Aldi and Lidl winning at the expense of the bigger chains that built empires on a one-stop shop approach.
"We are the small guy in the squeezed middle, the British underdog," Potts told The Guardian last month. His comments came as the chain announced the closure of another seven of its stores, on top of the 21 that were shut last year and putting another 680 jobs at risk.
This came despite a surprise like-for-like 0.2 per cent sales increase over Christmas in the first sign that the "back to basics" focus at the heart of its restructuring, which also saw Morrisons sell its convenience stores last year, is beginning to pay dividends.
Morrisons shares were 1.4 per cent down this morning to 172p.
Morrisons boosts supermarket sentiment with surprise sales rise
12 January
Shares in "big four" supermarket chain Morrisons were sent soaring this morning after it reported its first sales rise in more than a year.
The under-pressure grocer reported that, excluding fuel, like-for-like sales over the nine weeks to 3 January - the critical Christmas trading period - in shops open more than a year were up 0.2 per cent. This blindsided analysts who had predicted a fall of anywhere between 2-3 per cent for the company, which is in the middle of executing a turnaround plan that includes a number of store closures and extensive price cuts.
Investors reacted by buying into the stock in a big way, trading it up 12 per cent at one point shortly after the open. By mid-morning, shares were up around 9 per cent to 166p, a rise of 19 per cent from the low of 139p reached in mid-December in the wake of the company falling out of the FTSE-100 for the first time in 14 years.
The relegation took place when shares were trading at 151p, raising the prospect of a quick re-entry at the next quarterly assessment if the rally continues.
Wider supermarket sentiment was boosted by the shock figures, as well as by relatively positive results for the larger established brands in the latest industry figures from Kantar Worldpanel.
Sainsbury's was the only one of the top four to see an increase in market share over the 13 weeks, a rise of 0.1 per cent to 17 per cent, the Telegraph notes, while sales rose markedly at discounters Aldi and Lidl. But the duo shed collective market share amid an overall increase in sales volumes and the bigger brands held their own as food price deflation led to a marginal 0.2 per cent overall fall.
Morrisons itself saw sales fall 2.6 per cent in the wider figures, largely as a result of store closures.
Tesco shares bounced on the news and led the FTSE-100 with a 6.3 per cent gain, while Sainsbury's was up more than 3 per cent. The latter is the next to report its festive-season sales tomorrow, while Tesco follows on Thursday.
Continue reading for free
We hope you're enjoying The Week's refreshingly open-minded journalism.
Subscribed to The Week? Register your account with the same email as your subscription.
Sign up to our 10 Things You Need to Know Today newsletter
A free daily digest of the biggest news stories of the day - and the best features from our website