Sainsbury's halts talks on Nisa buyout
Supermarket is waiting to see outcome of review of Tesco-Booker deal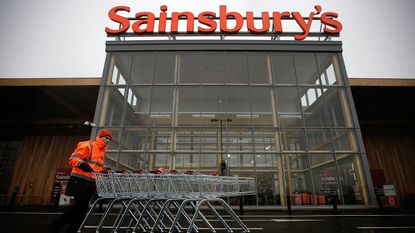 (Image credit: 2012 Getty Images)
Sign up to our 10 Things You Need to Know Today newsletter
A free daily digest of the biggest news stories of the day - and the best features from our website
Thank you for signing up to TheWeek. You will receive a verification email shortly.
There was a problem. Please refresh the page and try again.
Sainsbury's has opened the door for rivals to swoop on the convenience store chain Nisa after it called a halt to its own exclusive buyout talks.
In a message to Nisa members, reported by the Daily Telegraph, its chairman Paul Hartley said Sainsbury's bosses were waiting to see the outcome of the competition regulator's review of Tesco's buyout of Booker Group, the food wholesaler.
He said Sainsbury's has "made it clear they remain interested" in potentially buying the firm, but that it does "not feel sufficiently comfortable to do so" until there is "greater clarity over the evolving regulatory and competition considerations".
Subscribe to The Week
Escape your echo chamber. Get the facts behind the news, plus analysis from multiple perspectives.
SUBSCRIBE & SAVE
Sign up for The Week's Free Newsletters
From our morning news briefing to a weekly Good News Newsletter, get the best of The Week delivered directly to your inbox.
From our morning news briefing to a weekly Good News Newsletter, get the best of The Week delivered directly to your inbox.
Hartley also said that the board would continue to review "any serious incoming queries". According to the Telegraph, it's understood that the Co-op has "returned to the bidding process".
Sainsbury's entered into talks over a reported £130m buyout of Nisa in June, in what was seen as a direct response to Tesco's mega-merger with Booker Group.
Nisa is effectively a mutual owned by its 1,400 small-store members, who operate as franchisees and benefit from the collective buying power of a single brand.
Smaller stores have been a big winner for Tesco and Sainsbury's in recent years as shopper habits have fragmented. The deal would bolster market share at a time when its main rival is acquiring the Londis, Budgens, Happy Shopper and Premier convenience brands.
But Tesco's claims that it would not own more stores have fallen on deaf ears at the Competition and Markets Authority. It's likely to have to shed hundreds of stores to get the deal through.
As Booker supplies the stores, the merger is seen to harm competition in at least 350 local areas. The watchdog also expressed concern at the effect on rival wholesaler Palmer & Harvey.
Palmer has a connection with Nisa in that it merged with Costcutter in 2013 after the latter had a £134m buyout bid for Nisa rejected. The wholesaler later cancelled a £500m supply deal with Nisa, leading the firm to record its first-ever annual loss.
Writing in The Guardian, Nils Pratley says that holding fire on the deal is sensible, even if it means ultimately losing out to the Co-op.
He adds: "Sainsbury's management has better things to do currently, such as ensuring the promising reboot of Argos continues."
Sainsbury's sales show return to strong growth
4 July
Sainsbury's has posted an impressive set of second-quarter sales figures that one noted analyst has described as "little less than a Lazarus moment".
Britain's second largest supermarket group said total like-for-like sales rose 2.3 per cent in the 16 weeks to 1 July, up from just 0.3 per cent for the first three months of the year.
These are the firm's "first results to blur the progress" of the Sainsbury's and Argos brands since last year's £1.4bn acquisition of the latter, said John Ibbotson of consultancy Retail Vision.
But the grocer "no longer needs to hide behind Argos's success", he added, as figures for core grocery sales showed a return to strong growth.
Total grocery sales rose three per cent and fresh food rose one per cent, both beating the wider market, says The Guardian. Clothing and general merchandise, including Argos, also beat the market despite store closures.
In March, Sainsbury's revealed that like-for-like sales across the group in the first three months had risen just 0.3 per cent, with Argos up significantly in excess of four per cent and supermarket sales down 0.5 per cent.
Ibbotson said: "It's little short of a Lazarus moment. No longer leaning precariously on the Argos crutch, the Sainsbury's core business is back on its feet and growing food sales at a healthy clip.
"These results are the first to blur the progress of the two brands since last year's acquisition – but Sainsbury's no longer needs to hide behind Argos's success.
"The three per cent growth in grocery sales is an impressive return to form for a brand which for years had dodged the bloodletting unleashed at the cheaper end of the market by the arrival of the discounters."
Rising sales do not necessarily mean rising profits, especially as margins have come under pressure in what is a fiercely competitive market as inflation rises.
Last year, Sainsbury's reported a rise in total sales, but a fall in like-for-like supermarket sales of one per cent and a fall in profit of eight per cent from £548m to £503m.
Shares were up 0.9 per cent to £2.51 this morning.
Sainsbury's in exclusive talks for £130m Nisa buyout
19 June
Sainsbury's has emerged as the lead bidder to buy the convenience store brand Nisa for £130m.
The Financial Times says Britain's second largest supermarket group has entered into exclusive talks over a potential deal. It must now convince more than half of Nisa's member owners to agree terms.
Nisa, formed in 1977 to (ironically) protect smaller shop owners from the rise of the supermarkets, is owned by its 1,400 members. They operate as franchisees and own shares in the wider group, benefitting from its buying power and using its branding.
Sainsbury's is thought to be offering £2,500 per share, or a total of around £130m, in order to buy the group. The Times says this is "likely to result in the effective demutualisation of Nisa".
Interest in the firm was triggered, according to the FT, by the purchase of distributor and convenience store owner Booker by Tesco.
After receiving approaches, Nisa appointed the firm Lazard to conduct a bidding process. Sainsbury's emerged as its main suitor after offering "more cash upfront, more certainty and more flexibility… to members".
For Sainsbury's the deal would expand its successful small stores format at a time when its margins are under intense pressure. It would also head off the growth of Tesco in this sector.
The deal follows the buyout last year, for £1.3bn, of Argos owner Home Retail Group, which made Sainsbury's the largest non-food retailer in the UK.
Sainsbury's shares were up 2.2 per cent this afternoon to around 258p.
Nisa was the subject of buyout rumours in 2013 when the owner of Costcutter tried to buy the business for £134m.
Costcutter was spurned and went on instead to merge with wholesaler Palmer and Harvey, leading to it ending a £500m supply contract with Nisa that caused the latter to post the first loss in its history in 2015, of £3m.
Sainsbury's profits plunge on falling sales
3 May
Sainsbury's shares have fallen this morning after it reported a steep drop in full-year profits.
Britain's second-largest supermarket group posted pre-tax earnings of £503m for the year to 11 March, down more than eight per cent from £548m last year.
Chief executive Mike Coupe said price cuts had eaten into margins and warned the company was having to balance the inflationary impact of the weaker pound since the Brexit vote with tough competition.
However, core sales were also lower: like-for-like takings in stores open more than a year were down by one per cent.
Neil Wilson, senior market analyst at ETX Capital, told the BBC: "Sainsbury's faces a squeeze on several fronts.
"On one side, there are discounters like Aldi and Lidl crushing prices and stealing market share, while Tesco and Morrisons are both in the middle of strong turnaround programmes that are leaving Sainsbury's trailing."
Sainsbury's results were saved in one respect, however, thanks to the inclusion for the first time of Argos and Habitat, which it acquired from Home Retail Group last year.
"Once their sales are added in, overall group sales increased 12.7 per cent," says the BBC.
"Merging the operations has produced cost savings of £130m and a profit contribution from Argos of £77m."
Coupe said Sainsbury's had opened 59 Argos Digital outlets in its supermarkets and is "accelerating" plans to open a total of 250 of the concessions.
John Ibbotson, director of Retail Vision retail consultancy, said: "What began as a bolt-on has turned into a lifeboat. For the embattled Sainsbury's, the Argos acquisition is looking more inspired by the day."
Sainsbury's sales rescued by Argos surge
16 March
Sainsbury's has posted a fall in core like-for-like sales in the past three months, reversing a modestly positive trend over the quarter including the Christmas period.
Takings in supermarkets open more than a year fell 0.5 per cent for the three months to 11 March, down from growth of 0.1 per cent for the 15 weeks to 7 January, says the BBC.
However, its newly acquired Argos unit came to the rescue, posting a sales surge of 4.3 per cent for the period to bring takings for the Sainsbury's group as a whole, excluding fuel, up 0.3 per cent.
Boss Mike Coupe said the results were a sign of strength in a market that remains "challenging". He also claimed core sales would have risen were it not for Easter and Mother's Day falling late this year.
Supermarkets are engaged in a bitter price war that had driven deflation across the sector in recent years, although the fall in the value of the pound since the Brexit vote is driving up import costs.
That means supermarkets who do not want to pass on the full effect of these increases are having to take a hit to their profit margins. Coupe said the impact on Sainsbury's bottom-line from sterling's slump remains "uncertain", reports The Guardian.
Despite these factors, analysts said Sainsbury's core results, coming at a time when Tesco and Morrisons are increasing like-for-like sales, were disappointing.
Neil Wilson, of ETX Capital, said: "Sainsbury's did very well when Tesco and others were struggling but is now facing its own challenges.
"Falling margins and profits don't look great when the market is growing."
Sainsbury's £1.4bn acquisition of Home Retail Group last year made it the largest non-food retailer in the UK and in the past three months, it has opened 11 "digital Argos" outlets in its stores, taking the total to 41.
It eventually plans to have 250 outlets in its supermarkets and is also increasing the number of small outlets under the Habitat brand, also acquired in the Home Retail buyout, with eight now open.
Sainsbury's shares were down more than one per cent at lunchtime, to 268.4p. The wider FTSE 100 was up 0.6 per cent.
Sainsbury's chairman reprimanded for using staff to revamp his home
13 January
Sainsbury's chairman has been officially reprimanded for using supermarket staff to work on his home in Lewes, East Sussex.
David Tyler also had one of the company's building contractors help on his barn conversion, says The Guardian.
In a letter to Tyler seen by the paper, which was written after he volunteered the information, Sainsbury's handed down a formal warning for "material breaches" of its policy on conflicts of interest.
The case dates back to 2013, when Tyler called out a "member of the supermarket's sustainability team, who had expertise in green energy and engineering", to review plans for an underfloor heating system, reports the Guardian.
He "also arranged for another Sainsbury's employee to carry out 'thermal imaging' – a method of assessing problems with insulation – at the property".
Tyler employed the supermarket chain's building contractor to install an oil-fired boiler for the heating system and contacted two other suppliers for advice on alternative fuel systems, "such as biomass or ground floor heat pumps".
The employees were not paid and provided their advice during work hours. The building contractor provided an action plan for the project for free, but was "paid a market rate" for the work it carried out.
Tyler contacted Sainsbury's company secretary, Tim Fallowfield, after the work was undertaken to arrange to compensate staff for their time, prompting the internal review and the eventual reprimand.
The grocer said Tyler had not benefitted financially and had donated £5,000 to charity, which was "commensurate with the amount of time spent by Sainsbury's staff on the project".
Sainsbury's also concluded the policy breaches were unintentional, despite the fact Tyler led a review into contractor conflict issues in 2012 related to sponsorships held by the son of then chief executive Justin King.
Sainsbury's shares jump on record Christmas takings
11 January
Sainsbury's has joined the grocers posting an increase in sales over the critical festive trading period, including record takings in the final week leading up to Christmas Day.
Britain's second largest supermarket chain reported all-time high sales of £1bn in that last week, says the BBC.
Like-for-like sales, which compares only stores open more than a year and excludes the impact of newly acquired Argos and the recent sale of Sainsbury's pharmacy business, rose by 0.1 per cent for the 15 weeks to 7 January.
But coming at a time when food prices have been falling, even that was seen as a strong performance and busted analyst expectations of a 0.8 per cent fall.
Total sales rose 0.8 per cent, while stores with an Argos concession saw takings increase one per cent. Argos itself recorded a four per cent like-for-like rise, says the Daily Telegraph.
Overall investors were cheered and the group's share price surged six per cent in early trading, holding on to a 3.7 per cent gain, to 268p per share, by lunchtime.
Standout segments include online and convenience stores, up nine per cent and six per cent respectively, and general merchandise, including homewares, which rose three per cent.
While food sales dipped slightly, purchases of premium Taste the Difference product lines rose by 50 per cent.
"However, clothing was a star performer for the supermarket with sales of its Tu range lifting by 10 per cent, indicating that Sainsbury's is continuing to steal market share from its struggling fashion rivals," adds the Telegraph.
Chief executive Mike Coupe described the performance as "credible" and said it showed the value of the £1.4bn acquisition of Argos-owner Home Retail Group.
But he added that the impact of the pound's post-Brexit vote slump on margins this year is "uncertain".
Richard Hunter, at Wilson King Investment Management, said: "Larger supermarkets may not entirely be out of the woods just yet, but the signs are as promising as they have been for some considerable time."
Earlier this week Morrisons posted its best Christmas sales for seven years, while discounters Aldi and Lidl also reported record takings for the period. Tesco will update on its sale tomorrow.
Continue reading for free
We hope you're enjoying The Week's refreshingly open-minded journalism.
Subscribed to The Week? Register your account with the same email as your subscription.