Sainsbury's halts talks on Nisa buyout
Supermarket is waiting to see outcome of review of Tesco-Booker deal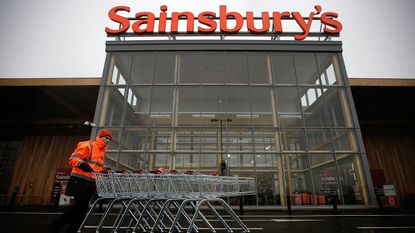 (Image credit: 2012 Getty Images)
Sign up to our 10 Things You Need to Know Today newsletter
A free daily digest of the biggest news stories of the day - and the best features from our website
Thank you for signing up to TheWeek. You will receive a verification email shortly.
There was a problem. Please refresh the page and try again.
Sainsbury's free to buy Argos for £1.4bn
21 March
Sainsbury's has been spared a bitter battle with a rival bidder – and perhaps even its own shareholders – to acquire Argos after it was left as the only remaining suitor late on Friday.
South African retail giant Steinhoff, which had outbid the supermarket group, decided around two hours before its final 5pm deadline that it would not make a formal approach to buy Argos owner Home Retail Group. Sainsbury's later confirmed its formal offer and looks set to secure the deal.
Subscribe to The Week
Escape your echo chamber. Get the facts behind the news, plus analysis from multiple perspectives.
SUBSCRIBE & SAVE
Sign up for The Week's Free Newsletters
From our morning news briefing to a weekly Good News Newsletter, get the best of The Week delivered directly to your inbox.
From our morning news briefing to a weekly Good News Newsletter, get the best of The Week delivered directly to your inbox.
Sainsbury's offered around £1.3bn, or 167p per share, in February but had been beaten into second place by a £1.42bn bid from Steinhoff, leading to rumours the grocer would have to up the ante to at least £1.5bn, or 185p per share, to have any hope of forcing the South African's to fold.
In the event, its final, unchallenged bid is valued at around £1.4bn, or 173p. The Sunday Times notes that the uplift in the price tag is almost entirely the result of around half of the consideration being financed by Sainsbury's shares, which have risen around 14 per cent since the offer was made.
This means the deal remains below the 25 per cent of stock value threshold that would require a formal shareholder vote. If it had gone over this level, there was a suggestion that some large backers may have sought to derail a deal they are not convinced will bring big benefits over time.
Of the total £1.3bn valuation, around £200m is accounted for by the proceeds of a separate sale of Home Retail Group's Homebase to Australian retailers Wesfarmers. There is also some financial engineering involving cash on Home Retail Group's balance sheet and buy-now-pay-later Argos loans, which will be acquired and folded into the Sainsbury's Bank loan book.
Sky News says Sainsbury's bosses are confident they can achieve £160m of cost savings a year, partly by closing Argos stores and opening concessions within their own supermarkets. The Sunday Times cites analyst predictions that this will mean the closure of anywhere from 150 to 330 standalone Argos stores.
Sainsbury's pursuit of Argos becomes a 'game of chicken'
18 March
Sainsbury's is widely expected to come to the table with a revised, higher bid for Argos today, but a clarification from the Takeover Panel has turned the buyout battle into a "Mexican stand-off", says the Daily Telegraph.
Both the supermarket group and its rival suitor, South African retail giant Steinhoff, have the same deadline of 5pm today to make a final offer for Home Retail Group (HRG), which owns Argos as well as several other brands such as Habitat, although it recently sold garden centre chain Homebase.
So, the takeover watchdog has said whoever makes the first formal approach will hand a 53-day extension to the other.
"Observers have compared the tactics with a 'game of chicken' and said that it will be a question of 'who blinks first'", says the Telegraph.
According to The Guardian Sainsbury's is expected to break cover as it currently has the smaller offer on the table – and if no-one comes forward, HRG itself can request an extension.
Sainsbury's had offered around £1.3bn for the business, which included £200m proceeds from the Homebase sale and some creative accounting using cash on the Argos owner's balance sheet to acquire some of its own buy-now-pay-later loans for the supermarket's banking arm. Steinhoff has since bid £1.42bn and is in pole position.
Richard Clarke, an analyst at Bernstein Research, told the Guardian Sainsbury's was likely to put forward a new bid at around 185p a share, valuing HRG at a little more than £1.5bn. It has greater flexibility than Steinhoff as its offer is in cash and shares while its own stock has surged 12 per cent from a trough hit on 24 February. However, its rival is three-times larger and theoretically has deeper pockets.
Sainsbury's bosses have argued buying Argos will yield some useful synergies – it has already run a successful co-location arrangement in ten stores – and would help it to make a concerted push into online retailing through the catalogue retailer's well-regarded same-day delivery service. But they have also vowed not to over-pay in the face of criticism from some investors.
Sainsbury's boss says Argos 'by no means a must-do deal'
15 March
Sainsbury's is widely expected to up its bid for Home Retail Group, the owner of Argos, after reporting a rise in quarterly sales for the first time in two years, but its chief executive has said it is "by no means a must-do deal".
Critics of the takeover, among them some of the supermarket's largest shareholders, have expressed doubts about the wisdom of buying a brand that is widely seen as outdated and has struggled in recent years. But a co-location trial within ten stores has been a success and the same-day "hub-and-spoke" delivery pioneered by Argos is seen as desirable by Sainsbury's bosses.
They are, however, keen to show "financial discipline", insisting that they will not offer any price to beat off competition from their main rival Steinhoff. The South African retail giant has a market capitalisation that's almost three times that of Sainsbury's and thus considerably deeper pockets.
"Argos represents an opportunity to accelerate [our strategy] but it is by no means a must-do deal," chief executive Mike Coupe told The Guardian. "There's a price and we won't go beyond that. We'll maintain a level of financial discipline... There is no reason why Sainsbury's won't be a successful company in future without the Argos transaction taking place."
Coupe was speaking after the publication of annual results that showed the group continues to outperform its 'big four' rivals. This has added to speculation a new offer will be forthcoming.
Like-for-like sales at stores open for more than one year rose 0.1 per cent in the nine weeks to 12 March, according to Sainsbury's. This reflects flat trading at larger supermarkets and a huge growth in online sales, with groceries up overall by 14 per cent, clothing by 11 per cent and entertainment products by 10 per cent.
While wider industry figures have shown Sainsbury's sales rising for eight consecutive rolling three-month periods and the store consistently outperforming its peers, this was the first rise recorded in its own quarterly updates for more than two years.
Some analysts reckon improved trading and a decent recent rise in its shares could persuade Sainsbury's to up its bid from a composite £1.3bn to £1.5bn, or around 185p per Home Retail share. The Argos parent's stock was trading at 181.7p this morning. The deadline for a final bid is this Friday, 18 March.
Sainsbury's could up Argos bid to £1.5bn
14 March
Sainsbury's is not prepared to give up on its takeover bid for Argos owner Home Retail Group just yet, it seems.
Several press reports indicate that the "big four" supermarket group is preparing to up its buyout offer from an original £1.3bn to £1.5bn, leapfrogging a £1.4bn counter-offer put forward by South African retail giant Steinhoff.
Such a move would be contentious with some of shareholders, however, who have yet to be convinced on the merits of spending a large sum on a brand that has struggled in recent years. Sainsbury's had originally vowed not to "overpay" and the all-cash offer from Steinhoff was thought to have killed off its chances.
But the Daily Mail notes that there have been new sweeteners that could persuade investors to back a revised bid.
Firstly, as the Sainsbury's bid is a mix cash and shares, it has grown simply by virtue of the supermarket's own stock rising in recent weeks after it was revealed to still be the only one of the big four enjoying rising market share. It is up seven per cent since the Steinhoff offer was made on 19 February to 278.5p this afternoon.
Secondly, Home Retail Group has revealed its balance sheet boasts a cash pile of £625m to £100m more than analysts had originally thought. Sainsbury's is planning to use a wedge of this, along with new deposits, to buy through its banking arm a book of "buy-now pay-later" loans from Argos that it believes offsets some of the purchase price.
Finally, The Scotsman notes that the supermarket group is set to update its trading figures today and should be able to show continuing improvements in like-for-like sales that would boost shares again and give investors greater confidence.
Sainsbury's has until this Friday to make a final offer for Argos. Steinhoff's deadline is the same day, but this may be extended by the Takeover Panel if it is outbid.
Argos already has a limited co-location deal with Sainsbury's and the supermarket's bosses reckon they can extract hundreds of millions of pounds in additional synergies. They are also keen to exploit the catalogue retailer's well-regarded delivery service that would enable the group to compete better with the likes of Amazon.
Sainsbury's is 'winning the supermarket price wars'
08 March
Sainsbury's has continued to outperform its "big four" grocer rivals and once again bucked a wider decline as the only one to see a rise in sales for the past three months.
According to industry researcher Kantar Worldpanel, the group realised sales growth of 0.5 per cent for the three months to 28 February. It has now seen sales increase consistently for seven rolling three-month periods, marking the longest winning streak for any of the larger brands since March 2013.
The rise was in line with the wider industry increase and came in spite of 1.6 per cent food price deflation. Prices have been falling across the sector for around 18 months as major supermarkets discount heavily in response to the rise of Aldi and Lidl. As a consequence, transactions need to rise markedly to achieve any increase in takings at the till.
However, Sainsbury's has refused to discount as much as some of its rivals and instead has concentrated on low core prices and expanding its range of premium products, which are benefitting from fragmentation in shopping habits. It has also pledged to scrap all multi-buy deals in response to regulator warnings that they could mislead customers.
Overall, it is clear "Sainsbury's is winning the supermarket wars", declares the Independent.
Main rival Tesco, still by far the UK's number one supermarket by market share, also improved in the latest statistics. Sales fell by 0.8 per cent, half the rate of decline recorded for the previous three-month period and given the rate of deflation, representing a decent increase in transaction volume at a time when it is reducing the size of its store estate.
Asda continued to be the worst performer, dropping a substantial four per cent, while Morrisons also struggled and saw sales fall 3.2 per cent. The Co-operative continued its strong run, adding 1.6 per cent to its takings.
Aldi and Lidl saw sales surge by a little more than 15 per cent and just shy of 19 per cent respectively, returning their collective market share to ten per cent.
Continue reading for free
We hope you're enjoying The Week's refreshingly open-minded journalism.
Subscribed to The Week? Register your account with the same email as your subscription.
Sign up to our 10 Things You Need to Know Today newsletter
A free daily digest of the biggest news stories of the day - and the best features from our website