Sports Direct shares surge despite profit plunge
Investors give thumbs-up to plans to upgrade stores and appoint permanent finance chief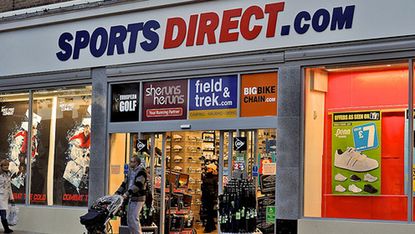 "Sports Direct shares have donned a pair of discount trainers and legged it to the top of the FTSE 250," says the Financial Times.
The retailer's share price was more than nine per cent up at the time of writing to £3.29, higher than it has been since November last year.
This might appear counter-intuitive, given that it comes in response to the company publishing its results for the year to April and revealing a 60 per cent drop in "underlying pre-tax profit" to £133.7m, says the BBC.
Subscribe to The Week
Escape your echo chamber. Get the facts behind the news, plus analysis from multiple perspectives.
SUBSCRIBE & SAVE
Sign up for The Week's Free Newsletters
From our morning news briefing to a weekly Good News Newsletter, get the best of The Week delivered directly to your inbox.
From our morning news briefing to a weekly Good News Newsletter, get the best of The Week delivered directly to your inbox.
Earnings were said to have been hit by the fall in the value of the pound, which has bumped up the price of exports, as well as a higher "depreciation charge" relating to a revamp of its stores, says the FT.
The fall in profit was, though, "baked into expectations" and the changes to the stores have "piqued the market interest".
Mike Ashley, founder and chief executive, said the revamp would see more upmarket stores showcasing third-party brands as part of a plan to make Sports Direct the "Selfridges of sport".
It's also notable that Sports Direct revealed it has appointed a permanent chief financial officer in Jon Kempster, a former executive at logistics firm Wincanton and construction equipment provider JVM Group.
The role, which is seen as important to ensure rigorous financial management and accounting, has been vacant since 2013.
Sports Direct reported a rise in revenues of almost 12 per cent to £2bn.
Sports Direct's Keith Hellawell faces shareholder revolt
5 January
Sports Direct chairman Keith Hellawell is facing a shareholders' revolt today and must win their support to keep his position in the beleaguered company.
Under new government rules intended to empower investors, the former chief constable and government drugs tsar has to be re-elected to the board in a shareholders' vote, says the BBC.
It follows a previous vote at the company's annual general meeting in September that saw 53 per cent of individual investors oppose his position in the company. He was saved by the support of founder Mike Ashley.
Hellawell had offered to resign after media reports of alleged employment abuses at Sports Direct's Derbyshire warehouse, which were described as MPs as "Dickensian".
However, he was persuaded to stay on "in order to assist with making further improvements" to the chain, whose stock plummeted during the scandal.
Institutional investor Aberdeen Asset Management has already said it will vote against Hellawell today.
Saying the decision was "nothing personal", Paul Lee, head of corporate governance, said he was concerned about the "general governance of the company".
He acknowledged that positive steps had been taken to address the issues, but said: "That clears the ground. It doesn't start to rebuild."
As well as Aberdeen Asset Management, the advisory group Institutional Shareholder Services is also recommending shareholders vote against Hellawell, the BBC reports.
It said: "As chairman, Keith Hellawell has overseen a period of serious operational, governance and risk oversight concerns which have materially affected the company's outlook and damaged shareholder value.
"As such, and in light of all of the above factors, his re-election does not warrant support at this time."
Nevertheless, Hellawell is believed to still have the support of Ashley, who founded the sports shop in 1982 and still owns 55 per cent the company.
It is expected, therefore, that Hellawell will win today's vote, says the Daily Telegraph, although he has previously said he would quit if he faced a second rebellion from independent shareholders. That, however, referred to a vote at the company's next AGM and not the special meeting called for today.
Sports Direct shares tumble as profit dives 57%
8 December
Sports Direct shares were tumbling today after it posted its latest results showing a 57 per cent drop in half-year profit.
The company says underlying pre-tax earnings – or operating profit – fell to £71.6m for the six months to the end of October, from £166.4m for the same period last year, according to The Guardian.
Reported pre-tax profits, which include proceeds from asset sales and one-off expenses, fell 25 per cent to £140.2m, says the BBC.
Sports Direct has been losing ground to its rivals for some time. Analysts blame this in part on the firm's own-brand focus and the poor layout of its stores.
In recent months, the sports retailer has also been hit hard by a wave of scandals, including the admission that it paid some staff less than the minimum wage and allegations from a group of MPs that warehouse staff work in "Victorian workhouse" conditions.
Public spats with MPs, including allegations of spying when parliamentarians visited, has ramped up the scrutiny of the company's corporate governance and intensified demands for change at the top.
In response to this, and ahead of a second shareholder vote on his own position in January, chairman Keith Hellawell used the results announcement to launch what the BBC describes as a "blistering attack" on critics.
He wrote: "I have no doubt that the extreme political, union and media campaign waged against this company has not only damaged its reputation and influenced our customers, it has impacted negatively on the morale of our people.
"I begin to question whether this intense scrutiny is all ethically motivated. One of the most damaging consequences has been for the very people our critics supposedly support."
The results include fresh controversies, such as the revelation that despite the profit drop the company has acquired a new £40m private jet.
There have also been revelations of yet another business relationship with a family member of founder and chief executive Mike Ashley. This concerns a licensing deal with Double Take, a cosmetics company Ashley owns and his daughter Matilda runs.
Another family business relationship, involving a delivery company owned by Ashley's brother John, has triggered an investigation by the Financial Reporting Council.
Sports Direct shares were down 7.5 per cent this afternoon, to around 290p.
Sports Direct's accounts under investigation
29 November
Accounting firm Grant Thornton is under investigation over its auditing of a deal between Mike Ashley's Sports Direct and Barlin Delivery, which is owned by his brother, John Ashley.
The Financial Reporting Council (FRC) is examining whether the arrangement between the two companies "should have been made public as a 'related party' transaction", the Daily Telegraph reports. The watchdog has the power to fine or ban auditors found to have violated conflict of interest rules.
News of the investigation sent Sports Direct shares crashing by more than per cent, although they recovered 1.5 per cent this morning to 299.9p.
The business link between Mike and John Ashley was first made public by the Financial Times in August.
At the time, Sports Direct said its auditors were "comfortable that there was no related party disclosure required in Sports Direct's historic accounts".
John Ashley is a director of Barlin Delivery Limited, which nominally handles Sport Direct's overseas deliveries and books profit of around £300,000 from the arrangement.
Barlin's registered office is a detached house in Cleethorpes, Lincolnshire, and it has no delivery vans or drivers. Instead, it delivers through logistics firms such as DHL.
Angry MPs demand answers from Sports Direct over spying claims
10 November
Angry MPs have demanded answers from Sports Direct boss Mike Ashley over alleged attempts to spy on them during their impromptu visit to the firm's warehouse in Shirebrook, Derbyshire.
The site was the focus of a parliamentary investigation into poor working practices and minimum wage breaches this year, culminating in a report that likened its working conditions to a "Victorian workhouse".
During the inquiry, there was a protracted stand-off with the company's founder and now chief executive, who initially refused to attend parliament and give evidence unless the members of the business committee came to Shirebrook themselves.
Committee chairman Iain Wright told Sky News that during the impasse, Ashley told the MPs to visit the factory unannounced, which is exactly what they did on Monday, arriving for an official visit after short notice.
The impromptu trip quickly descended into farce, however. Having first being made to feel "unwelcome", the MPs were taken on a circuitous tour they said avoided the main warehouse for several hours.
At the end of the tour, the politicians were shown to a meeting room where they could have a private conversation.
Redcar MP Anna Turley claimed a recording device – a camera, specifically - was brought into the room by a member of staff and placed under a chair.
Now Wright, who said any trust they had built up with Ashley had been "destroyed", has written to the businessman demanding to know "how the camera came to be in the room and who authorised it".
Ashley initially claimed Turley placed the device in the room herself, although to what end was not made clear.
Wright said he was prepared to dismiss this as "a spur of the moment misjudgement, rather than what would be a very serious allegation" and added that the camera was the "same as that used by your staff to record our visit".
Sports Direct's only comment on the matter states that bosses did not authorise a camera to be placed in the room. The firm questioned the "veracity" of the device.
Sports Direct denies it spied on MP's during warehouse visit
8 November
Scandal-struck retailer Sports Direct faced an impromptu visit from six MPs on the parliamentary business committee to its Shirebrook warehouse in Derbyshire yesterday, which the Daily Telegraph says quickly descended "into farce".
One of the MPs, Labour's representative for Redcar, Anna Turley, revealed on Twitter that after being ushered into a meeting room a member of staff came in to deliver sandwiches and placed a recording device under a chair.
Turley told the Telegraph: "I couldn't believe it. I watched her put the device on the floor and when she left I said: 'Bloody hell guys, they are trying to record us.' It's not James Bond, more Austin Powers."
In an interview on the BBC's Today programme, she said that the episode added to concerns over the firm's treatment of employees, says The Guardian.
Turley said: "If they do this to us as parliamentarians, what do they do to staff who aren't able to answer back, who aren't unionised and who fear for their jobs?"
Sports Direct has issued a public statement denying any knowledge of the recording device, or that it authorised its use. It said the "veracity" of the camera was still being established.
The company said that reporting of the alleged recording had overshadowed "the truly important issues that this visit should have focused on ­– the true working conditions and worker satisfaction at Shirebrook".
Sports Direct says it publicly welcomed the MPs' visit, which was made at just one hour's notice and was nominally in response to a longstanding invitation from the company's founder Mike Ashley.
But the good feeling towards the group of six MPs was not reflected in Turley's version of events. The Redcar MP also raised doubts over Sports Direct's claims that the visit painted the facility in a more positive light.
She says the group were made to feel unwelcome and were taken on a "wild goose chase" around the vast site before being shown the warehouse, and that they were effectively "man-marked" with cameras and recording equipment.
Turley told the Guardian that conditions at the Shirebrook warehouse, which her committee had branded a Victorian workhouse in a report in the summer, were "dark, dingy and chaotic".

Continue reading for free
We hope you're enjoying The Week's refreshingly open-minded journalism.
Subscribed to The Week? Register your account with the same email as your subscription.