Sports Direct shares surge despite profit plunge
Investors give thumbs-up to plans to upgrade stores and appoint permanent finance chief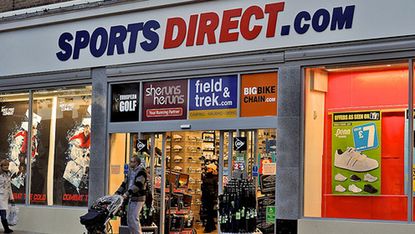 Mike Ashley admits Sports Direct minimum-wage breaches
07 June
Mike Ashley has admitted for the first time that staff at Sports Direct's warehouse in Shirebrook, Derbyshire have been effectively paid less than the minimum wage.
In what The Guardian describes as a "major concession" that "should mean sanctions from HMRC", the businessman acknowledged that search procedures conducted after shifts are finished and when workers were not being paid meant pay did not always meet the statutory minimum.
Subscribe to The Week
Escape your echo chamber. Get the facts behind the news, plus analysis from multiple perspectives.
SUBSCRIBE & SAVE
Sign up for The Week's Free Newsletters
From our morning news briefing to a weekly Good News Newsletter, get the best of The Week delivered directly to your inbox.
From our morning news briefing to a weekly Good News Newsletter, get the best of The Week delivered directly to your inbox.
By law, a company must ensure that workers are paid the national minimum wage - £6.70 per hour, or £7.20 for those over 25 - on average for each hour they are obliged to be on work premises.
The billionaire, finally giving evidence to the business select committee in Westminster after a protected and public battle with its chair Iain Wright, blamed "bottlenecks" in the searches that he said had now been addressed.
While staff are still not paid for this time, "literally hundreds of people" can now walk through the security line each minute, he said.
Elsewhere, Ashley also acknowledged it was "unfair" to dock workers 15 minutes pay for being as little as one minute late – and was forced to admit that staff are still not paid overtime.
All of these issues were identified in an expose by the Guardian last December as contributing to the minimum-wage breaches. The paper also claimed staff were working in "gulag" conditions, including being "harangued" by tannoy.
Steve Turner, the assistant general secretary of Unite, told MPs a deal had been reached between Sports Direct and HMRC to "compensate… warehouse employees for paying them less than the national minimum wage".
Turner said that "no workers have yet received back pay" and that Unite is balloting members, says the Guardian. However, this ballot only applies to 200 staff who are directly employed by Sports Direct; the vast majority of the around 3,000 workers at Shirebrook are provided by agencies.
Ashley tried to "calm the waters ahead of his appearance in front of the committee" with a letter to Sports Direct's 27,000 staff in which he admitted " working practices at its Derbyshire warehouse were not up to scratch", reports the Daily Telegraph.
The letter stated that staff are paid more than the minimum wage, but noted "the need for improvements to security procedures".
Sports Direct's Mike Ashley 'blinks first' in stand-off with MPs
06 June
In his second U-turn in a week, Mike Ashley has written to MPs to confirm his attendance before a parliamentary committee.
In May, after months of refusing to appear to defend working practices at his company Sports Direct's factory at Shirebrook, Derbyshire, the businessman said he would appear at a hearing of the of the business select committee on 7 June.
However, that was contingent on the MPs first agreeing to visit the facility today, 6 June. They refused, with committee chairman Iain Wright saying he would not accept conditions being attached to a witness responding to a parliamentary summons.
In response, Ashley last week withdrew his offer to appear, claiming in a letter that his lawyer was unavailable.
Now, he has reversed his position again and said he will attend tomorrow's session.
A report in The Guardian on Friday said the MPs were discussing sanctions on the controversial billionaire for refusing to attend, including holding him in contempt of parliament or a Commons vote on whether he was a "fit and proper" person to run a business.
"Mike Ashley has blinked first. Parliamentarians had called his bluff," says BBC business correspondent Joe Lynam.
"They pretended that they were prepared for a uniformed Serjeant at Arms to knock on Mr Ashley's door and haul him (on live TV) before the Speaker of the House of Commons. Suddenly billionaire Mr Ashley was set to look like the man of the people while the elected officials would look like 17th century thespians. Neither side would wish that."
In a new letter, Ashley refutes MPs' suggestions that he has something to hide and states that he wishes to avoid further accusations of "secrecy". He will appear to defend his company's "good name".
Ashley also tells the committee chairman that "a lengthy legal battle would be of no benefit to either of us".
Since the accusations were first made over working practices, staff pay has been increased and Ashley himself has instigated a review of conditions. The hearing could provide the first update on how that is progressing since it was announced six months ago.
Sports Direct's Mike Ashley still facing MPs' contempt charge
27 May
Sports Direct founder Mike Ashley is still facing a parliamentary contempt charge, MP committee chairman Iain Wright warned, as politicians refused the billionaire's conditions for accepting their summons.
Ashley has been holding out for three months on attending a business select committee hearing, at which he will be questioned about working conditions at his factory in Shirebrook. Last year, a report by The Guardian alleged that many of the staff were effectively not being paid the minimum wage and were harangued by managers to work faster.
The businessman relented last week and said he would appear before the panel on 7 June - if the MPs visited the factory themselves the day before to "see working conditions with their own eyes". He even offered to fly them in his own helicopter.
The politicians have refused. In a letter to Ashley, reported by the Daily Telegraph, Wright said they had "considered carefully your repeated and conditional request that we visit Shirebrook" but that parliamentary committees "do not accept that witnesses attach conditions to attending in response to a summons".
He reiterated that if Ashley does not attend the session, he could face contempt proceedings. "I am sure that neither of us wants to engage in a potentially lengthy and public process that would follow any non-attendance," he added.
In separate comments to the BBC, Wright added: "Business leaders regularly give evidence to select committees in Westminster without imposing conditions. This is part and parcel of living and operating a business in a parliamentary democracy. It is highly unusual for select committees to have to resort to issuing a summons."
The Telegraph says Ashley is seeking legal advice over his scheduled appearance and the viability of a charge under contempt laws that have not been tested for more than 50 years. One option could be for him to attend but refuse to answer questions, as he has previously threatened.
A Sports Direct spokesman said: "We are disappointed that members of the committee have chosen not to visit Shirebrook in order to see working conditions with their own eyes, as we continue to believe that this is obviously the best way forward.
"The committee are clearly being unfair, Mike will therefore now seek legal advice with regard to his position in relation to 7 June."
Sports Direct's Mike Ashley redraws red line with MPs
17 May
It might at first appear that after two months of wrangling, MPs have finally got their man.
Controversial billionaire Mike Ashley has been refusing repeated requests to appear at a public hearing in Westminster since early March, in the process defying threats that he could be held in contempt of parliament. Now he has said he will consent to give evidence before the Business, Innovation and Skills Committee next month – but there is a catch.
Ashley says he will attend parliament on 7 June to answer questions on the working practices at his company Sports Direct's factory at Shirebrook, Derbyshire, but only if the day before the members of the committee visit the site to see it for themselves.
Iain Wright, the Labour MP who is chairman of the committee, has been refusing to attend the facility for as long as Ashley has been defying his summons, saying that the panel must hear evidence in public and on the record. The compromise offer, revealed by the Daily Telegraph, comes after weeks of ongoing written exchanges between the two.
In the private correspondence, Ashley says that appearing at a public hearing "has the potential in a high profile case to affect fundamental rights including commercial rights of property, privacy and fair process" and that while the committee may ultimately be able to summon him it may not be able to force him to answer any questions.
The contempt of parliament charge that has been mooted has "not been tested for 50 years" and so may prove difficult to enforce.
Wright wants to quiz the Sports Direct founder on press reports of "gulag" working conditions at Shirebrook and allegations in an expose by The Guardian last year that, as a result of enforced searches and excessive lateness penalties, staff are effectively not paid the national minimum wage.
Ashley has consistently denied the allegations and has been overseeing a review of working practices, findings from which have not yet been made public.
Sports Direct managers join the PR war
4 April
Don't believe all the negative publicity about life for workers at Sports Direct - or at least, that is the message from regional managers at the company, who have stepped into an ongoing PR war.
The company was the subject of a major expose on working practices by The Guardian late last year, with allegations that warehouse staff were routinely harangued, subjected to extensive daily searches and, in some cases, effectively not paid the national minimum wage.
Since then, recruitment website Glassdoor has seen a surge in postings from Sports Direct's "managers from Wrexham to Newcastle upon Tyne" giving "five-star reviews of life on the shopfloor", reports The Times.
"In the first three months of this year, 63 reviews were posted about Sports Direct on Glassdoor… compared with 11 in the same period last year, and 41 in the final quarter of 2015, compared with 15 in the last few months of 2014," the paper states.
The company's rating has since jumped from 2.3 out of five to 2.9.
In particular, the managers have praised perks offered to employees, including "15k per person trip to Mike Ashley's ski house in Switzerland", centre court tickets at Wimbledon and bonuses to buy a sports car.
All permanent staff receive a bonus based on share price performance, which under-fire founder and deputy chairman Mike Ashley recently claimed had meant directly-employed cleaners could have walked away with an extra £48,000 in 2013.
"Everyone loves a bandwagon to jump on and Sports Direct is getting its unfair share of it at the moment. Don't believe what you read, come and see it for yourself," an area manager from Wrexham wrote.
There are still a fair share of negative reviews, however. One former sales assistant in Llandudno wrote: "Having worked full-time for the company for 18 months, I cannot recall anything that I would categorise as a 'pro' for working for SD."
A spokesperson for Glassdoor said: "It might be that there is a big difference in perception of Sports Direct as an employer between store management (who have perhaps been at the company for longer) and casual part-time staff."

Continue reading for free
We hope you're enjoying The Week's refreshingly open-minded journalism.
Subscribed to The Week? Register your account with the same email as your subscription.