From athlete to card shark: why sports pros play poker
Shane Warne says his biggest advantage at the poker table is that people assume he's stupid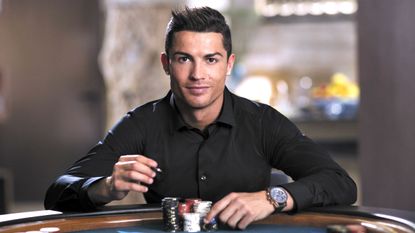 Sign up to our 10 Things You Need to Know Today newsletter
A free daily digest of the biggest news stories of the day - and the best features from our website
Thank you for signing up to TheWeek. You will receive a verification email shortly.
There was a problem. Please refresh the page and try again.
By Samantha Rea
When Cristiano Ronaldo signed up to promote PokerStars.com earlier this year, it was safe to assume that he had sampled the online gaming site's offerings.
The football star had previously posted photos of himself playing poker, and spoken at length about his passion for the game.
Subscribe to The Week
Escape your echo chamber. Get the facts behind the news, plus analysis from multiple perspectives.
SUBSCRIBE & SAVE
Sign up for The Week's Free Newsletters
From our morning news briefing to a weekly Good News Newsletter, get the best of The Week delivered directly to your inbox.
From our morning news briefing to a weekly Good News Newsletter, get the best of The Week delivered directly to your inbox.
Nor is he unusual: tennis champion Rafael Nadal and former international cricketer Shane Warne are among many other sporting superstars, current and former, who have turned their hand to poker – whether in high-stakes casino competitions or ritualised games with teammates.
So what is the allure of poker to current and former sporting superstars? For some it may be the sense that this is a contest that plays out on a level playing field.
Poker is a game of skill and luck, in which "the chances of winning are equally favourable to all participants", according to The Gambling Commission. And that may appeal to sports professionals, many of whom turn to poker as their sporting careers come to an end.
Shane Warne told TheWeek.co.uk that he likes the level playing field of tournaments where, "anyone can beat anyone." Growing up, he watched his dad's weekly poker nights and played against his younger brother, and then, as a cricketer, Warne played poker with teammates on the back of the tour bus. "Since I've retired," he says, "I've got the time to put into professional poker."
While the sedentary nature of the game may seem at odds with the active lifestyle of athletes, the faces of Olympic gold medallists and World Cup winners at the poker table suggest that, for them, this is no mere passive pastime.
"It's very hard after playing 20 odd years of international cricket to replace that competitiveness," Warne admits. "Nine years ago, when I retired, I sort of found poker, even though I'd played all my life, and thought wow! This is really exciting – the strategy, reading players, trying to work out all their tells – and just that competitive nature at the poker table.
Sports psychologist Jeni Heinemann says professional sports people often move into competitive secondary careers or hobbies. "It's essential for their emotional wellbeing that they find an outlet for their drive and love of performance," Heinemann says.
And it isn't just the male sports stars who turn to poker. Fatima Moreira de Melo spent over ten years on the Dutch field hockey team, winning gold in the 2008 Olympics. Since retiring, she's been sponsored to play poker professionally and has amassed $419,540 in live tournament earnings in the past six years.
De Melo says that poker "fills the gap of performing at a high level with pressure. I'm competitive, I like that pressure. Competing at the highest level of poker fulfils a need of mine."
Former NFL player Richard Seymour of the New England Patriots has played in several Super Bowls and Pro Bowls and been described as the best defensive lineman in the league. During his childhood, Seymour was introduced to poker by his dad, then played on tour with his NFL teammates.
Echoing both Warne and de Melo, Seymour says that "it's all about the competition. With tournaments, everyone starts equal. It's not about the money, it's about the love of the game. Sports people love to compete on the highest level. The only way to get better is to compete against the best. I enjoy the moment. I enjoy the pressure."
According to Heinemann, not only is poker an ideal outlet for sports pros' competitive drives, it also provides them with an opportunity to use their particular skills.
Warne agrees. "That patience you need to show in a test match – that's five days, 13 hours a day – you need to have that at the poker table too," he says. "You've got to ride the ups and downs, be patient and wait your time. You've got to work out batsmen, same as you've got to work out the poker players. There are so many similarities with strategy, because cricket's a strategic game too.
"When you come up against a player in cricket that you've never seen before, you have to work out where they're strong, where they're weak, how they play. You've got to work out their personality pretty quickly so you can work on that too, which is very similar to the poker."
Rugby World Cup winner Kyran Bracken also sees similarities in the way that poker players size up their opponents. "You've got to understand the personalities," he says. "I noticed with my teammates, the way someone copes with stress and pressure on the rugby pitch is the same way they'll deal with it at the poker table."
Bracken played poker on the tour bus with his Saracens and England teammates and credits his mother with teaching him how to play. "She was a great bluffer," he says. "After a night of poker, I'd make sure I was up first in the morning to find any spare coins lost under the card table!"
According to Bracken, bluffing is the fundamental similarity between poker and rugby. "The macho posturing of bluffing is like something you'd see on the rugby pitch. It's like, 'I accept the challenge and I'm going to beat you.' It's the same mentality. You're going into battle, it's 'I'm the strongest!' – it's gladiatorial."
Bracken competed against de Melo in Shark Cage, a televised poker series that pits celebrities against poker pros for a cash prize of £1,000,000. Bracken says that he felt a sense of camaraderie with de Melo and related to her as a fellow sports pro. "It was her attitude and her sense of humour. If there'd been four or five more Fatimas round the table, it would've been just like being on the bus with the rugby guys."
Heinemann says one of the most useful skills sport stars have is their ability to stay cool under pressure. Both Bracken and Seymour say they bring this skill to the poker table. Talking about his ability to keep his chin up after losing a hand, Bracken says, "the measure of a good sportsman is that you can make a mistake and continue as if it hasn't happened."
Seymour agrees: "I'm able to detach and play the next hand, whether I win a pot or lose a pot. It's the same as when I played NFL. Whether I score a touchdown or have one scored against me, I stay consistent and on an even keel."
There may be one more factor that gives sports pros the edge at the poker table: other players often underestimate their intelligence. According to Warne, "the thing I've got to my advantage is that people think you're just a sportsman who doesn't really understand poker – and I play that dumb card!"
This is good news for mixed martial arts fighter Tito Ortiz, who plans to forge a career in poker when he retires in two fights time. Ortiz, who's won several Ultimate Fighting Championship titles, acknowledges that he is better known for his brawn than his brains.
"Poker is more of a mental challenge than fighting," he concedes, but he has a warning for his new rivals: "I've been reading opponents for a long time. I've got confidence, patience, a great game face and you know what else? I'm very competitive."
Continue reading for free
We hope you're enjoying The Week's refreshingly open-minded journalism.
Subscribed to The Week? Register your account with the same email as your subscription.
Sign up to our 10 Things You Need to Know Today newsletter
A free daily digest of the biggest news stories of the day - and the best features from our website