War and Peace: greatest period drama in the last decade?
Half a dozen deaths bring acclaimed BBC mini-series to dramatic but satisfying conclusion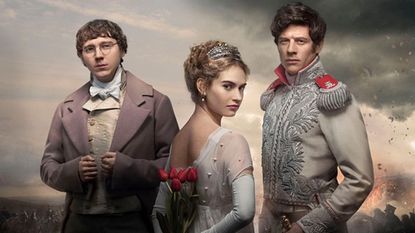 (Image credit: Mitch Jenkins/BBC/Kaia Zak)
After six weeks of breathless storytelling, the BBC's adaptation of War and Peace came to an end last night – and it pulled no punches.
Equal parts "gut-punching" and "heartstring-tugging", the finale offered viewers some final emotional twists for its characters before proceeding to kill off several of them, says BT.com's Alex Fletcher.
Six deaths would decimate the cast of most shows, but it barely makes a dent in War and Peace's myriad of characters. The toll included Prince Andrei Bolkonsky and Princess Helene, who both met gruesome ends during the 80-minute episode.
Subscribe to The Week
Escape your echo chamber. Get the facts behind the news, plus analysis from multiple perspectives.
SUBSCRIBE & SAVE
Sign up for The Week's Free Newsletters
From our morning news briefing to a weekly Good News Newsletter, get the best of The Week delivered directly to your inbox.
From our morning news briefing to a weekly Good News Newsletter, get the best of The Week delivered directly to your inbox.
It wasn't all doom and gloom, however. A happy ending for some of the other main characters provided a much-needed respite from the misery.
The BBC interpretation may have drastically altered the denouement of Leo Tolstoy's doorstopper but who cares, says Christopher Stevens in the Daily Mail. The original ending, with its depressing epilogue, was a "stinker", whereas the TV finale gave Pierre, Natasha, Nikolai and Marya the happy ending they deserved.
Although the series wasn't without its flaws - in particular its mad gallop through 1,000 pages of plot - the conclusion sealed its status as "one of the most wonderful things ever shown on TV".
War and Peace is the "greatest TV costume drama of the past decade", for Ben Lawrence in the Daily Telegraph. Despite the need to condense so much plot into six and a half hours, Andrew Davies's script still managed to find room to offer psychological depth to the characters, enhanced by the performances of a talented cast.
One particular star was singled out for somewhat unexpected attention on Twitter – Samba the cross-breed, who played the loyal dog who chose to remain with her dead master on a frosty battlefield.
"Between Andrei and that little dog I'm not sure I can take much more of this!" tweeted one emotionally exhausted viewer.
War and Peace builds towards a thrilling finale
05 February
The moving and dramatic penultimate episode of the BBC's adaptation of War and Peace dazzled viewers and critics alike with bloody battle scenes, futile gestures and moments of redemption - although some commentators found the heady mix disorientating.
Episode five picked up the story with a penitent Natasha Rostova (Lily James) regretting her moment of madness with Anatole Kuragin (Callum Turner) and her lost chance at happiness with Andrei Bolkonsky (James Norton). After falling ill, she was treated with leeches and sought solace in religion and her friendship with Pierre Bezukhov (Paul Dano).
Meanwhile, war with Napoleon loomed again, giving Andrei a chance to escape his heartbreak. He was joined at the last moment by the hapless Pierre, once again futilely trying to make a difference.
Romance finally gave way to war, building inexorably to "a battlefield climax of heart-stopping force", says Gerard O'Donovan in the Daily Telegraph. The story was spun out with "exquisite feeling", while the blood-soaked war scenes were "simply shattering".
Carnage on such a cinematic scale is rare in TV drama and War and Peace deserves praise for making it "so convincing but also wringing a primeval beauty from all this horror", adds O'Donovan. "With one episode still to go, War and Peace is already the year's most ravishingly ambitious drama."
If we were in any doubt as to why it was called War and Peace, we certainly found out in episode five, says Ben Dowell in the Radio Times. BBC1's "superlative dramatisation of Tolstoy's masterpiece erupted into action", he says, and what action it was - noisy, bloody, brutal battle scenes.
Directed by Tom Harper, it was also hugely moving, says the critic. And as the wheels of justice seem to be turning just in time for next week's final episode, millions of viewers wait, transfixed, to see who will survive, who will find happiness and who will get their comeuppance in the finale.
Indeed, with more than half of the novel left to go in only two hours, "this episode had a lot of explaining to do," writes Viv Groskop in The Guardian. And it did its best to do it, "even though the result was rather like dancing the mazurka with Dolokhov: full of highs, lows and every emotion imaginable, and at the end of it you don't know whether you're in love, dead or somehow mysteriously pregnant."
She adds: "The problem of length (or, rather, its lack) is that War and Peace is a novel about forgiveness and the role of fate in our lives." But when all the plot points are mushed together like this, the characters don't seem so much swayed by fate as much as "unlikely coincidences".
Still, Groskop admits, she will "miss them all", asking co-producer Harvey Weinstein: "Please, nice Mr Weinstein, give us some more money so that it can go on longer?"
The latest episode was all a bit bleak for Neela Debnath at the Daily Express, who says: "The mood tumbled off the side of a cliff and into a jet black abyss of gloom."
From Anatole having his leg sawn off in a "grisly and pretty rudimentary amputation" to Natasha being drained by leeches, "the whole instalment was utterly depressing – but in a good way", she continues. "Even though nearly every character was suffering terribly, it was all done beautifully."
The Independent's Boyd Tonkin describes the adaptation as a "triumph" for the book's author. "Although too short, the Davies-Harper dramatisation has captured much of the intimacy that brings Tolstoy so close to his admirers – whether MK Gandhi or the latest Sunday night tweeter," he says.
His only gripe appears to be with the early critics who boasted about not reading the book and sniped at the show.
"On television, the walk with Tolstoy ends this weekend," he says. "Pick up War and Peace itself and he may keep you company for months."
War and Peace concludes next Sunday on BBC1 at 9pm
War and Peace: Natasha upsets fans in shock twist
25 January
SPOILER ALERT! Spoilers from War and Peace episode four below
The latest episode of BBC's War and Peace has upset fans and stirred up critics after Lily James's perky aristocrat Natasha Rostova threatened to ruin her budding romance with James Norton's Andrei Bolkonsky.
Passions were inflamed both on and off screen last week, when episode three of the historical drama, based on Leo Tolstoy's novel, treated viewers to the sight of Natasha and Andrei falling in love during a beautiful ballroom dance. It seemed that the tragic nobleman had finally met the woman of his dreams.
But this episode, with the pair engaged, Andrei's obstreperous father (Jim Broadbent's Prince Bolkonsky) insisted they wait a year to test their feelings. Then things started to go awry.
Now it looks as if Natasha has ruined everything by succumbing to the oily charms of the dastardly Anatole Kuragin (Callum Turner) after his wicked sister, Helene (Tuppence Middleton), prompted her brother - and lover - to try and steal the bride-to-be away.
Anatole took the lead, kissing Natasha and writing her a love letter. The naive aristocrat yielded easily and was soon ready to elope with the scoundrel and leave poor Andrei heartbroken.
It wasn't only Andrei's heart. Fans of the show were very unhappy with events and voiced their complaints on Twitter.
"Anyone else literally shouting at the TV at #Natasha in #WarAndPeace this evening?!? Such a brilliant drama!" wrote one. Another warned: "Natasha, have a word with yourself. You'll be in some pervy sibling threesome before you know it #warandpeace" And one fan wondered: "Could Natasha really be that stupid? I might have to read the book to find out."
The critics, however, were thrilled by it all.
"The Russian doom of this episode was most pleasing," says Viv Groskop in The Guardian. Screenwriter Andrew Davies has cleverly drawn on Tolstoy's love of premonitions and portentous foreshadowing, she adds.
The signs were everywhere, continues Groskop, what with Natasha's reckless gypsy dancing and seeing a wolf. Anatole, meanwhile, was "fabulously evil".
"Sometimes I wish Andrew Davies's writing was a little less obvious", says Gabriel Tate in the Daily Telegraph, everything was carefully signposted, from the wolf to the comet. But it was Lily James's episode, he admits, and she handled it with "great poise, subtlety and sympathy".
"It was a delicious twist," writes Ben Dowell in the Radio Times. It was unexpected by those unfamiliar with the novel but stylishly delivered and exposes the naivety and stupidity which eagle-eyed viewers may have already spotted in Natasha.
As hard as it is to watch, it packs "an emotional punch" and with two episodes to go, "it's going to be a bumpy sleigh ride from here on in", adds the critic. "Will Andrei be in a forgiving mood?"
War and Peace: lavish drama with 'flashes of 'Allo 'Allo'
12 January
The BBC's six-part adaptation of Leo Tolstoy's epic saga War and Peace has impressed critics with its big-budget production values, stellar performances and knack for keeping control of all 45 named characters. However, audience figures suggest the period drama is struggling to hold its strong initial ratings, although part two of the series received a warm reception from the critics.
One character's reference to "ze Austrian minister of vor" gave the drama an unintentional flavour of the 1980s sitcom 'Allo, 'Allo, complained James Walton in the Daily Telegraph. But it was a minor gripe in the face of screenwriter Andrew Davies's masterful achievement of condensing a novel with more than 1,000 pages into just six episodes.
"There were any number of scenes whose efficiency didn't prevent them from packing a real emotional punch," said Walton, with Jim Broadbent's performance as the bereaved Bolkonsky singled out for particular praise.
In fact, whatever issues the production might face – and viewers have nitpicked everything from poorly mixed sound to inappropriate Anglicisms - the acting doesn't appear to be one.
It is "hard to imagine a better casting" for the role of awkward misfit Pierre than US actor Paul Dano, writes Viv Groskop in The Guardian. Dano's "intensely sympathetic" performance successfully conveys the idea that Pierre represents "the worst human idiot in us all".
In fact, the only issue with the series' portrayal of Tolstoy's vast array of characters is that "we still don't know most of their names", writes Daily Express reviewer Neela Debnath, making it difficult to become fully immersed in the tale. Nonetheless, "episode two sent the bar skyrocketing," boasting some "spectacular cinematography" as well as being "packed to the rafters" with gripping narrative twists and turns.
However, all the critics' positive reviews were unable to prevent the lavish drama – estimated to have cost around £2m per episode - from shedding a million viewers between its first and second instalments. Around 5.3 million viewers tuned in on Sunday night, fewer than watched ITV's Endeavour or the BBC's own Countryfile and Antiques Roadshow. The BBC was quick to point out that consolidated figures, which include those who recorded the show or watched online, added a further two million viewers.
War and Peace: BBC series sexy, swift and a bit confusing
04 January
The BBC's new adaptation of Russian masterpiece War and Peace looks like a hit – but the dazzling dash through the epic tale has also left some viewers struggling to work out who's who and what going on.
This brisk adaptation of the classic novel, charting the 1812 French invasion of Russia and its aftermath, is the first British version since 1972. Andrew Davies (House of Cards, Pride and Prejudice) has condensed Tolstoy's 1,440 pages into six succinct 60-minute episodes, the first of which aired last night on BBC One.
It features an all-star cast including Hollywood actor Paul Dano, and two rising British stars – James Norton and Lily James. Other well-known faces include Gillian Anderson, Stephen Rea, Jim Broadbent, Rebecca Front and Brian Cox.
Episode One introduces the key story of Pierre (Dano), an awkward aspiring revolutionary and illegitimate son of a count, who is surprised to inherit his rich father's estate. Pierre goes from social pariah to eligible bachelor and is suddenly prey to conniving relatives and society ladies on the make. Meanwhile, his friend Andrei (Norton), heads to war to avoid a suffocating marriage.
Reviews for the show have been largely positive, though many, like Amy Burns in The Independent confessed they hadn't read the original novel.
Burns praises Davies' "remarkable" adaptation and says that the show "looks like being a winner". The cast is excellent, says Burns, even if half of them also appear in BBC's other ongoing drama "Dickensian". But BBC has taken some bold steps, notes Burns, including the bedroom scene between brother and sister, to ensure that this adaptation is both "controversial and memorable".
Andrew Billen in The Times, agrees that the range of well-known Brit actors give the impression that British television drama is cast from a single rep company, but adds that what keeps this production fresh is the casting of "wonderfully good" American actor Paul Dano and the "excellent" Norton.
We get the idea that these two young men's instincts for self-determination are being overwhelmed by alien forces, says Billen, and "we care about them".
In the Daily Telegraph, Serena Davies celebrated the "excellent" adaptation, of Tolstoy's "too long" novel as part of "a new age of the clever costume drama, that's not only challenging viewers but hooking them in".
Meanwhile, Stuart Jeffries in The Guardian thought the series felt "too English", but admitted he was "already hooked" and would be tuning in next week for "more of Davies's latest sexed-up dossier of the classics".
But while critics were praising the series, some viewers grumbled on Twitter that the first episode's relentless pace, and onslaught of new characters and storylines was overwhelming, reports Digital Spy.
One wrote: "15 minutes in & already so confused, too many characters introduced too soon, who the hell is who?" Another wrote: "Looked away from #WarAndPeace for a minute and now have no idea who anyone is or what they're doing?"
But many others were simply pleased to finally see the novel on screen. Louise Lamont wrote: "I've waited exactly twenty years to be obnoxious about having read #warandpeace. This is my time."
Next episode BBC One, 9pm Sunday.

Continue reading for free
We hope you're enjoying The Week's refreshingly open-minded journalism.
Subscribed to The Week? Register your account with the same email as your subscription.