Deadpool becomes highest grossing R-rated film of all time
Controversial Marvel movie breaks The Matrix Reloaded's record to become sleeper hit of 2016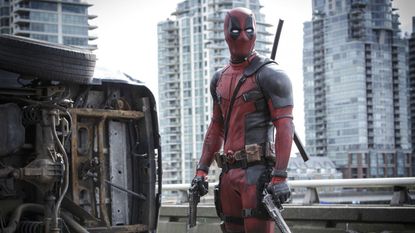 (Image credit: Outnow.ch)
As Batman v Superman: Dawn of Justice opened to good numbers at the box-office, if not such good reviews, Marvel's mouthy superhero film Deadpool broke another box-office record to set the bar even higher for 2016's glut of comic book flicks.
The Ryan Reynolds spectacular is now the world's highest grossing R-rated film of all time, earning $746m (£523m) globally and beating the record set by The Matrix Reloaded more than a decade ago.
An R rating in the US requires everyone under the age of 17 to be accompanied by an adult. The rating in the UK usually converts to a 15.
Subscribe to The Week
Escape your echo chamber. Get the facts behind the news, plus analysis from multiple perspectives.
SUBSCRIBE & SAVE
Sign up for The Week's Free Newsletters
From our morning news briefing to a weekly Good News Newsletter, get the best of The Week delivered directly to your inbox.
From our morning news briefing to a weekly Good News Newsletter, get the best of The Week delivered directly to your inbox.
Many believed the film's controversial main character, foul-mouthed superhero Deadpool, would prevent the film hitting such great heights. However, buoyed by favourable reviews, it "crushed its opening weekend by pulling in a record-shattering $152.2m [£107m], miles ahead of its R-rated competition", says The Verge.
The film's success is hugely impressive for a number of reasons, says Collider's Adam Chitwood. "Deadpool wasn't an adaptation of something that was already massively popular to general audiences nor a sequel," he writes. "The gamble on Fox's part, to go with an R-rated adaptation of this foul-mouthed, non-kid-friendly, fourth-wall-breaking character cannot be overstated and boy did the perseverance of [director Tim] Miller, Ryan Reynolds and writers Rhett Reese and Paul Wernick over the years pay off."
Its success may prompt other superhero films not to sanitise their product. "With Deadpool now leading the way, it's only a matter of time before studios leap into the fray with R-rated superhero projects of their own," says the Verge.
The makers of Batman v Superman: Dawn of Justice, originally a PG-13 (12a), will release an R-rating cut of the film this summer in an effort to boost its box-office performance.
But The Verge warns that studios must not think an R rating equals surefire success at the box-office. "Deadpool wasn't good just because it was a hard-R romp. It's funny, heartfelt and astoundingly different from what Marvel and DC typically produce," the site concludes.
Deadpool: Marvel's raunchy, dirty movie proves a hit
08 February
Deadpool, the latest Marvel action film, opens in UK cinemas this week and while some worried the genre was exhausted, critics have hailed it a raunchy, clever, superhero spoof.
Directed by Thor: The Dark World's Tim Miller, the film stars Ryan Reynolds as Wade Wilson – aka Deadpool – alongside Morena Baccarin, who played Damien Lewis's wife in Homeland, and British rapper and actor Ed Skrein. The violence and sexual content earned it an R rating in the US, and a 15 in the UK.
The story focuses on a former special forces operative who undergoes an experimental cancer-cure technique that gives him accelerated healing superpowers. But it also leaves him horribly scarred -and slightly unhinged. Now he is on a mission to hunt down the sadistic doctor who nearly destroyed his life.
Its irreverent take on the superhero genre has won praise from the critics.
"For the multitudes who feared that, after Fantastic Four, Fox might simply be rummaging too far down into Marvel's basement in search of a few more scraps of lucre, the joke's on them," says Todd McCarthy in the Hollywood Reporter. Once it gets into gear, Deadpool is a "really raunchy, very dirty and pretty funny goof on the entire superhero ethos".
He adds that the film is "just what anyone suffering from genre burn-out might appreciate at this point, as well as a big in-joke treat for all but the most reverent fanboys".
Justin Chang in Variety also praises the "gleefully self-skewering pleasures of Deadpool", calling it a "scabrously funny big-screen showcase for the snarkiest of Marvel's comic-book creations". Better still, he says, Deadpool showcases the talents of Reynolds, "an actor whose smooth leading-man good looks have long disguised one of the sharpest funnyman sensibilities in the business".
Despite the nastier tone, grislier action and more sexually explicit content, Deadpool "turns out to be a comic-book enterprise through and through, but served up in a shrewdly self-mocking guise". And, he adds, "you'll have a ball".
Deadpool is "very entertaining", agrees Peter Bradshaw in The Guardian, but it is also a "horribly violent, shriekingly self-aware and macabre Marvel super-antihero movie" – and the "funniest Ryan Reynolds film since Van Wilder: Party Liaison".
It is "enjoyably obnoxious", says Robbie Collin in the Daily Telegraph, but it's "not the future of superhero movies". Its sense of humour is generally "sadistic and puerile", adds the critic, noting that while the fourth-wall smashing is fun, "it could have been so much more".
Yes, "the sheer number of dick jokes will soon numb you to their impact", writes Jonathan Pile in Empire. But Deadpool is "a fun, if patchy, alternative to the glut of 'the world is about to end unless we do something' comic-book films".
Opens in UK cinemas on 10 February.

Continue reading for free
We hope you're enjoying The Week's refreshingly open-minded journalism.
Subscribed to The Week? Register your account with the same email as your subscription.