Peaky Blinders: was Tommy Shelby a real person?
The hit BBC gangster show blurs the line between fact and fiction deftly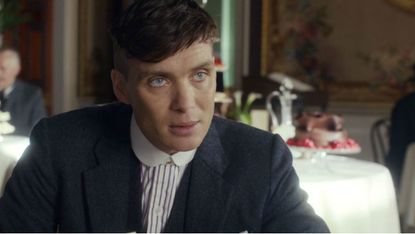 Peaky Blinders season five is underway, with Tommy Shelby and the rest of the gang facing the Wall Street Crash, rival gangs and the possibility of an alliance with fascist leader Oswald Mosley.
The new series has once again had fans wondering which characters and events are based on real life and which are fictional.
The Peaky Blinders was a "notorious Birmingham gang involved in gambling, robbery, protection rackets and violence" in real life, but the show's writer Steven Knight has previously stated that he created the entire Shelby family from scratch and placed them at the centre of this story, Radio Times says.
Subscribe to The Week
Escape your echo chamber. Get the facts behind the news, plus analysis from multiple perspectives.
SUBSCRIBE & SAVE
Sign up for The Week's Free Newsletters
From our morning news briefing to a weekly Good News Newsletter, get the best of The Week delivered directly to your inbox.
From our morning news briefing to a weekly Good News Newsletter, get the best of The Week delivered directly to your inbox.
Furthermore, in real life, the Peaky Blinders were active in the 1890s and early 1900s, while the BBC series is set in the 1920s.
"My dad's uncle was part of the Peaky Blinders. It was reluctantly delivered, but my family did give me little snapshots, of gypsies and horses and gang fights and guns, and immaculate suits," Knight said.
Here's a look at where the line between fiction and fact meets in the BBC hit show:
Is Peaky Blinders a true story?
Show creator Knight told the BBC in 2016 that Peaky Blinders is "based on real events" and while there was no actual model for gang leader Tommy Shelby - played by Cillian Murphy - there was for his gang.
Knight said: "My parents, particularly my dad, had these tantalising memories of from when he was nine or ten years old of these people. They were incredibly well dressed, they were incredibly powerful, they had a lot of money in an area where no one had money and... they were gangsters."
But according to Birmingham historian Professor Carl Chinn, the real Peaky Blinders existed much earlier than that. Writing in the Birmingham Mail, he said his research had uncovered the gang first being referenced in a report about an unprovoked attack on a man in 1890.
The gang's name and their notorious violence brought them to national attention, added the academic. They and other gangs were "infamous for their violence and fighting with metal-tipped boots, stones, belt buckles and sometimes knives", he said.
Chinn continued: "Although they had disappeared before the First World War and did not exist in the 1920s, their unsavoury reputation ensured that they would not be forgotten."
The razor-blade story
As fans of the show know, the gang's name relates to the razor blades hidden in the peaked caps they wore. However, according to Chinn, that myth was invented long after the Peaky Blinders' demise.
The story appears to come from a novel published in 1977 by author John Douglas, who claimed the flat caps could be used as a weapon. However, Chinn says this isn't very plausible.
He believes the gang was named after the peaked caps (albeit without razor blades) associated with ruffians in much the way that hooded sweatshirts now have a bad reputation.
Organised crime?
According to the historian Dr Heather Shore, who gave a lecture on the truth behind the show at Leeds Beckett University in 2013, Peaky Blinders is also guilty of mixing up its crimes.
The real street gang focused on fighting, rather than organised crime. That sort of gang culture came to Britain in the 1930s, Shore said. To find a model for Sam Neill's police chief Chester Campbell, she said, you would have to look to Glasgow or Sheffield in the late 1920s or early 1930s.
Billy Kimber
While there was no real Tommy Shelby, rival gang leader Billy Kimber – who dies at the end of the first series of the show – is a historical figure, says Shore, and his criminal gang controlled racecourses.
Another more familiar real-life figure portrayed in the show is Winston Churchill, played in the first series by Andy Nyman and the second by Richard McCabe. He appears during his time as a cabinet minister, long before he led the country.
The drama's latest villain, Oswald Mosley, is another borrowing from history. "During the 1930s Mosley led Britain's virulently anti-Semitic fascist movement, whose streetfighters - known as blackshirts - were notorious for their violence against Jews and left-wing opponents. He was on friendly terms with Mussolini. And Hitler was guest of honour at his second wedding," says the BBC.
The Economic League
Series three of the show features Paddy Considine as a priest who is a member of a shadowy far-right organisation, identified variously as the Economic League or Section D.
There was a real Economic League, founded in 1919 by wealthy industrialists who blacklisted left-wing figures they regarded as seditious. When the League was finally closed in 1993 after a campaign in parliament, its activities were continued under a new name, The Guardian reported.
There was also a wing of UK military intelligence called Section D, created in 1922 to perform covert political actions in time of war. Peaky Blinders seems to conflate Section D with the Economic League, but there is little evidence of a real-life connection.
Larger than life
Speaking as the first series premiered, Knight said he wanted Peaky Blinders to be larger than life rather than true to it.
He told the BBC: "In a way, I want Peaky Blinders to be [seen] through the eyes of a ten-year-old because the men are smarter and stronger and handsomer and the horses are bigger and everything is big and intimidating as a kid."
The shadow of war
While Peaky Blinders is not intended to be historically accurate, Knight said he did want to make a wider point about the real history of Britain: the psychological damage wrought on young men by war.
"One of the wider issues that I wanted to point out was that all of these men had returned from the First World War where they had been instructed to carry out mass murder every day on an unprecedented industrial scale," he said. "They've returned very damaged and they are violent as a result of their experiences so you have that very interesting dynamic of men returning from the front line and finding they cannot live an ordinary life."

Continue reading for free
We hope you're enjoying The Week's refreshingly open-minded journalism.
Subscribed to The Week? Register your account with the same email as your subscription.