PwC faces investigation over BT Italy scandal
Financial watchdog launches inquiry into three years of accounting reports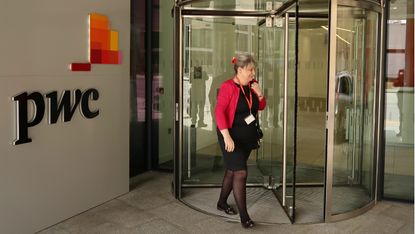 (Image credit: Getty Images)
PwC is continuing to feel the fallout from BT's Italian accounting scandal, with the auditor learning today it is to face a regulatory investigation over its role.
Accountants watchdog the Financial Reporting Council [FRC], which has had formal enforcement powers over auditors since last year, has announced it will launch a full investigation following "completion of initial inquiries".
This is the first step in a process that, if evidence of any wrongdoing is found, could end in a tribunal handing down a financial penalty or sanctions such as an exclusion order.
Subscribe to The Week
Escape your echo chamber. Get the facts behind the news, plus analysis from multiple perspectives.
SUBSCRIBE & SAVE
Sign up for The Week's Free Newsletters
From our morning news briefing to a weekly Good News Newsletter, get the best of The Week delivered directly to your inbox.
From our morning news briefing to a weekly Good News Newsletter, get the best of The Week delivered directly to your inbox.
PwC said: "We will continue to co-operate fully with the FRC in its inquiries. The regulator has a duty to investigate where they believe there is a public interest, in order to give confidence to the financial markets.
"Audit quality is of paramount importance to the firm."
At issue are auditing accounts between the years ending March 2015 to March 2017, when BT has admitted it overstated its Italian profits by £530m.
The company said then its own investigations had revealed "improper accounting practices and a complex set of improper sales, purchase, factoring and leasing transactions", says the Financial Times.
The BBC adds that BT "is furious that it took a whistleblower to pick up on the scandal in Italy, rather than the company's own auditor PwC - the accountant that had been in place for over 30 years".
PwC is likely to argue its auditors may have been misled by the wrongdoers within BT to the extent the issue was hard to pick up and it "could point to BT filing a criminal complaint in Italy against former BT employees".
The furore has already cost the "big four" accountant its business with BT, which earlier this month ended its contract with the auditor.
PwC has had run-ins with the FRC before, including when it was fined £5m for "misconduct" in relation to the audit of Connaught, a housing maintenance group put into administration in 2010.
BT's profits plunge 37% on Italian scandal
27 January
BT Group has suffered a 37 per cent fall in profits to £526m for the final three months of 2016, largely related to the accounting scandal in its Italian division.
Announcing the news today, the telecoms giant confirmed the irregularities in its Italy business will result in a writedown in value of £513m, says the BBC.
Corrado Sciolla, chief executive of BT's European arm, will step down over the affair, the company added.
The company also reiterated that a slowdown in public sector contracts will contribute to a shortfall in profit of £300m for the year to March against expectations earlier this year.
BT's shares have slumped 22 per cent since the accountancy scandal broke at the beginning of this week, wiping more than £8bn from its market value.
Gavin Patterson, group chief executive, said "shareholders had a right to be angry… but maintained that the rest of the business, which accounts for 90 per cent of profits, was doing well", reports The Guardian.
"The situation is now under control," he added.
Patterson refused to comment on whether the group executive team, including himself, should face consequences, including potentially having bonuses clawed back.
He "earned £5.3m last year, including an annual bonus of just over £1m and share awards worth £3m", notes the Guardian.
BT reported that its consumer arm is doing well, with 83,000 new broadband customers added and an eight per cent rise in revenues across its TV and internet businesses. Overall group revenue increased to £6.1bn.
Fallout from BT Italy accounting scandal spreads
26 January
Fallout from a massive accounting scandal that originated in BT's Italian unit is spreading across the telecoms giant's operations.
This week, BT updated markets on an investigation into accounting irregularities in its Italian business, saying misstatements were far worse than thought and likely to amount to £530m.
Acknowledging "years of inappropriate behaviour" and highlighting a slowdown in public sector contracts in the UK, the company said its overall profit would be £300m lower this year.
Shares plunged more than 20 per cent on the news, wiping £8bn of value from the firm in what amounts to its worst day since privatisation. This afternoon, it was trading at a little above 303p, 21 per cent below its closing price on Monday.
The Daily Telegraph says the scandal and the subsequent shares slump has already piqued the interest of litigation funder Bentham Europe, which provides shareholders with money to pursue legal claims in return for a cut of any damages if the case is successful.
A spokesman for the company said it "has already been approached by shareholders in connection with the conduct that has been disclosed".
Bentham is already pursuing cases against Volkswagen over its emissions cheating and Tesco over its own 2014 accounting scandal, for which more than 100 large shareholders are claiming £100m in damages.
Attention is also focusing on the people at BT who might be caught up in the scandal.
BT Italia's management have been ousted and it was reported this week that Corrado Sciolla, the head of European operations, is expected to resign.
Meanwhile, The Times reports that Sciolla's boss, Luis Alvarez, chief of the cross-border corporate division, sold £675,000 worth of shares in the month before the scandal broke.
The paper stresses there is "no suggestion of insider trading".
Added to all this, there are suggestions of bonuses for the UK-based executive team being clawed back and of an investigation by the accounting watchdog into BT's auditor, PwC.
PwC "has been BT's auditor since privatisation in 1984 [but] failed to spot irregularities at BT Italia for years until a whistleblower employee alerted BT last summer", says the Times.
BT shares suffer worst day since privatisation
25 January
BT shares plunged by more than 20 per cent yesterday in the company's worst trading day since it was privatised in 1986, says the Daily Telegraph.
More than £8bn was wiped off the telecom giant's value after it revealed an accounting scandal at its Italian arm was far worse than previously thought.
Shares recovered only marginally this morning, by less than two per cent to 308p, and analysts expect them to remain under pressure for some time to come.
Yesterday, BT confirmed a cumulative accounting error in its Italian business, the result of "years of inappropriate behaviour", would cost it £530m, three times more than the £145m it had anticipated.
"Earnings were over-reported for years as the unit borrowed against unpaid debts and used the money to pay its own suppliers, masking its underlying cash position," says the Telegraph.
Chief financial officer Simon Lowth said borrowing to pay debts was "not a practice we would tolerate anywhere in BT".
The Telegraph adds there were also "improper sale and leaseback transactions and shifting of operating expenses into capital budgets".
That £530m writedown translates to a £175m hit to earnings, while another £125m will be wiped from the group's bottom line by a Brexit-related slowdown in new public-sector contracts to replace deals that are ending.
Profit this year will come in around £7.6bn, £300m lower than previously anticipated.
BT also warned free cash flow will fall from £3bn to £2.5bn, triggering "fears over the company's obligations to plug the £10bn hole in its pension fund and its heavy spending on sports rights", says the Telegraph.
The management of BT Italia has already been ousted, while the BBC reports that Corrado Sciolla, BT's Europe chief, is set to resign as the fallout from the scandal spreads.
Sciolla ran the Italian business between 2006 and 2011, when he also took on responsibility for the French operation before becoming head of BT Europe in January 2013.
In the UK, the Telegraph says BT's remuneration committee are to look into clawing back "bonuses and share-based incentives paid to [chief executive Gavin] Patterson and other senior executives".
Yesterday's share price fall "wiped out all the gains its shares have made under Patterson", the paper adds.
BT shares plummet as Italian accounting scandal deepens
24 January
Shares in telecoms giant BT have plunged by almost a fifth after it revealed an accounting scandal in its Italian arm is much worse than thought.
Investigations into the unit began last October, when the telecoms giant suggested the hit to its value might be around £145m.
However, following an independent investigation by KPMG, bosses today admitted that "years of inappropriate behaviour" would translate to a knock of as much as £530m, says the BBC.
BT said the net result would be a £200m reduction in adjusted revenues for this financial year, says the Daily Telegraph.
That will mean flat revenues for the year and profits of around £7.6bn, down from previous guidance of £7.9bn.
As a result of both the ongoing fallout from the scandal and deteriorating business conditions more generally, the company also expects "both sales and profit will be flat for the year ending March 2018", adds the BBC.
BT's shares plunged more than 19 per cent by 10am, wiping almost £7bn off its market value.
Investigators uncovered a "complex set of improper sales, purchase, factoring and leasing transactions" that meant profits were overstated over "a number of years".
BT chief executive Gavin Patterson said: "We are deeply disappointed with the improper practices which we have found in our Italian business.
"We have undertaken extensive investigations into that business and are committed to ensuring the highest standards across the whole of BT for the benefit of our customers, shareholders, employees and all other stakeholders."
The situation has echoes of the scandal that engulfed Tesco in 2014, which culminated in massive writedowns and the biggest quarterly loss in British corporate history.

Continue reading for free
We hope you're enjoying The Week's refreshingly open-minded journalism.
Subscribed to The Week? Register your account with the same email as your subscription.