BT faces £342m bill over Openreach delays
Company fined record £42m after Ofcom rules it breached competition rules on compensating rivals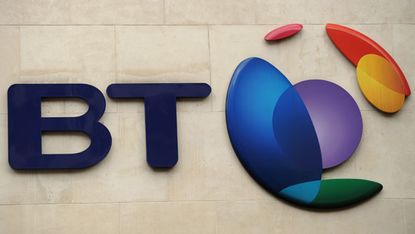 (Image credit: BEN STANSALL/AFP/Getty Images)
Sign up to our 10 Things You Need to Know Today newsletter
A free daily digest of the biggest news stories of the day - and the best features from our website
Thank you for signing up to TheWeek. You will receive a verification email shortly.
There was a problem. Please refresh the page and try again.
BT is facing a bill of more than £342m over cuts to compensation payouts from its broadband infrastructure division Openreach, which the telecoms regulator says breached competition rules.
Ofcom has handed down a direct fine of £42m - its largest ever - after finding the company "misused" a contract allowing it to reduce compensation payments to rival broadband providers for delays in laying new high-speed lines, reports The Guardian.
It also issued a further £300,000 fine after BT failed to provide requested information.
Subscribe to The Week
Escape your echo chamber. Get the facts behind the news, plus analysis from multiple perspectives.
SUBSCRIBE & SAVE
Sign up for The Week's Free Newsletters
From our morning news briefing to a weekly Good News Newsletter, get the best of The Week delivered directly to your inbox.
From our morning news briefing to a weekly Good News Newsletter, get the best of The Week delivered directly to your inbox.
In addition, within the next 12 months, BT will have to pay out all of the compensation owing to rivals such as Vodafone, which it says will amount to around £300m, says the BBC.
BT has 30 days to install lines under competition rules designed to reign in the company's power in the broadband market, where its Openreach division has an effective monopoly on broadband infrastructure outside of Virgin Media's cables.
It is allowed to miss this deadline without incurring costs if there are mitigating circumstances and it notifies providers in advance.
However, Ofcom says that between early 2013 and late 2014, BT routinely failed to provide "appropriate notice" without offering full compensation.
Gaucho Rasmussen, Ofcom's investigations director, said: "We have found in our investigation that that notice was not always appropriately provided and that BT would go back in time to try and justify its delay to avoid paying compensation.
"The size of our fine reflects how important these rules are to protect competition and, ultimately, consumers and businesses."
Clive Selley, Openreach chief executive, said: "We apologise wholeheartedly for the mistakes Openreach made in the past when processing orders for a number of high-speed business connections.
"This shouldn't have happened and we fully accept Ofcom's findings."
Earlier this month, BT agreed to what Ofcom called a "historic" legally separation of its Openreach division, which will remain wholly owned by the company but will have its own board and executive team.
BT agrees to 'historic' Openreach split
10 March
"BT has bowed to demands by the telecoms regulator Ofcom to legally separate Openreach, which runs the UK's broadband infrastructure," says the BBC.
The regulator announced this morning that after a fraught two-year review, BT "had agreed to all of the changes needed to address its competition concerns".
Openreach will be set up as a separate legal entity, with its own board and chief executive. The 32,000 people who work for the division will transfer to the new company, which will remain a wholly-owned subsidiary of BT.
Critically, the new chief executive will report to BT boss Gavin Patterson only "with regards to certain legal and fiduciary duties" and BT will only be able to block board appointments after consulting with Ofcom, says the Daily Telegraph.
The company will continue to set Openreach's overall budget and benefit from its lucrative cash flows, which are critical to funding its massive £10bn pension deficit.
That pension scheme black hole was a key reason a sell-off was not proposed – and could have scuppered the legal split, says the Telegraph.
"Ofcom said today the 'Crown Guarantee' would need to be maintained for Openreach staff... [it] ensures the Government would meet BT's obligations to the pension scheme in the unlikely event that the company should be wound up."
Alex Neill, of consumer group Which?, said: "Millions of people have suffered woeful levels of service from Openreach so these reforms must lead to significant improvements for customers who have been let down for too long."
The deal brings to an end the long-running conflict between the two organisations. Last summer, Ofcom told the former telephone monopoly, which still effectively controls almost all of the UK's broadband infrastructure, except for Virgin Media's cabling, it had to legally separate Openreach to improve services to other providers.
But by November, the two appeared to be at odds over alleged conflicts of interest and the regulator threatened to take the matter to the European Commission.
BT shareholders welcomed today's news, trading its shares up 4.4 per cent to 345p by 11am.
BT and Ofcom resume hostilities over Openreach
29 November
Ofcom and BT's tentative truce over the status of the company's broadband infrastructure arm Openreach has been broken.
The regulator has revealed it is preparing a "formal notification" to the European Commission to force BT to "legally separate from its Openreach division", says the BBC.
The broadcaster adds: "It wants Openreach to become a distinct company with its own board," with a majority of non-executive directors and a chairperson "not affiliated with BT".
The independent entity would remain part of the BT Group but would "have control over its branding and budget allocation" and "a duty to treat all of its customers equally".
Ofcom told BT in July it must give Openreach greater autonomy. Sky News's Ian King says it is now referring the matter to Europe because "there are still significant differences" between the two organisations' positions.
In particular, he adds, "under BT's current proposals Clive Selley, the Openreach chief executive, would continue to report to Gavin Patterson, the BT chief executive".
BT maintains it has put forward "fair and sustainable" proposals for the split and said that just yesterday, it appointed former Ofcom board member Mike McTighe as Openreach's first chairman.
Industry rivals have long claimed a conflict of interest will continue to hurt competition across the sector without a full and formal split, such as making BT sell Openreach.
As the business owns and maintains the vast majority of broadband cables and pylons around the country, it is critical to the service offered by most rivals other than Virgin Media.
BT argues it is investing £6bn in superfast broadband rollout and that if Openreach was formally separated, it would have to spend more money filling a near-£10bn pension deficit.
It is resisting the latest Ofcom proposals too, saying it would "breach company law" for Openreach's chief executive not to report to its own chief executive.
Despite the tough talk today, which Ofcom has said is because BT has not gone far enough, King says "some kind of deal… rather than a referral to Brussels, still looks the way to bet".
BT's Openreach battle with Ofcom is not over yet
29 July
BT shares have been buoyant this week after the telecoms giant appeared to dodge a bullet when it was told it would not need to sell off its profitable infrastructure arm, Openreach.
But the battle for the business, which goes to the heart of the UK's high-speed broadband plans, may not be over yet: Sharon White, the chief executive of Ofcom has insisted she could still force a "formal split" further down the line.
Earlier this week the watchdog published plans calling for Openreach to be made a "legally separate" company within BT, with its own board and chairman, and control over its own budgets.
Writing in the Daily Telegraph, White said that if the regulator had opted for a split, "BT would have to spend time and potentially billions restructuring the UK's biggest private pension plan, and renegotiating thousands of land contracts."
"Do we want them to do that or invest in its network… so that it works for everyone?" she asks. BT has pledged an extra £6bn for Openreach in the next five years.
The ruling, which means BT is not severed from its most profitable division and retains access to lucrative cashflows to fund its £10bn pension scheme black hole, prompted a four per cent surge in BT's shares.
That rally extended to six per cent after results yesterday showed a 16 per cent rise in pre-tax profits to £802m.
Openreach, which has a near-monopoly on broadband connectivity, is required to provide network access to BT's rival operators. They claim BT underinvests in the infrastructure arm in favour of its other business units and operates to poor service standards.
White agreed that performance must improve. "If Openreach fails to up its game," she said, "we will return to a plan to break up BT and Openreach, however difficult."
Yesterday BT's chief executive, Gavin Patterson, sounded a defiant tone in comments to the Telegraph, insisting a formal split was not legal under EU law.
"Last time I looked we were still part of the EU," he said. "After taking a lot of legal advice, there's nothing in the European framework mechanism that would allow a forced separation of any company in telecoms."
Ofcom's existing proposals are up for consultation until October – and BT admits there remain points of difference.
"We've got a lot of common ground," said Patterson. "I'm not denying that there are issues to work through, but we'll attempt to find a way forward on the areas where we differ."
BT 'dodges a bullet' over Openreach split
26 July
BT has "dodged a bullet" in being told it can retain ultimate control of its profitable infrastructure arm, Openreach, the BBC says.
Media regulator Ofcom today published its proposals on giving the subsidiary far greater independence in management and budget control, saying it amounted to the "biggest shake-up" for Openreach since it was created as a separate entity a decade ago.
Under the plans, the unit will gets its own independent board, made up of a majority of non-executive members with "no connection to BT", reports Sky News.
Board members will also have full control of decision-making regarding budget and staff will effectively become employees of Openreach.
But crucially - and controversially, as far as some rivals are concerned - BT will continue to set the budget for the separated business and will retain access to the lucrative cashflows it generates, which it uses in part to fund contributions to its £10bn pension scheme deficit.
Ofcom insisted its recommendations are purely pragmatic in that they can be "can be introduced within months" rather than the years a full sell-off or formal split would involve.
BBC Business presenter Dominic O'Connell says the pension scheme "probably most influenced Ofcom's thinking", as separating it "would be a costly headache - and there is the small matter of a government guarantee" on the fund.
Openreach owns the cables and pylons that provide access to the internet across the country and has won all of the contracts for rural high-speed broadband roll-out. It is claimed that BT has failed to sufficiently fund the arm and that it abuses its position to boost its own retail activities over rivals, who are meant to get access to the network on equal terms.
Sky chief executive Jeremy Darroch said today's proposals are "a step in the right direction", but that "leaving Openreach's budget in the hands of BT… raises significant questions as to whether this will really lead to the fibre investment Britain requires".
TalkTalk boss Baroness Harding, meanwhile, said: "In taking one cautious step forward, I fear Ofcom may in practice have taken five steps back."
BT argued the "unprecedented" changes outlined by Ofcom provided "the basis for a fair, proportionate and sustainable regulatory settlement", with chief executive Gavin Patterson saying it was a "sensible way forward" and that broadband services could be "better".
Ofcom is now consulting on its plans until 4 October.
BT in last-ditch bid to avoid 'legal split' from Openreach
25 July
BT bosses have made what the Financial Times terms a "last-ditch" offer to avoid being forced to enact a "legal separation" from its profitable infrastructure arm, Openreach.
After years of complaints from rivals and months of negotiations with executives from BT and peers including Sky, TalkTalk and Vodafone, regulator Ofcom will tomorrow make its recommendations for a reform of BT to boost competition and nationwide broadband roll-out.
A long-awaited review of the wider sector in February stopped short of demanding the company be split from Openreach, but did call for a voluntary agreement to end the "status quo".
Analysts now expect this will result in a recommendation that the infrastructure business is spun out as a separate legal entity wholly owned by the FTSE 100 company, the FT says.
BT has been fiercely resisting that outcome as it would deny access to lucrative cashflow from the unit. It particular, it is worried this could increase the cost for the core business of funding BT's massive £9.9bn pension scheme deficit, Sky News claims.
Chairman Sir Mike Rake has proposed a more informal separation that would see an independent board established for Openreach but which would not require a legal split.
This would give the subsidiary more independent control over its investment plans and head off complaints that BT has been skimming revenues to fund the acquisition, for example, of expensive sporting broadcast rights for its television arm.
Openreach was spun out from BT in 2006 and has a near monopoly on the cables and pylons across the country that gives access to the internet. It has also won all of the government contracts to roll out high-speed broadband access to rural areas. It is required to offer access to its network on equal terms to other suppliers, but there have been accusations that BT abuses its position and has underinvested in broadband roll-out.
Last week, a panel of MPs warned the company needed to commit to major additional investment and vastly improve its service provision if it wanted to avoid a formal split. BT has since said it will invest an extra £6bn in the coming three years.
Continue reading for free
We hope you're enjoying The Week's refreshingly open-minded journalism.
Subscribed to The Week? Register your account with the same email as your subscription.
Sign up to our 10 Things You Need to Know Today newsletter
A free daily digest of the biggest news stories of the day - and the best features from our website