BT faces £342m bill over Openreach delays
Company fined record £42m after Ofcom rules it breached competition rules on compensating rivals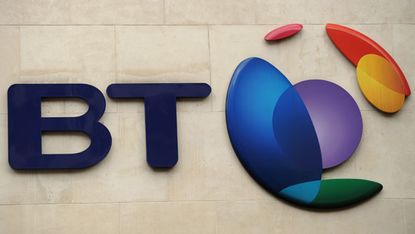 (Image credit: BEN STANSALL/AFP/Getty Images)
Sign up to our 10 Things You Need to Know Today newsletter
A free daily digest of the biggest news stories of the day - and the best features from our website
Thank you for signing up to TheWeek. You will receive a verification email shortly.
There was a problem. Please refresh the page and try again.
BT told to improve UK broadband or face split
19 July
BT should be split from its Openreach network if it fails to address a significant lack of investment in the broadband service, a report by MPs says.
The culture, media and sport select committee said the telecom company's investment in its infrastructure subsidiary, which owns the pipes and telephone cables that connect nearly all UK businesses and homes to the broadband and telephone network, is falling short by "potentially hundreds of millions of pounds a year".
Subscribe to The Week
Escape your echo chamber. Get the facts behind the news, plus analysis from multiple perspectives.
SUBSCRIBE & SAVE
Sign up for The Week's Free Newsletters
From our morning news briefing to a weekly Good News Newsletter, get the best of The Week delivered directly to your inbox.
From our morning news briefing to a weekly Good News Newsletter, get the best of The Week delivered directly to your inbox.
In a damning report, the politicians showed support for Ofcom's proposals for greater separation between BT and Openreach.
But they added the company should be forced into a full split if it fails to "offer the reforms and investment assurances necessary to satisfy our concerns".
The committee also said BT exploited its position to make decisions that "favour the group's priorities and interests" at the expense of its customers.
"If the regulator were to place more emphasis on Openreach's quality of service, BT would voluntarily invest more in the infrastructure to avoid significant penalties," the 11 MPs concluded.
BT agreed service levels needed to improve, but said taking the project off its hands would "fatally undermine" the aims of the committee and would lead to "less investment, not more", Sky News reports.
In addition, the company said its investment in Openreach is now 30 per cent higher than it was two years ago and will increase further following recent pledges to pump in cash.
Alex Neill of the consumer advice group Which?, said customers had been let down for far too long. "People now see telecoms as an essential service so Ofcom must work with the industry to raise standards, with faster, more reliable broadband and automatic compensation for consumers when things go wrong," he said.
The Daily Telegraph reports that BT's chief executive, Gavin Patterson, and Openreach boss Kim Mears admitted earlier this year that the network division misses 1,000 appointments a week.
BT and Virgin landline charges in minister's sights
23 March
Landline charges paid on top of subscription packages for internet and television services could soon be a thing of the past.
Culture minster Ed Vaizey told The Sun he is "in talks" with representatives of the industry to end what he describes as "outdated" charges that average £18 a month. The BBC adds that BT, TalkTalk, Virgin and Sky have been invited for discussions.
Vaizey cited figures from telecommunications regulator Ofcom showing that one in five households no longer make any landline telephone calls, while millions more only rarely use their "home phone" and instead rely on mobile phones.
Rental charges are routinely applied regardless of whether a customer has a fixed line phone connection because the same copper wires are used to transmit signals for both telephone and internet connections. The likes of Sky and TalkTalk actually rent these lines themselves from BT, which is where the charge originates.
Virgin fibre optic lines are a different matter and the company has its own infrastructure. The model of applying line rental on all connections still typically holds, however.
"The whole idea of a landline is out of date and providers need to move with the times," Vaizey said. "They put on their adverts a juicy low broadband price but there's an asterisk and a line saying, 'By the way, the landline rental is £25 a month.'
"But as more people move to mobiles they aren't using landlines. Why should they pay through the nose for it?"
BT emphasised that for operators using its infrastructure, the same line was being used whichever service was being used. It said the issue being highlighted was to do with clarity over charges with some providers, who advertise headline rates that do not include the line rental to attract customers.
"Anyone using broadband uses a landline. I think the focus is more about ensuring clarity around charges when companies advertise their broadband packages," it said.
BT escapes forced split from Openreach - for now
25 February
BT bosses were handed a reprieve today, as a long-awaited digital review by communications regulator Ofcom stopped short of forcing it to split off its Openreach infrastructure arm.
The watchdog has been looking into consumer access to broadband services and the national rollout of superfast connectivity amid claims that BT's near monopoly on the physical networks carrying signals is giving it a competitive advantage.
Ofcom has agreed in part with the assessment, but said it believes a voluntary solution would provide less upheaval for all. It has, however, left open the option of forcing a split if its proposals do not bring about the desired improvements.
Openreach, which was spun out of BT in 2006, owns and controls the "last mile" network of copper and fibre cables that carry internet signals to people's homes. As well as having a near-monopoly on the main infrastructure in towns and cities, the company has won all of the contracts so far awarded to rollout superfast broadband to rural communities.
Under the watchdog's plans, BT "must open up its network of telegraph poles and underground tunnels to allow others to build their own, advanced fibre networks," said Sharon White, Ofcom chief executive. It hopes to create greater competition for these advanced networks and an alternative to the copper solution being rolled out by BT.
Other demands include, the Financial Times notes, greater "ringfencing" of Openreach within BT, to ensure it acts more independently of its parent, and a call for improved customer service, including quicker fixing of lines and offering automatic compensation.
There was also a broader proposal that new mobile licence agreements should include commitments to extend services to rural communities and for changes to the market to help consumers switch more easily.
BT had pledged to invest another £1bn into its infrastructure plans to emphasise its argument that Openreach was better left within the group than made separate. In a statement today, the company said its "ducts and poles have been open to competitors since 2009, but there has been little very interest to date".
BT and Openreach 'status quo' to end
01 December
Media regulator Ofcom has signalled that it may decide to break up BT and force it to spin out the Openreach arm that has a dominant position in the UK's broadband network.
Openreach was spun out of BT in 2006 and owns and controls its network of copper and fibre cables that connect people to the internet. As well as having a near-monopoly on the main infrastructure in towns and cities, the company has won all of the contracts so far awarded to rollout superfast broadband to rural communities.
Under Ofcom rules, BT must offer access to this network on the same terms to rival providers as to its own retail arm. But the likes of Sky, TalkTalk and others have said that is not happening.
Reluctant to lay thousands of miles of their own cables – which everyone agrees would be costly, and merely duplicate what is there already – they want Openreach to be made a separate business to ensure that it has no divided loyalties.
The watchdog has taken evidence on the issue and is due to report back early next year. But it has already indicated that change is the air, with boss Sharon White telling the BBC it is "unlikely we will conclude that the status quo which has worked over the last ten years is where we are likely to be over the next decade."
The other options including toughening rules to force BT's hand or opening up the network in other ways.
Most analysts say that one of these halfway-house alternatives is the most likely, as Ofcom and others remain relatively satisfied with UK broadband rollout. In an interview with the Mirror, White said that one in four people are connected to a superfast connection of 30Mbps, and eight in ten have access to these speeds – the best rate in western Europe.
But only around 40 per cent of homes in rural communities have access to 30Mbps connections, and 2.5 million cannot even reach a minimum threshold of 10mbs. This poses a threat to the government's promise to ensure that 95 per cent of the UK is on faster broadband by 2025.
Labour calls for BT broadband split
25 August
Labour's shadow culture secretary has joined calls for BT's broadband arm, Openreach, to be split off into a separate company amid concerns about high-speed web access in rural areas.
Chris Bryant, who represents Rhondda Valley in parliament, writes in the Daily Telegraph that the government is failing to keep pace with plans to get 95 per cent of the UK access to broadband are falling behind and that access in some areas is "too slow, too late".
The initial deadline for extending high-speed broadband to 95 per cent of the country passed in May 2015, and has now been put back to December 2017. Even then, Bryant says, the speed of some web connections will fall well short of the 24 megabits per second that the government acknowledges is needed to get "the full benefits" of broadband.
Describing broadband as being "as much a public utility as electricity and water" in the 21st century, he pins blame of the slow pace of connections on an effective monopoly, in which Openreach "won 44 out of 44 contracts" up for tender for the rollout programme.
Ofcom launched a review into Openreach's performance in July amid complaints from Sky, which relies on BT infrastructure to provide its own broadband services to customers. The Guardian reports that Ofcom could decide to split Openreach from BT, retain the current model but with new rules to enhance the "arm's length" structure, or deregulate the market more widely to allow others to run without using BT's network.
BT rejected complaints and called on Ofcom to set aside the idea a split. It told the paper: "Consumers are getting more for less and the UK has outpaced its European peers in terms of superfast broadband… Much of that progress is down to BT investing billions of pounds in fibre at the height of the recession."
Continue reading for free
We hope you're enjoying The Week's refreshingly open-minded journalism.
Subscribed to The Week? Register your account with the same email as your subscription.
Sign up to our 10 Things You Need to Know Today newsletter
A free daily digest of the biggest news stories of the day - and the best features from our website