'Fake news is a weapon that's been turned on the media'
Trump is winning the 'fake news' war, says Professor William Watkin of Brunel University. It's time for writers and readers to fight back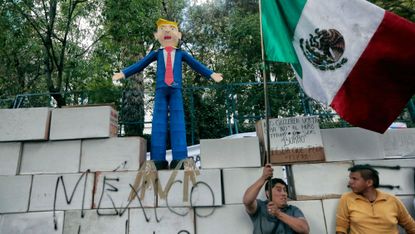 (Image credit: Pedro Pardo/AFP/Getty Images)
As the world comes to terms with Donald Trump's presidency, his tenuous grasp on reality means fake news is still, well, news.
Luckily, however, we won't have to worry about it for much longer: parliament is going to hold a special enquiry; Germany is threatening to fine Facebook for hosting fake news stories, and Mark Zuckerberg, the founder of the social network, has published a manifesto in which he finally seems to get it. Mission accomplished.
The problem is that as the term "fake news" is endlessly repeated, its use and meaning changes and institutions such as parliament and Facebook can't keep up.
Subscribe to The Week
Escape your echo chamber. Get the facts behind the news, plus analysis from multiple perspectives.
SUBSCRIBE & SAVE
Sign up for The Week's Free Newsletters
From our morning news briefing to a weekly Good News Newsletter, get the best of The Week delivered directly to your inbox.
From our morning news briefing to a weekly Good News Newsletter, get the best of The Week delivered directly to your inbox.
Merely a month ago, "fake news" meant websites designed to look like a legitimate news source but filled with made-up stories intended as clickbait. Now it has become more than that.
Since his election, Trump has appropriated the #fakenews meme for his own ends. He has taken the weapons of the media and used their post-truth accusations against them. Remember, crying "fake news" was originally a means of belittling Trump. Now he tweets the term on a daily basis to question the legitimacy of the very people who once questioned his.
Fake news as a charge against the legitimate press is a much more dangerous tool in Trump's Tweet-busy hands than it ever was when it was just clickbait. When the US President accuses CNN of being fake because it reports his falsehoods or gives a less than rosy picture of his chaotic first month, he is questioning the role of the fourth estate in a healthy democracy.
More than this, the accusation "Fake news!" starts to confuse a whole sheaf of concepts that before Trump were pretty clear. During last week's press conference, he actually said the leaks which led to former national security adviser Mike Flynn leaving office were real (and illegal), but that the reporting of them was fake. Come again?
So before we launch enquires into fake news, or start fining Facebook, we should ask ourselves: do we really know what fake news is?
What is important about fake news is not the rubbish that it says, but the damage the term actually does. One little meme is not only allowing Trump to get payback on the media, but by filling the news with his latest rantings, he and his team can also get on with the real business of changing the US political landscape for good without being unchallenged.
Probably the least fake thing Trump said last week was the whole "Russia story is a ruse" gambit. Damn straight it's a ruse - and Trump's team are the magicians pulling the media strings. It's a trick they learnt from Russian President Vladimir Putin, who knows only too well when to feed the media and when to attack it.
As long as fake news continues to be the news, the Trump administration is happy to play the game, while the real Game of Thrones goes on, under-reported, in plain sight. Sad!
William Watkin is Professor of Contemporary Philosophy and Literature at Brunel University and specialises in the study of fake news and digital information
TheWeek.co.uk has launched a new series of articles intended to debunk fake news and identify who's telling the truth. You can read Checked Out here, including an assessment of Donald Trump's claim that he's accomplished more in his first month in office than any other US president.

Continue reading for free
We hope you're enjoying The Week's refreshingly open-minded journalism.
Subscribed to The Week? Register your account with the same email as your subscription.