The pros and cons of owning an electric car
Government shares new plan to boost transition to electric vehicles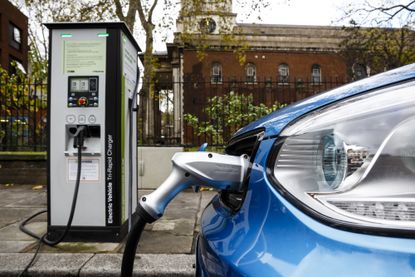 (Image credit: Miles Willis/Getty Images)
From next year, new homes and buildings will need to have electric vehicle charging points, Boris Johnson has announced.
Up to 145,000 new charging points are expected to be installed annually across England under the new legislation announced yesterday at the Confederation of British Industry's conference. The mandate will apply to supermarkets, workplaces and buildings undergoing major renovations.
The news is part of the prime minister's plan to "radically" change the UK's transport network, with consumers the "force driving that change". Electric vehicles are set to play a significant part in the UK's transition to greener transportation, with new petrol and diesel car sales to be banned from 2030.
Subscribe to The Week
Escape your echo chamber. Get the facts behind the news, plus analysis from multiple perspectives.
SUBSCRIBE & SAVE
Sign up for The Week's Free Newsletters
From our morning news briefing to a weekly Good News Newsletter, get the best of The Week delivered directly to your inbox.
From our morning news briefing to a weekly Good News Newsletter, get the best of The Week delivered directly to your inbox.
The government said it intends to make electric vehicle charging "as easy as refuelling a petrol or diesel car today". Improvements will also be made to payment methods and charging times under the new plans.
Labour said the announcement did not address the "geographical divide" in charging points between the north and south of England, said the BBC. The party also lamented the lack of financial help for lower and middle income families to afford an electric vehicle, and "the investment required to build the gigafactories" also needed.
As the number of emission-free motors on the road increases, what are the pros and cons of personal electric vehicles?
Pro: running costs
With no need to stop at a petrol station a few times a month to fill up with fuel, electric cars are generally far kinder to their owners' wallets than their combustion-engined counterparts.
According to Which? magazine, charging a car at home to cover 9,000 miles a year, costs from around £500 for a "dinky sized" city car to £830 for a large SUV.
Using a rapid or ultra-rapid charger away from home is more expensive and puts drivers "particularly at risk from paying more than their fossil fuel counterparts", said Which?, but it noted that some public charge points are free to use.
Electric car drivers aren't just saving money on running costs, either, as the Government offers a £2,500 grant to buyers who purchase an all-electric vehicle.
The figure had been £4,500, but the Department for Transport announced in 2018 that it would be cut owing to the "exceptional demand" around EVs, Auto Express reported.
Owners of zero-emissions EVs registered after 1 April 2017 are exempt from paying vehicle excise duty (VED), added WhatCar?. Cars with a price tag of over £40,000 will need to pay £335 a year for years two and five, on top of standard rates of VED.
Con: upfront investment
While electric car drivers don't have to worry about fuel prices, EVs still carry higher price tags than their combustion-engined counterparts.
For example, an entry-level Volkswagen Golf with a 1.0-litre petrol engine starts from around £20,280, according to Auto Car, while the Electric Vehicle Database puts the starting price of the electric version – the e-Golf – at £28,075.
It may not be the most accurate comparison, given that the e-Golf is crammed full of tech options that aren't available on the petrol car, but there's "still a hefty difference" in price between the two cars, said BuyACar.
The significant cost difference "really puts the fuel-saving argument into perspective", said BuyACar.co.uk. "It's going to take a long time to make that money back."
Pro: close to silent
One of the key characteristics of electric vehicles that make them appealing to car buyers is their near-silent powertrain.
Starting an electric vehicle is a completely silent process void of the rumble and vibrations of a combustion-engined car, while tyre and wind noise is the only noticeable sound when on the move.
"Car lovers really like the silence", said Massachusetts Institute of Technology's (MIT) Technology Review, but some argue that "extremely quiet" EVs may be dangerous for pedestrians. This is because people are used to "relying upon the sounds of vehicles" when crossing the road.
Some manufacturers are coming up with creative ways to warn pedestrians that a car is approaching while still retaining an EV's almost silent characteristics.
In 2017, Nissan created a synthesised noise called Canto, Latin for "song", for its all-electric IMx concept, The Telegraph said.
Con: not so clean
As the name suggests, a fully electric car is propelled exclusively by batteries and motors, meaning the car itself does not produce any carbon emissions. But that doesn't mean electric cars are completely zero-emissions.
According to Autocar, the carbon footprint for electric cars is only marginally smaller than that of its combustion-engined counterparts. That comes down to the manufacturing process, as "nearly half" of the CO2 produced during an EV's lifecycle results from the battery production.
"Iffy" electricity supplies also mean "giant, diesel powered" generators are sometimes needed to charge the vehicles, said Auto Express. These "dirty diesel generators are the elephant in the room" for electric motors, and they are used "way too frequently".
However, based on the 300g/kWh of carbon gases generated during electric energy production in the UK, Autocar said EVs "still produce less CO2 during their lifetime than petrol and diesel cars".
Pro: impressive acceleration
Electric cars may prioritise clean driving over performance, but most EVs will embarrass many supercars in a sprint from 0-60mph.
That's because electric motors deliver "instant torque", which in short means that the car accelerates as soon as the driver steps on the accelerator, said Auto Express. Combustion-engined cars, meanwhile, deliver maximum torque once their motor's rpm reaches a certain point.
The result is that electric cars can deliver 0-60mph times of less than three seconds, the motoring magazine continued. However, EVs usually have special performance modes that allow them to accelerate quickly, which can have a detrimental effect on battery life.
Con: range anxiety
Range anxiety, the concern that a vehicle's power or fuel capacity isn't enough to handle long distances, is still an issue for car buyers.
Research by consulting firm Deloitte found that 40% of car buyers would expect a minimum driving range of 400 miles from an EV.
On the surface, this doesn't bode well for electric cars. For instance, the £14,000 Renault Zoe had a range of around 250 miles under the previous New European Driving Cycle (NEDC) system, said Auto Express.
While the Jaguar I-Pace has a claimed range of 298 miles under the more accurate Worldwide Harmonised Light Vehicle Test Procedure (WLTP), it's around £50,000 more expensive than the Renault.
Pro: ease of leasing
Consumers can avoid expensive upfront costs and spread payments through a lease deal.
With leasing, buyers make fixed monthly payments over a certain period, often two years or 36 months, in a manner similar to many smartphone deals. With EV technology quickly evolving, this can be a plus point for drivers.
"In short, if you want new tech, without some of the financial worry, leasing can be the answer," said Parkers. The RAC estimates leasing costs at between £275 and £450 a month depending on model, over a three-year period with an initial agreement of six months rental.
Con: charging times
Charging an EV may be far cheaper than filling a conventional car with fuel, but the time it takes to top up a depleted battery can be a turn-off for some buyers.
According to car comparison website BuyaCar, car charging times vary depending on the charger's power output. For example, a standard three-pinned socket can fully charge an electric car in 12 hours, while Tesla's growing network of public Superchargers can top up an EV to 80% in about half an hour.
There are ways to improve charging speeds at home, such as buying a wall-mounted battery pack, the site says. These cost around £500 and provide "between 15 and 30 miles" of charge per hour, significantly more than the 7.5 miles of charge per hour offered by three-pinned sockets.

Continue reading for free
We hope you're enjoying The Week's refreshingly open-minded journalism.
Subscribed to The Week? Register your account with the same email as your subscription.