Who killed Jill Dando?
Netflix documentary reignites speculation over unsolved murder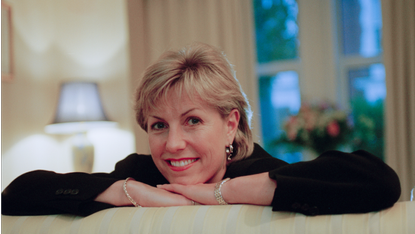 (Image credit: Colin Davey/Getty Images)
A forthcoming documentary about the murder of Jill Dando has reignited speculation about one of Britain's high-profile unsolved cases.
It features an interview with Barry George, a convicted sex offender, who was found guilty of her murder in July 2001. His conviction was quashed six years later, when gun residue found on him during the investigation was discredited. He was acquitted at the subsequent retrial in August 2008.
"It makes me angry that they have taken eight years of my life," George says in the trailer for the Netflix documentary, which describes Dando as "the golden girl of British television [who was] murdered on her doorstep in broad daylight".
Subscribe to The Week
Escape your echo chamber. Get the facts behind the news, plus analysis from multiple perspectives.
SUBSCRIBE & SAVE
Sign up for The Week's Free Newsletters
From our morning news briefing to a weekly Good News Newsletter, get the best of The Week delivered directly to your inbox.
From our morning news briefing to a weekly Good News Newsletter, get the best of The Week delivered directly to your inbox.
She was killed at the age of 37 by a single bullet fired at her head near her home in Fulham, London. on 26 April 1999. The case is still open, but the detective who led the inquiry into her murder told the BBC in 2019 that it would never be solved.
Dando's brother Nigel said he hoped publicity resulting from the documentary would turn up new information. "Someone might know something," he told The Times. "My personal feeling is it was somebody looking for a kick and for notoriety."
What happened to Jill Dando?
The events of 26 April 1999 have been pored over for any clues that could help police in their investigations.
At 10.03am a postman delivering mail to Dando's house in Fulham noticed he was being watched by a dark-haired man in a suit. At the same time, a traffic warden patrolling the area spotted a blue Range Rover parked illegally. She began to note down the licence number but stopped when the driver protested. Both the man in the suit and the Range Rover were seen by several people over the next hour.
At 11.30am Dando walked to her front door and was shot once in the head. Two witnesses reported seeing a man with thick black hair and a waxed jacket running away from the house. Minutes later, CCTV images showed a blue Range Rover travelling at high speed down Fulham Palace Road away from the scene of the crime.
At 11.40am a man was spotted crouching by some railings in a nearby park, furtively talking on a mobile phone, and ten minutes later a motorist was forced to brake hard when a man ran across the road away from Dando's street.
At 1.03pm Jill Dando was declared dead at Charing Cross Hospital.
These details, and the two failed trials, have led to the emergence of several competing theories:
Obsessed stalker
The theory first adopted by police was that of a crazed opportunistic individual. The case against Barry George was based on the theory that Dando was killed by a loner who had an obsession with female presenters.
The only certain sighting of the killer – a 6ft (183cm) white man aged around 40 – came from Richard Hughes, Dando's neighbour, who said he heard a surprised cry from the presenter, "like someone greeting a friend", but heard no gunshot.
The statement has led some to suggest that Dando knew her killer. In 2008, The Guardian reported that "she had been irritated by a number of obsessive fans".
The case has been used by other obsessive stalkers to taunt their victims.
Mistaken identity
Last year, documents submitted to a Paris court suggested that the murder may have been a case of mistaken identity.
The claim was made in court papers relating to a case involving French fashion mogul Gérald Marie, the former boss of the Elite modelling agency, who was being investigated over alleged sexual assault and rape involving at least 11 women during the 1980s and 1990s. The case has since been dropped, due to France's statute of limitations.
The documents claimed that Marie hired a Russian hitman to murder another BBC journalist, Lisa Brinkworth, after she investigated him in order to expose alleged sex crimes in the fashion industry. Brinkworth claimed that she was assaulted by Marie after a dinner with friends. According to The Times, Brinkworth was kept in safe houses "for years" after the show was broadcast.
Lawyers argue that Dando's killer may have mistaken her for Brinkworth "because of similarities in their appearance and occupation, and because they both lived in the same area of west London". The pair shared other connections; for example, Dando's fiancé was Brinkworth's doctor.
The documents, filed in a French court, referred to a conversation witnessed by former Elite executive Omar Harfouch, said the Daily Mail, "in which Marie ordered a member of the Russian mafia to 'deal with a problem'. Soon after, Dando was shot.
They referred to a conversation witnessed by former Elite executive Omar Harfouch, said the Daily Mail, "in which Marie ordered a member of the Russian mafia to 'deal with a problem'" shortly before Dando was shot.
The evidence was passed to Scotland Yard, but Dando's brother is unconvinced by the theory. "It seems a bit fanciful," he told The Times, "as if someone has got one and one and made three."
Gangland hit
The nature of the shooting "appeared to have all the hallmarks of a professional gangland hit", said the Daily Mirror. "An intelligence report named two men from one of London's most prominent crime families."
In a 2017 ITV programme, an anonymous hitman told Mark Williams-Thomas, an ex-Surrey Police officer who is now an investigative journalist, that he knows the criminal behind the killing but wouldn't name him for fear of recriminations.
The hitman was shown a list of 100 names that Williams-Thomas had been given by police investigating Dando's murder.
"There are names here that I recognise, and there's one in particular that stands out to me," the hitman said. "But I wouldn't identify that person because it's very dangerous. I'm sure that they would come after me."
In an interview on This Morning, Williams-Thomas added: "I am very confident the killer or the person who organised the killing is in that inquiry team database."
Serbian hitman
In 2012, the widow of Slavko Curuvija, a prominent Serbian journalist, said that Dando became a target for Serbian warlords after presenting a BBC appeal on behalf of Kosovan-Albanian refugees driven from their homes by militias backing Yugoslav President Slobodan Milosevic.
Branka Prpa was with Curuvija when he was shot dead outside their home in Belgrade just 15 days before Dando was killed. According to The Daily Telegraph, Prpa said: "I think there is a link between Dando and Curuvija. I think they were both executed."
Detectives investigating Dando's murder also received a tip-off saying Serbian criminals based in the UK carried out the hit under orders from the Serbian regime.
The Mail on Sunday said "the 'Serbian connection' became a cornerstone of the defence case in the 2001 Old Bailey trial of Barry George". His barrister Michael Mansfield told the court that the National Criminal Intelligence Service had a dossier suggesting her killing was in retaliation for the Nato bombing of the Radio Television of Serbia headquarters three days earlier.
Mansfield said the notorious Serb warlord and underworld boss Zeljko Arnautovic, known as Arkan, had put out a contract on the then BBC director general Sir John Birt. "His security had been stepped up as a result – so the target was switched to the unguarded Jill Dando," said the paper.
Arkan was shot and killed nine months after Dando died, while the only other Serb believed to have been named in the 2014 police cold case review insists he was not hired to kill the presenter.
Speaking under the pseudonym Milan Mitrovic, he told the Mail on Sunday: "I had been implicated in other things in my life but never in the murder of an innocent woman. It wasn't nice being accused of such a heinous crime."
He confirmed that he had been questioned by Scotland Yard detectives years ago, but said the stamps in his passport proved he was in Macedonia on the date of Dando's death.
Others have also disputed the Serbian theory. BBC world affairs editor John Simpson, who was in Belgrade in April 1999 covering the Nato bombing campaign, claimed it would have been much easier to target him if Arkan or anyone in the regime had wanted to kill a prominent BBC journalist.
In an analysis of the evidence presented to police in May 1999, Dr Adrian West, one of Britain's foremost forensic criminal psychologists, also questioned why, if Dando's murder was politically motivated, there had been no credible public claim of responsibility.
IRA
Another theory is that senior paramilitaries from the IRA chose Dando as a target "because of her links to police through her work presenting Crimewatch", said the Mirror.
A letter was found admitting to the killing among the 52,000 documents that were made available to Barry George's legal team during his second trial.
In it, Wayne Aird, who was serving life for killing a man two months after Dando's death, confessed to being part of an "establishment cover-up" and said that the IRA was being allowed to get away with the murder to avoid harming the Northern Ireland peace process.
"It is understood that police were made aware of Aird's letter, but did not investigate further," the paper added.
Paedophile ring
In 2014, a former colleague of Dando's came forward and said she was trying to expose a VIP paedophile ring just months before her death.
According to the Daily Express, the source said Dando raised concerns to her BBC bosses about allegations of sexual abuse happening at the corporation.
The source said: "I don't recall the names of all the stars now and don't want to implicate anyone, but Jill said they were surprisingly big names."
But the BBC has said that it had seen nothing to substantiate these claims. In 2018, a man was jailed for more than three years after targetting former BBC presenter Emily Maitlis for 20 years, "bombarding her with letters" that referred to her as Jill Dando, said The Sun. A court was told in 2016 heard that one letter read: "I don't believe you felt scared about the murder of Jill Dando."
This year, forensic psychologist Kerry Dayes found the words "Jill Dando" scrawled on her fence, said Sky News, "shortly after her cat was found dead in her garden with its neck apparently broken". Daynes said she became the target of obsessive stalking after taking part in high-profile documentaries about some of the UK's "most notorious killers". Daynes said the reference to Dando was intended as a death threat.
'Joe' the Spanish barman
A report from the now defunct National Criminal Intelligence Service suggested Dando's murder could be traced back to a gunman called Joe who worked in a bar in Spain and had links to murderer Kenneth Noye.
Noye was sentenced to life in prison for a 1996 road rage killing with the help of a Crimewatch appeal.
The report said: "Joe runs a bar in Tenerife, frequented by leading ex-pat criminals. He's described as a frustrated gangster reputed to owe money to Kenny Noye. There's been talk Joe has been keen to rehabilitate his reputation with gangster creditors."
The Daily Mirror said that Joe "allegedly came to the UK specifically to carry out the crime", although it "appears that Joe was never traced".

Continue reading for free
We hope you're enjoying The Week's refreshingly open-minded journalism.
Subscribed to The Week? Register your account with the same email as your subscription.