Cocktail recipes you can enjoy - and make - all year round
Get creative and mix up a delicious tipple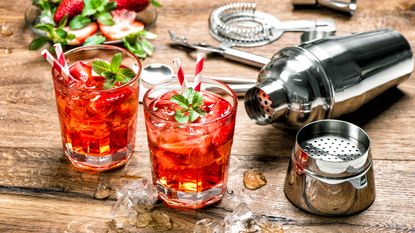 With so many different ingredients and flavours available, cocktails can be enjoyed any time of the year.
In this guide, drink brands and experts have put together their favourite cocktail recipes.
Here's what's on The Week's cocktail menu.
Subscribe to The Week
Escape your echo chamber. Get the facts behind the news, plus analysis from multiple perspectives.
SUBSCRIBE & SAVE
Sign up for The Week's Free Newsletters
From our morning news briefing to a weekly Good News Newsletter, get the best of The Week delivered directly to your inbox.
From our morning news briefing to a weekly Good News Newsletter, get the best of The Week delivered directly to your inbox.
Wild Turkey 101 Bourbon Old Fashioned
No Old Fashioned recipe would be complete without using Wild Turkey 101 Bourbon, a bold and versatile spirit. There should be an explosion of vanilla and caramel flavours that progress to bitter orange and leave you with the smokiness that reveals its eight-year charring process. A fantastic choice for a real unwind.
50ml Wild Turkey 101 Bourbon
Up to 25ml simple syrup
3 dashes of bitters
Orange zest
Large ice cube
Put the ice into a lowball glass filled with a large ice cube. Measure out the bourbon and pour in a mixing glass with the syrup and bitters. Strain into the lowball glass over the ice Garnish with an orange peel.
Storywood Speyside 14 Añejo Old Fashioned
Aged for more than 14 months in single malt Scotch whisky casks, Storywood Añejo is an adventurous tequila which embodies the sip slow attitude. Hiding in every deep amber dram are notes of toasted oak, roasted nuts and treacle toffee.
50ml Storywood Speyside 14 Añejo Tequila
10ml agave syrup
2 dashes of bitters
Garnish with a dehydrated orange wheel
Stir half the tequila with three cubes of ice in a glass. Add agave syrup, bitters and two more ice cubes, before stirring again. Add the rest of the tequila before stirring once more. Add more ice cubes if room and garnish with a dehydrated orange wheel.
Cazcabel Blanco Hot Jalisco Punch
At the heart of the Cazcabel tequila range is Blanco. A spirit fashioned from sun-baked Blue Weber Agave from the heart of the Jalisco region. Fresh, crisp and with a rustic hit of earthy agave, this tequila is truly one to be sipped and savoured.
25ml Cazcabel Blanco Tequila
150ml pomegranate juice
150ml cranberry juice 5ml agave syrup
1 cinnamon stick Garnish with an orange slice
Heat up both the juices. Add cinnamon and agave syrup and let it mull for 20 minutes. Pour into a glass and add the Cazcabel Blanco Tequila. Add an orange slice and serve.
Cotswold Dry Gin - Let Nothing Perish
Cotswolds Dry Gin is distilled with a blend of nine carefully-considered botanicals. The head distiller uses more than ten times the average amount of botanicals used by most premium gins.
45ml Cotswolds Dry Gin
15ml Cotswolds Amaro
7.5ml Maraschino Cherry Liqueur
45ml pink grapefruit
Place all ingredients into an ice-filled cocktail shaker, shake and strain into a chilled Martini glass. Garnish with dehydrated pink grapefruit.
J&B Rare Whisky Sour
J&B Rare Blended Scotch Whisky combines 42 malt and grain whiskies in one smooth yet subtle blend.
35ml J&B Rare
10ml lemon juice
10ml sugar syrup
15ml pasteurised egg white
3 dashes Angostura Bitters
Maraschino cherries
Add all the ingredients to an ice-filled cocktail shaker. Shake and fine strain into a chilled coupe glass and garnish with a black cherry, preferably a Maraschino cherry.
Discarded Rum Old Fashioned
50ml Discarded Banana Peel Rum
5ml sugar syrup (2:1)
3 dashes chocolate bitters
Cold Fashioned by Mr Black
Limited Edition Single Origin Ethiopia coffee liquor, which launches on 1 October, works perfectly in a Cold Fashioned, a signature cocktail created by Mr Black.
30ml Mr Black Single Origin Ethiopia
30ml rye whisky
2x dash bitters
Combine ingredients, add ice and stir. Garnish with an orange twist.
The Original Venetian Spritz
Select Aperitivo is the essential ingredient for the Original Venetian Spritz, a simple yet delicious cocktail traditionally served with a large green olive.
3 parts prosecco
2 parts Select Aperitivo
1 splash soda water
1 large green olive with stone
Pour cold prosecco into a wine glass over ice. Add Select, a splash of soda water and gently stir together. Garnish with a large green olive.
The Regent Seven Seas
All five of the luxury ships in the Regent Seven Seas Cruises fleet offer a range of distinctive cocktails. Among the pick of the bunch is the "Regent Seven Seas", a tasty apricot brandy cocktail.
60ml Absolut raspberry vodka
30ml apricot brandy liqueur
30ml sweet and sour mix
5-6 fresh red grapes
Smash the grapes in a shaker glass and then add the other ingredients. Shake and strain into the glass.
Finnish Lonkero
This drink was originally created to quench the thirst of visitors who flocked to Finland for the 1952 Helsinki Summer Olympics. Called the Lonkero, the mix of gin and, most commonly, grapefruit soda has stood the test of time and is still popular with both locals and tourists today.
4 parts Fresca
3 parts gin
1 part Grapefruit Q Tonic
Build over ice and stir gently to combine.
Glenapp1870
The bar staff at Glenapp Castle in Scotland mix up an array of cocktails, including the Glenapp1870, which is served in a champagne flute.
35ml Hendricks Gin
20ml lemon juice
15ml sugar syrup
Champagne
Add all ingredients except for the champagne to the shaker. Shake and strain into the glass and then top up with champagne. Serve in a chilled flute and garnish with a lemon twist and thyme.
Lady Ellenborough
Lady Ellenborough was a dazzling character who took English society by storm in the 19th century. Not only did she inspire the individuality of Ellenborough Park in the Cotswolds, but also the hotel's signature cocktail, which takes her name too.
25ml Hendricks Gin
15ml Chase Elderflower Liqueur
15ml lime juice
5ml simple syrup
Champagne to top up
1in cucumber (peeled)
Cucumber ribbons to garnish
Smash cucumber in a shaker glass. Add all ingredients to the glass and shake over ice. Fine strain into a chilled, garnished champagne flute and top up with champagne. Finish with cucumber ribbon.
The Henrietta Spice
Boutique luxury hotel Roseate Villa Bath opened The Henrietta Bar last December, when this delicious cocktail was created by resident mixologist Christiana Kiose as the perfect winter warmer.
50ml gin
15ml lemon juice
25ml homemade pear syrup
1 egg white
Star anise
Dry shake the egg white. Combine all the ingredients in a shaker. Pour into a glass and garnish with a star anise.
Whisky Six by Nc'nean Organic Single Malt Whisky
For its signature serve, Nc'nean breaks the perceived "rule" that whisky from Scotland should be drunk neat. The Morvern-based distillery's refreshing whisky soda is called the Whisky Six, in a nod to both the recipe and the perfect time of day for a long drink.
2 parts Nc'nean (50ml)
4 parts soda water (100ml)
Mint sprig to garnish
Fill a glass with cubed ice and add all the ingredients. Gently stir then garnish with a fresh sprig of mint.
Starlino Arancione Spritz
Add a touch of orange to your Halloween celebrations with Starlino Arancione. This Italian aperitivo is refreshing, full-bodied and vibrant.
1 part Starlino Arancione
1 part sparkling wine
1 part sparkling water
Garnish: orange slice
Fill a large wine glass with ice and add one part Starlino Arancione. Top up with one part sparkling wine and one part sparkling water and garnish with an orange slice.
Deanston Kentucky Old Fashioned
This classic cocktail is a great way to usher in the new year and the perfect balance for anyone who is maybe a little tired of sweet Christmas drinks.
Add a sugar cube and a splash of water to a glass
A dash of bitters and give it a good stir
Next go in with a cube or two of ice, followed by a good slug of Deanston Kentucky Cask Finish Single Malt Scotch Whisky
Finish with a squeeze of orange and garnish with orange rind

Continue reading for free
We hope you're enjoying The Week's refreshingly open-minded journalism.
Subscribed to The Week? Register your account with the same email as your subscription.