Miami: beyond the beach
Street art and tacos, hand-rolled cigars and dominoes, and fast-rising skyscrapers in the Magic City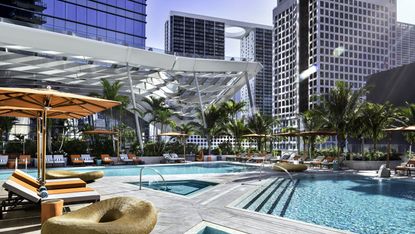 (Image credit: Michael Weber Photography)
Miami is a city whose reputation precedes it: larger than life, dotted with palms and at times a little hazy on the law. You might think of Miami Vice (fast cars, narco-crime and daring pastel suits) or Will Smith's 90s hit Welcome to Miami (more fast cars, Latino beats, and a sizzling cameo from Eva Mendez). For most of us, the city's synonymous with Miami Beach, and for obvious reasons: its white sand beaches and dreamy Art Deco mansions.
But times are changing, with investment pouring in to mainland Miami's long-overlooked neighbourhoods, along with a tectonic cultural shift kickstarted by Art Basel's arrival. The result? Though you'll almost certainly find yourself crossing the causeway for a day trip, a holiday here doesn't necessarily mean staying in South Beach. Intrigued, we flew in for a long weekend to sample the new Miami.
The rise (and rise) of Brickell
Subscribe to The Week
Escape your echo chamber. Get the facts behind the news, plus analysis from multiple perspectives.
SUBSCRIBE & SAVE
Sign up for The Week's Free Newsletters
From our morning news briefing to a weekly Good News Newsletter, get the best of The Week delivered directly to your inbox.
From our morning news briefing to a weekly Good News Newsletter, get the best of The Week delivered directly to your inbox.
Nowhere are the changes more obvious than in the city's high-rise financial district, Brickell. A new wave of upscale hotels, retail and restaurants draw footfall once the offices have closed, and it's only 15 minutes from the airport (our cab has disco lights and pop videos on a loop; welcome to Miami, baby).
We're checking in to one of the tallest, sleekest skyscrapers of the lot: home to the 352-room EAST, Miami. It's owned by Hong Kong's Swire Hotels group, and the East-West vibes start in the lobby, which feels like a temple with its rough stone walls, marble floors and soaring copper sculpture. The lifts, meanwhile, are button-free and bafflingly advanced: touch your key against a smart-screen and you're assigned a ride to the right floor (obviously you'll forget, and jump into the nearest lift about a gazillion times).
On the 25th floor, my corner room's pared-back and tech-savvy, with its pale oak boards, sleek bathroom and touch-panel lighting. There are floor to ceiling windows on two sides with dizzying views even at night, as the city's myriad lights meet the inky darkness of the sea. The next morning, it's transformed: jet lag means I get to watch as the sky is streaked with pink and orange, and the urban hustle resumes. It's mesmerising from up here, as boats sail along the looping river, construction sites spring to life, and the waves glint in Biscayne Bay.
I'm here for pleasure, not business, so days start with a lazy breakfast on the fifth-floor terrace. From there, it's a few steps to the palm-fringed pools (two for swimming, plus a hot tub and cold plunge pool). Staff dispense fresh, stripy towels or deliver lunch to your lounger, while the backdrop of gleaming skyscrapers – surreal at first – soon feels completely normal.
The hotel's part of the billion-dollar Brickell City Centre development, which also takes in swish shops, luxury condos and two office towers. Take the lift to the second floor and – hey presto! – you're in the mall, browsing the flagship Saks or surrendering your credit card in Sephora. Everything's bigger and slicker here, including the CMX Cinema, with its super-sized leather recliners and in-seat dining service.
Tempting as it is, we've got plans: dinner at the hotel's restaurant, Quinto La Huella, sister to Uruguay's acclaimed Parador La Huella (number 22 on Latin America's 50 Best list). We feast on red snapper and grass-fed steak, cooked over the wood-fired parilla, before ascending to the fortieth-floor Sugar, EAST's see-and-be-seen rooftop bar. It's sheer escapism, with jungly foliage, lanterns strung in the trees, and a carved, Balinese-inspired bar. Over a sake-spiked Lychee Blossom, I get talking to the hotel's communications director, Erika Thomas. "Brickell's changing," she nods, gesturing towards the skyline. "It wasn't like this five years ago. People are leaving the beach and coming here; it's becoming a mini Manhattan."
Wynwood: street art and tacos
If that's so, then Wynwood is the city's Williamsburg. Twenty minutes' drive north of Brickell, it's got a very different vibe thanks to its street art scene. I've heard of the Wynwood Walls – a free, open-air gallery with over 40 murals – but that's just for starters: the entire neighbourhood's been tagged, spray-painted or stencilled (and often all three), even down to its pavements. Anything goes: op-art prints, ten-foot toucans and the Mona Lisa happily share wall space.
All kinds of offbeat businesses have sprung up in the old industrial warehouses, from artisan coffee roasters to hipster-friendly thrift stores and craft shops. After browsing the tasselled earrings and hand-poured candles at The Wynwood Shop, I head to the cult Dasher & Crank for a Salty Beach ice-cream (coconut, Graham Crackers and a judicious hint of sea salt).
For lunch, it's all about the laidback Coyo Tacos. There's always a queue, but turnaround's speedy and we're soon squeezed on a communal table, feasting on cactus tacos, refried beans and fiery salsas. Proof of its cool credentials? The previous day, Obama and his entourage had dropped by. (FYI, he ordered chicken tacos, charmed everyone in sight, and left a $40 tip).
Come the evening, the area's dotted with lo-fi bars and craft breweries like Veza Sur, known for its Latino-influenced beers, from guava sours to horchata cream ale. If in doubt, stick to a foamy, Brazilian-style lager chopp (pronounced shoh-pee) – and be warned, unless you put your coaster on the glass, the staff will keep the refills coming.
Little Havana: Cuban spirit
The epicentre of Cuban Miami is Little Havana, and the stretch of SW Eighth Street that's been rechristened Calle Ocho. Just west of Brickell, it's smaller than I'd expected but still has its own flavour, from the shops selling hand-rolled cigars to the windows piled with empanadas. Music wafts across the street and shop signs are often in Spanish; on a lamppost there's a plaintive poster appealing for a perro perdido (lost dog). It's pretty much obligatory to drink a Cuban coffee: order a takeaway colada and you'll get a Styrofoam cup of sugar-sweetened, rocket-fuel espresso, designed to be sociably shared among four or five tiny plastic beakers. (I knock back a thimbleful, and feel I might never sleep again).
At Calle Ocho's heart is the compact Domino Park, where old-timers gather at plastic tables to catch up, talk sport and play dominoes. There's a constant clatter of tiles, hum of banter, and stream of curious tourists – though by now, the players are used to an audience. Afterwards we head to Ball & Chain, a note-perfect reinvention of an iconic 1930s club, which in its day hosted the likes of Chet Baker and Count Basie. Inside, there are sleek leather booths and a slick jazz trio playing Beat It, but the shady garden's the place for a late-afternoon drink.
Regulars swear by the mohito, but my maracuya punch is delicious, vodka-spiked and topped with a retro maraschino cherry. It's too early for a band to be playing on the kitsch, pineapple-shaped stage, but the people-watching's first-class (like the kick-ass local in her sixties on the next table, expertly juggling her whisky, cigar and salted caramel churros). If the party's starting late afternoon, what's it like in the evening? "It's crowded, everyone's dancing… It's a blast," nods a guy at the bar. "You really should come back."
Across the bay to Miami Beach
Even if you're Brickell-based, you can't come to Miami without hitting the beach – 20 minutes by car across the MacArthur Causeway. We head over on the last day to find it's everything I'd imagined and more: brash, beautiful, and at times magnificently tacky. There are tourists sharing fishbowl-sized, technicolour cocktails as a mid-morning pick-me-up, and some jaw-dropping souvenirs on sale (the bottled baby sharks, say, or alligator-claw back-scratchers).
Everything here seems half-familiar from TV and films, from the stern golden medusas guarding Versace's former mansion to the famous white-sand beach, dotted with candy-coloured wooden coastguard's huts. Behind the beach and palm-lined promenade are swathes of magnificent Art Deco buildings, rescued in the 80s after decades of neglect. We spend an afternoon wandering, taking endless photos of their pastel façades and swooping neon signs, before hitting the iconic 11th Street Diner for a milkshake.
After that, it's back across the bay, heading from the old, familiar Miami towards Brickell's fast-rising skyline. The Magic City, it turns out, always has another trick up her sleeve.
Room rates at EAST, Miami start from $219 (£172) per night. For more information or to book, visit east-miami.com
Flights with Aer Lingus start from £219 one way from London Heathrow to Miami, pre-clearing US immigration in Dublin. For more information, visit aerlingus.com

Continue reading for free
We hope you're enjoying The Week's refreshingly open-minded journalism.
Subscribed to The Week? Register your account with the same email as your subscription.