What America can do about Iraq — without resorting to force
Three nonviolent ways the U.S. can ease tensions in the region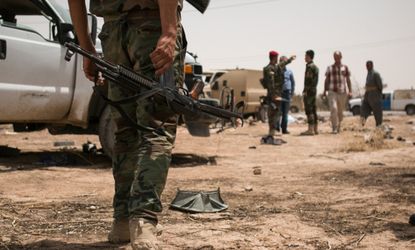 (Image credit: (Zachary Bennett/Demotix/Corbis))
Iraq is barreling toward a full-blown civil war. Over the weekend, the insurgent group the Islamic State of Iraq and Syria claimed to have massacred 1,700 Shiite army recruits in cold blood, and the U.S. is beginning to evacuate embassy personnel as ISIS fighters threaten to lay siege to Baghdad. This has raised the question: what might the United States do to help?
I strongly agree with Daniel Larison that military force should be ruled out, and with Paul Waldman that neocon hawks ought to get nothing but contemptuous jeers. We helped create this mess with our reckless use of force, and more force would almost certainly make things worse.
However, there are a few non-violent actions we might take to improve the situation. While some would have us do nothing at all, the fact is that we are so deeply invested in the Middle East that even maintaining the status quo would heavily influence events.
Subscribe to The Week
Escape your echo chamber. Get the facts behind the news, plus analysis from multiple perspectives.
SUBSCRIBE & SAVE
Sign up for The Week's Free Newsletters
From our morning news briefing to a weekly Good News Newsletter, get the best of The Week delivered directly to your inbox.
From our morning news briefing to a weekly Good News Newsletter, get the best of The Week delivered directly to your inbox.
There are three major options.
First, we can seize this opportunity to repair relations with Iran, which has emerged as the most important anti-ISIS force. This relationship has been defined by mutual bitterness and suspicion, but this crisis should break through those roadblocks.
On the U.S. side, this situation is serious enough to outweigh the usual opposition from Israel, Saudi Arabia, and congressional hawks. On the other side, Iran is seriously alarmed about the prospect of a large new Sunni state run by psychotic, apocalyptic extremists on its doorstep. Robust inspections on Iran's nuclear program, in return for backing off on the sanctions regime, looks like a much better deal today that it did even a couple weeks ago.
Top American officials are reportedly considering some kind of partnership with Iran. Secretary of State John Kerry speculated about military collaboration (which was later downplayed), but an agreement on the nuclear issue is a far greater priority. What the Middle East needs is more prosperous, stable members of the international community, not more guns and tanks. Forging ties with Iran would be more about trying to keep the conflict from spiraling into a regional war rather than using Iran as an anti-ISIS proxy force.
Second, we can assist the Kurds, and try to keep peace between them and Turkey. The Kurd-controlled region of Iraq is about the most stable and secure part of the entire country, and refugees fleeing ISIS are pouring in. The Kurds will need money and supplies to deal with those people, which could be provided by the U.S., the U.N., or some combination of the two.
For a long time the regional government in Kurdistan has been an autonomous state in all but name, and there is a decent chance that the Kurds will seize this crisis to make a formal bid for statehood. It is probably unwise for America to overtly support a partition of a sovereign nation, but should events progress to the point that the fragmentation of the Iraqi state is simply a reality, then the U.S. and the international community can help establish a peace between Turkey and a fledgling Kurdistan.
Turkey's main worry is that a recognition of Kurdistan could spark a Kurdish separatist rebellion inside Turkey. However, the two nations would already have extensive business contacts, and a new Kurdistan would be in no mood to pick a fight with Turkey. With a bit of luck and prodding, the relationship could be managed to everyone's satisfaction.
Third, we can streamline the process for Iraqis applying for refugee status, especially those who worked with the U.S. during the occupation. We have already resettled about 85,000 Iraqis here, but as this famous This American Life episode detailed, the application process is very slow and the red tape is hellish. Vulnerable Iraqis who helped America may not have two years to wait for their first interview.
We shouldn't fool ourselves that any of this will do much more than tinker around the edges. The hard truth is that we simply don't have very much positive influence. This crisis is driven by fundamental political problems within Iraq that Iraqis must solve themselves. But that doesn't mean the U.S. has no role to play in improving the situation.

Continue reading for free
We hope you're enjoying The Week's refreshingly open-minded journalism.
Subscribed to The Week? Register your account with the same email as your subscription.