Opposing net neutrality is terrible politics, Republicans
The FCC is reviving tossed-out net neutrality rules. But this is a case where government regulation isn't spooky.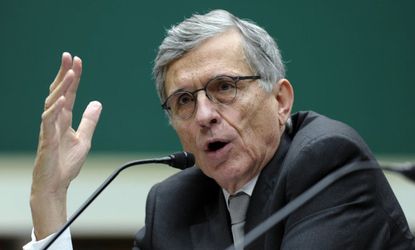 (Image credit: (AP Photo/Susan Walsh))
When the U.S. Court of Appeals in Washington struck down most of the Federal Communications Commission's net neutrality rules in January, many advocates of a free and open internet entered a period of mourning. But FCC Chairman Tom Wheeler indicated Wednesday evening that net neutrality isn't dead after all.
Wheeler said the FCC won't appeal the federal court's ruling, but will instead rewrite its open internet rules using its authority under Section 706 of the 1996 Telecommunications Act. The new rules, which will take months to write and be open to public comment, should prevent Internet Service Providers (ISPs) — like Verizon, which filed the recent suit against the FCC — from improperly blocking competitors' sites or discriminating against services that use a lot of bandwidth.
For open-internet advocates, like the Electronic Frontier Foundation, net neutrality is about principles: The internet is almost a sacred realm that should be as free from government or business interference as possible. For consumer advocacy groups, the fight's about "your wallet and your free speech," as the Consumers Union's Delara Derakhshani phrases it. For internet startups, it's about a level playing field. Wheeler's statement throws a bit of everything in there:
Subscribe to The Week
Escape your echo chamber. Get the facts behind the news, plus analysis from multiple perspectives.
SUBSCRIBE & SAVE
Sign up for The Week's Free Newsletters
From our morning news briefing to a weekly Good News Newsletter, get the best of The Week delivered directly to your inbox.
From our morning news briefing to a weekly Good News Newsletter, get the best of The Week delivered directly to your inbox.
But for most people who use the internet, the net neutrality fight is about Netflix. Not just Netflix, of course, but the Netflix model of sending large amounts of data over the internet to customers' homes, unimpeded. That covers not just movie-streaming but also online video games and video-chat services like Skype and FaceTime. The unfettered movement of bits and bytes will also help determine what bandwidth-hogging goodies will make their way onto your laptop or smartphone in the future.
Who could be against that? Well, broadband service providers like Verizon, Time Warner Cable, and Comcast, which won an earlier ruling against the FCC on net neutrality. Republicans tend to oppose the push for net neutrality, too — including the FCC's two Republican commissioners. Because, regulation.
FCC commissioner Mike O'Rielly, for example, said he is "deeply concerned" that Wheeler and the other two Democrats on the FCC "will begin considering new ways to regulate the Internet." Reps. Fred Upton (R-Mich.) and Greg Walden (R-Ore.), the chairman of the House Energy and Commerce Committee and its subcommittee on technology, respectively, also issued a joint statement opposing Wheeler's revival of net neutrality. "[T]he Obama administration refuses to abandon its furious pursuit of these harmful policies to put government in charge of the web," they said. "These regulations are a solution in search of a problem."
There are cogent arguments to make against net neutrality. The most persuasive, perhaps, is that if ISPs can't unilaterally add surcharges for companies that use large amounts of bandwidth, a small number of heavy internet users are essentially getting a free ride on the backs of lighter-using customers who mostly read blogs and laugh at cat gifs. If Netflix traffic accounts for a full third of all internet activity, shouldn't it pay to help ISPs upgrade their infrastructure to accommodate that traffic?
Those are the type of points big ISPs are making, even as they rake in money from paying broadband customers (the companies with the keys to the internet are perhaps the only ones guaranteed a profit in the crazy internet economy). But it's not the argument Republicans are making. Their main complaint is that this is government interference in the free market.
And in a narrow sense it is, as is all government regulation. But when the government steps in to make sure that private companies can't bilk consumers by exploiting their dominant slice of a market or through legalese, that tends to be pretty popular. Is anyone really upset that George W. Bush's FCC mandated that cellphone customers can bring their phone numbers with them when they switch carriers?
The political problem for Republicans is that net neutrality doesn't feel like Big Government stepping in to run your business. It may tie the hands of a few companies, but it lets consumers use the internet on (mostly) their own terms. They can watch Netflix or Hulu or YouTube as much as they want without fear that their ISP will throttle their service, or charge them extra.
In fact, the FCC is treading on questionable legal ground by not just declaring ISPs regulated public utilities, like telephone companies — a move within the agency's power, even according to the federal appellate court that tossed out the FCC's earlier net neutrality rules. Most net neutrality proponents, including Democrats, are urging the FCC to go this route, since it would increase the commission's authority to regulate ISPs.
Wheeler is also considering removing legal restrictions that are keeping cities and other municipalities from creating their own Wi-Fi networks or broadband service. That's sure to raise the hackles of the heavy-spending cable-and-telecommunications lobby. But it's not something that would upset many voters.

Continue reading for free
We hope you're enjoying The Week's refreshingly open-minded journalism.
Subscribed to The Week? Register your account with the same email as your subscription.