Should Congress stop meddling with the Iranian nuclear talks?
The White House says new sanctions could scuttle delicate nuclear negotiations — and possibly lead to war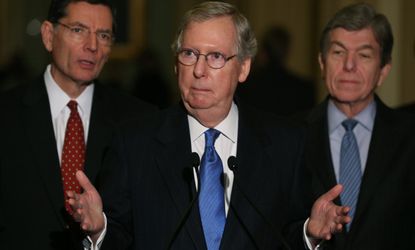 (Image credit: (Mark Wilson/Getty Images))
Sign up to our 10 Things You Need to Know Today newsletter
A free daily digest of the biggest news stories of the day - and the best features from our website
Thank you for signing up to TheWeek. You will receive a verification email shortly.
There was a problem. Please refresh the page and try again.
For months, the White House has been pursuing historic talks with Iran to curtail that nation's nuclear ambitions. To spur those talks along, the administration agreed to ease some economic sanctions in exchange for Iran temporarily freezing aspects of its domestic nuclear program.
But many in Congress are trying to pass strict new sanctions despite stern objections from the White House, which says doing so would undercut — or completely derail — the nuclear talks. And though President Obama has said he will veto such a measure if it reaches his desk, 58 or 59 senators — including more than a dozen Democrats — support a proposed sanctions bill, putting the vote close to a veto-proof margin.
Lawmakers insist that their goal is not to impede the talks, but merely to prod Iran with a sharp stick. Tough sanctions, they say, are what brought Iran to the negotiating table in the first place, so tough sanctions are needed to ensure the Iranians see the process through.
Subscribe to The Week
Escape your echo chamber. Get the facts behind the news, plus analysis from multiple perspectives.
SUBSCRIBE & SAVE
Sign up for The Week's Free Newsletters
From our morning news briefing to a weekly Good News Newsletter, get the best of The Week delivered directly to your inbox.
From our morning news briefing to a weekly Good News Newsletter, get the best of The Week delivered directly to your inbox.
"The goal isn't to disrupt things," a Senate Democratic aide involved in the process told the Huffington Post last month, "it's to make Iran even more willing to make serious concessions by making them aware of what will happen if they don't."
Likewise, Sen. Richard Blumenthal (D-Conn.), a co-sponsor of the bill, says it is "meant to strengthen the president," and not to "in any way impede the ongoing negotiation."
The White House and many foreign policy experts don't see it that way.
Obama has implored Congress to back off and "allow the diplomats and technical experts to do their work," now that a six-month interim agreement, signed Sunday by Iran and the P5+1 powers, is in place. Administration officials have less diplomatically suggested that lawmakers backing the sanctions don't want a peaceful resolution at all, and are instead endorsing a "march toward war."
James Fallows makes a similar argument in The Atlantic, writing that "derailment is what seems to be underway in the Senate right now."
Proponents of additional sanctions retort that there is no guarantee a lasting agreement will result from the interim one. They say Iran is playing a familiar game: Stringing the U.S. and its Western allies along, buying time for its nuclear program, and weakening the sanctions regime.
"There's a major question that we've got to ask," says Sen. Mark Kirk (R-Ill.) "As we release billions of dollars to the Iranians, are we going to get more Iranian policy? More terrorism? I would think so."
Still, Bloomberg's Jeffrey Goldberg — a self-described Iran hawk — argues that sanctions and the threat of military action have already had their intended effect: They've made Iran willing to at least talk about a deal. Piling on more sanctions now, he says, could erode that progress and "move the U.S. closer to war with Iran and, crucially, make Iran appear — even to many of the U.S.'s allies — to be the victim of American intransigence, even aggression."
If the negotiations break down, the "most plausible alternative left to stop Iran [from obtaining a nuke] would be a preventative military strike, either by the U.S. or by Israel," he adds. "Such a strike might end in disaster. While it could set back (though not destroy) Iran's nuclear program, it could also lead to the complete collapse of whatever sanctions remained in place."
The whole debate could wind up moot.
It's unclear if Democrats would really follow through with such a huge slap to Obama's authority, or if their noise is just pre-election posturing. Plus, Senate Majority Leader Harry Reid (D-Nev.) has indicated he may not bring the sanctions up for a vote.
Furthermore, House Republicans may have inadvertently killed the Senate's efforts by saying they could bring the bill up in their chamber; co-opting the plan would give it a partisan whiff that could turn off some on-the-fence Democrats.
Reid may be the White House's best friend on the issue. The push for more sanctions hasn't gone away in the face of a veto threat, and he may be the only one who can keep it from bringing it to that point.
Continue reading for free
We hope you're enjoying The Week's refreshingly open-minded journalism.
Subscribed to The Week? Register your account with the same email as your subscription.