Pardoned presidential turkey names, ranked
Pardoning turkeys is weird. Naming them is weirder.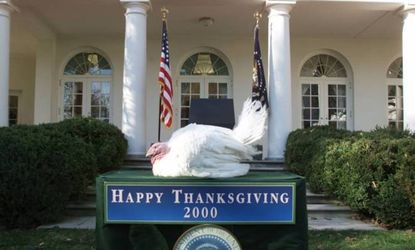 (Image credit: (Mark Wilson/Newsmakers))
President Obama on Wednesday continued the White House tradition of sparing a turkey's life with a faux presidential pardon.
Though the tradition dates back to George H. W. Bush, a newer one — the naming of the pardoned turkeys — appears to have begun under Bill Clinton, near the end of his presidency. In that short time, we've seen presidents pardon anthropomorphic turkeys, patriotic turkeys, and a few onomatopoeiac turkeys, too.
Yet not all turkey names are created equal. So to help you figure out which ones to love and loathe when you invariably get into a heated turkey debate with your in-laws, here's a definitive list of the best pardoned turkey names, in order from worst to best.
Subscribe to The Week
Escape your echo chamber. Get the facts behind the news, plus analysis from multiple perspectives.
SUBSCRIBE & SAVE
Sign up for The Week's Free Newsletters
From our morning news briefing to a weekly Good News Newsletter, get the best of The Week delivered directly to your inbox.
From our morning news briefing to a weekly Good News Newsletter, get the best of The Week delivered directly to your inbox.
May (2007)
Thanksgiving is in November.
Apple (2010)
Didn't work for Gwyneth Paltrow, worked only marginally better for this turkey.
Harry (1999)
The name may have been a nod to President Harry Truman, whom Clinton mistakenly claimed began the pardoning tradition — a common misconception.
Katie (2002)
Solid name for a human being; creepy name for a bird.
Liberty (2011)
George Bush did it better (see below). Here, Liberty is merely a generic nod to patriotism that, given Thanksgiving's context of colonialism, is almost cruelly ironic.
Stars (2003)
This only makes sense in the context of the alternate bird that year, Stripes.
Popcorn, Caramel (2013)
These don't even fit the "Thanksgiving feast" theme. Obama could have gone with "Mashed" and "Potatoes," "Creamed" and "Corn," or even "Booze" and "More Booze," all of which are more generally accepted as Thanksgiving staples.
Flyer (2006)
Turkeys technically can fly, though not well. This name was kind of a burn.
Courage (2009)
Courage (noun): "The ability to do something that you know is difficult or dangerous."
Example: To stare down a dinner plate and live to tell about it.
Liberty (2001)
With pro-American sentiment running high post-9/11, Bush broke with precedent and named his birds abstract nouns, as opposed to human monikers. (The alternate that year was Freedom.) Bush liked the names so much that he started calling everything liberty or freedom.
Marshmallow (2005)
How I imagine this bird got its name:
Adviser: Sir, what shall we name it?
Bush [Watching Ghostbusters climax, eating s'mores]: Mmmm, marshmallow.
Adviser: …
Bush [Covered in melted marshmallow/chocolate]: …
Adviser: Marshmallow it is then.
Gobbler (2012)
It is what they do, after all.
Biscuits (2004)
Biscuits is a great, multifaceted turkey name: It has a playful ring that sounds like a reasonable pet name, and it fits nicely into the "Thanksgiving foods" category.
Pecan (2008)
Coupled with the alternate bird, Pumpkin, this becomes a clear reference to pie — and pie is, after all, the best Thanksgiving food. This would have placed higher if the pardoned bird were Pumpkin, the better of the two pies. But Pecan is a solid pie option, too, especially when baked with some Dr. Pepper.
(Dr. Pepper, by the way, would be a sweet turkey name. Get on it, Obama.)
Jerry (2000)
"Jerry the Turkey" is pure poetry in a way that other turkey names just can't match. It has a delightful je ne sais quoi that makes it both humble and hilarious.
A+ Jerry. Congrats on not being eaten.

Continue reading for free
We hope you're enjoying The Week's refreshingly open-minded journalism.
Subscribed to The Week? Register your account with the same email as your subscription.