Is John Kerry a better secretary of State than Hillary Clinton?
On Iran, Kerry has achieved something that his predecessor never could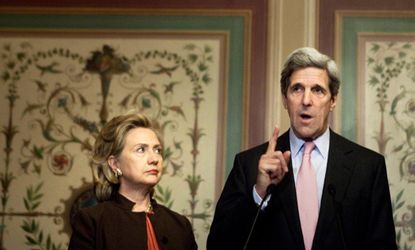 (Image credit: (Brendan Smialowski/Getty Images))
Former Secretary of State Hillary Clinton was christened a "rock-star diplomat" by The New York Times as her tenure was winding down. Her successor, John Kerry, was recently mocked by Washington Post columnist Jackson Diehl as a "self-deceiving bumbler."
But now Kerry has achieved something that his predecessor never did: A breakthrough peace agreement.
Does this mean that in less than a year Kerry has proven himself the better of President Obama's two secretaries of state?
Subscribe to The Week
Escape your echo chamber. Get the facts behind the news, plus analysis from multiple perspectives.
SUBSCRIBE & SAVE
Sign up for The Week's Free Newsletters
From our morning news briefing to a weekly Good News Newsletter, get the best of The Week delivered directly to your inbox.
From our morning news briefing to a weekly Good News Newsletter, get the best of The Week delivered directly to your inbox.
It's too early to make a definitive assessment. Kerry's Iran deal is a temporary one, and we don't know if it will lead to a broader, firmer agreement. But Clinton, either by her own choice or by President Obama's guidance, refrained from putting herself in positions where she could achieve such breakthroughs, as well as suffer blame for high-profile flops.
After an early burst of activity that went nowhere, Clinton spent little of her own time directly engaging Israeli and Palestinian leaders. She did not play the role of direct negotiator with North Korea in February 2012, and so she did not get bruised when a deal to suspend North Korea's nuclear activity unraveled. And her time on Iran was largely spent tightening sanctions, not breaking bread.
Of course, Clinton had her successes; they just were not of the traditional peace treaty variety. She helped engineer the landmark U.N. resolution, sealed by winning Russia's acquiescence, that led to the military operation which removed Libyan dictator Moammar Gadhafi. She integrated women's issues into foreign policy, linking the status of women to economic development and global stability. She facilitated political reform in Burma with the easing of sanctions. You can even argue that her big stick of Iranian sanctions set the stage for Kerry's breakthrough.
Still, Clinton (or Obama) had a hesitancy to put her prestige on the line in the name of peace.
A fair argument can be made that Clinton simply didn't have a moment of opportunity to exploit. Israeli Prime Minister Benjamin Netanyahu resisted the early push by Obama and Clinton to freeze settlements in occupied territory. North Korea's newest leader showed little interest in reaching out. Clinton's turn at State overlapped with Mahmoud Ahmadinejad, not Hassan Rouhani. Plus, unwinding our military involvement in Iraq and Afghanistan was a top foreign policy priority.
But Kerry appears to be working harder to create opportunities, unusually inserting himself into several complicated situations, even when a deal is not close at hand. That has, for the moment, paid off with Iran. And the only risk he is taking is with his own personal reputation.
Which speaks to the big difference between Kerry and Clinton. The former secretary is a presidential aspirant. The current secretary is a presidential also-ran.
Clinton would be risking her last chance at moving to 1600 Pennsylvania Ave. if she crashed and burned at Foggy Bottom (hence the desperate attempts by the Republican Party to manufacture a scandal out of the Benghazi attack). But Kerry has nothing to lose and everything to gain by aggressively pursuing every diplomatic Holy Grail in sight. For him, secretary of state is the career capstone, not a stepping-stone.
And that raises a fundamental question: What type of diplomat should we want as a secretary of state? Someone who's hungry to make the deal, or someone risk-averse to failure?
As you can tell from the negative reaction to the Iran deal among Republicans and some Democrats, there are a lot of folks who'd choose caution. There will always be fears that someone hungry for a deal will settle for a bad deal.
But the risk of a bad peace agreement typically pales in comparison to the risk of hasty military action. The poster child for bad peace agreements — Munich in 1938 — actually bought Britain time to build up its depleted military. Otherwise it might have been steamrolled by Hitler. Other busts, like that 2012 North Korean agreement, simply return the parties to an unpleasant but manageable status quo.
It may be that President Obama chose the type of diplomat he needed for when he needed it: Relatively cautious for the first term when re-election concerns dominate, and ambitious for the second term when the presidential clock is ticking. But it would be great for the world if presidents and their top diplomats didn't have to worry about trying too hard. Perhaps the Kerry approach will force us to rethink our expectations.

Continue reading for free
We hope you're enjoying The Week's refreshingly open-minded journalism.
Subscribed to The Week? Register your account with the same email as your subscription.