Is Jeb Bush gearing up for 2016?
Bush says he's not making a decision until next year. But his travel plans and speeches suggest otherwise.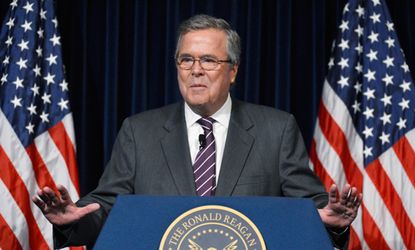 Ever since New Jersey Gov. Chris Christie handily won re-election earlier this month, most of the buzz concerning the 2016 Republican presidential primary has focused on him. Christie beat his Democratic challenger by 22 points, and was able to pick up a significant chunk of the Latino, female, and black votes — groups coveted by the demographically challenged GOP.
While much of the coverage has pointed out that Christie was able to expand his appeal in a blue state with large numbers of minority voters, it's also true that the Republican Party faithful will be very wary of his more moderate stances. Christie has signed gun control legislation and dropped a legal challenge to gay marriage in the Garden State.
Enter Jeb Bush, the former governor of Florida, who made the case this week that he is not just a Republican In Name Only. "Look, I'm a conservative and I'm a practicing one, not a talk-about-it one," he said in New York on Monday. "I would put my record up against anybody that's in Congress right now." Translation: The Tea Partiers who shut down the government over health care reform don't have anything on me.
Subscribe to The Week
Escape your echo chamber. Get the facts behind the news, plus analysis from multiple perspectives.
SUBSCRIBE & SAVE
Sign up for The Week's Free Newsletters
From our morning news briefing to a weekly Good News Newsletter, get the best of The Week delivered directly to your inbox.
From our morning news briefing to a weekly Good News Newsletter, get the best of The Week delivered directly to your inbox.
Bush has insisted that he's not going to think about running for president until the middle of next year, but his busy travel schedule and his anti-ObamaCare talking points suggest that he is already laying the groundwork for the primaries. Last week, he was also in New York to speak at a conference hosted by the Securities Industry and Financial Markets Association, where he slammed the Affordable Care Act and predicted it would eventually crumple.
In early November, Bush trekked to Wisconsin, where he also told reporters he doesn't think ObamaCare will work. "If the objective is, don't worry about the budget, we'll just finance it the same way we're financing our deficits right now, build a bigger debt, you could see this thing surviving," he said. "But it will have failed what the promises were. It will have failed the American people. And I don't think it will bend the cost curve."
In June, he laid out a four-point plan to revive the economy that included approving the controversial Keystone XL pipeline, raising education standards, and passing comprehensive immigration reform.
Bush has long been a favorite of establishment Republicans and deep-pocketed GOP donors who urged him to run for the White House in 2012. He is seen as a strong voice advocating for a humane approach to immigration reform — a stance that puts him at odds with large swaths of the conservative electorate, but ultimately helps him with one of the fastest-growing sectors of the American electorate: Latino voters.
It doesn't hurt that his brother, George W. Bush, won the White House in 2004 with more than 40 percent of the Latino vote, the highest margin for a Republican in recent history.
In another move that has widely been interpreted to mean Jeb Bush is strongly considering running, he published a book earlier this year that calls for allowing undocumented immigrants a chance to gain legal residency but not citizenship. That stance stops short of full "amnesty," putting him more in line with his party's base — but still perilously close to a Marco Rubio-style flame-out.
All in all, it certainly looks like Jeb is intent on keeping his name in the mix, and is going through the necessary steps to establish a coherent platform. Whether he can find a position on the ideological spectrum between the Tea Party and Christie — and overcome suspicions about his position on immigration reform — remains to be seen.

Continue reading for free
We hope you're enjoying The Week's refreshingly open-minded journalism.
Subscribed to The Week? Register your account with the same email as your subscription.