Why the Cheneys' gay marriage feud could burn the GOP
So much for that Republican rebrand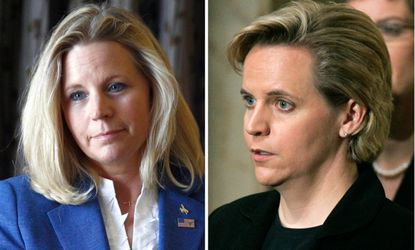 (Image credit: (AP Photo/File))
You can add "messy intra-family fight over the legitimacy of a sister's same-sex marriage" to the long list of problems facing Liz Cheney's quixotic Senate bid.
More than that though, you can add it to the long list of woes facing the Republican Party's halting rebrand. With a civil war for control of the party already underway, the spat underscores the emerging divide within the GOP over how to handle a politically explosive issue on which the party is increasingly on the wrong side of shifting public opinion.
For all the national coverage of the imbroglio, it's a comparative nothingburger back in Wyoming, where Cheney is trying to unseat three-term Sen. Mike Enzi in a primary fight. And even if the scuttlebutt were politically explosive, it wouldn't necessarily matter much in the race given Cheney's highly improbable odds of winning. Enzi has a comfortable 30-point lead, and a majority of Wyoming Republicans, in one poll, said Cheney was not even a true Wyomingite.
Subscribe to The Week
Escape your echo chamber. Get the facts behind the news, plus analysis from multiple perspectives.
SUBSCRIBE & SAVE
Sign up for The Week's Free Newsletters
From our morning news briefing to a weekly Good News Newsletter, get the best of The Week delivered directly to your inbox.
From our morning news briefing to a weekly Good News Newsletter, get the best of The Week delivered directly to your inbox.
Nationally, though, the fight has laid bare the GOP's gay marriage divide, while reinforcing a stereotype of the party as uncaring and out of touch.
Gay marriage is no longer the wedge issue it once was. Fifteen states and the District of Columbia have legalized gay marriage; the Supreme Court has ruled that the federal government cannot deny benefits to same-sex couples; and a strong majority of Americans now support same-sex marriage.
The trend line is striking, showing just how quickly Americans have come around:
Even three in ten conservatives now back same-sex marriage — an admittedly low number, but up markedly from a decade ago when only 18 percent did.
It's in this rapidly shifting climate that President Obama, in the span of only a few years, can "evolve" from supporting civil unions to fully backing same-sex marriages. And it's in this environment that even Karl Rove said he wouldn't be surprised if the 2016 GOP presidential nominee, too, supported same-sex marriage.
The Republican Party acknowledged in its 2012 post-mortem that it had to soften its image and modernize its views to remain viable with a changing electorate. Having a Senate candidate essentially disown her sister and sister-in-law, in public, for being gay is not the best way to convince voters you're truly moving in that direction.
Nor does it reflect well on your party as a whole when that candidate's father — a deeply unpopular former vice president, no less — has to defend her, essentially tossing another daughter under the bus in the process. (And really, is it ever a good thing, branding-wise, for the GOP to have Dick Cheney going on record about the party platform?)
Rather, voters could easily read Liz Cheney's position as heartless and, quite plainly, politically opportunistic. Scoring political points by knocking your own family members — while at the same time reminding voters that the GOP's official line on gay marriage is increasingly out of step with the majority of America — is not the sort of thing a party desperately in search of a broader base can afford.

Continue reading for free
We hope you're enjoying The Week's refreshingly open-minded journalism.
Subscribed to The Week? Register your account with the same email as your subscription.