ObamaCare is Hurricane Katrina: Today's horrible, flawed, lazy political metaphor
It should go without saying, but ObamaCare is not a tragic, deadly hurricane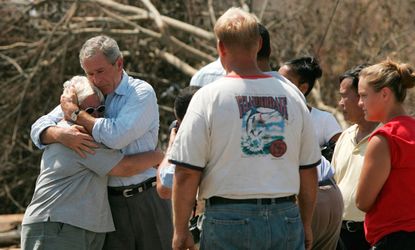 (Image credit: (Win McNamee/Getty Images))
The ObamaCare rollout has been a disaster. It has not, however, been a natural disaster.
Still, with Obama's approval rating dropping to an all-time low, critics are likening the president's bungling of ObamaCare to former President George W. Bush's infamous mishandling of Hurricane Katrina.
ObamaCare's terrible rollout "raises questions about his competence in the same way that the Bush administration's botched response to Hurricane Katrina undermined any semblance of Republican efficiency," wrote the New York Times' Michael D. Shear.
Subscribe to The Week
Escape your echo chamber. Get the facts behind the news, plus analysis from multiple perspectives.
SUBSCRIBE & SAVE
Sign up for The Week's Free Newsletters
From our morning news briefing to a weekly Good News Newsletter, get the best of The Week delivered directly to your inbox.
From our morning news briefing to a weekly Good News Newsletter, get the best of The Week delivered directly to your inbox.
That comparison has been floating around since at least last month, though it gained momentum recently as ObamaCare's problems proved worse than originally imagined, and as the president's approval rating fell to about where Bush's did in the aftermath of Katrina.
"Katrina, which is shorthand for bungled administration policy, matches to the rollout of the website," former Bush official Peter D. Feaver told the Times.
Yes, Katrina has become shorthand for botched policy — but only because it has been shoe-horned into that ill-fitting definition out of sheer laziness or a desire to score political points.
Aside from the fact that Obama and Bush both screwed up big time, the comparison is deeply flawed for a number of reasons. Let's examine them:
ObamaCare is not a hurricane
Hurricane Katrina was one of the deadliest storms in U.S. history, and by far the costliest. Katrina killed more than 1,800 people, displaced 1.5 million more, leveled tens of thousands of homes, and left nearly 80 percent of New Orleans under water.
ObamaCare has, to date, killed zero people and destroyed zero homes, while leaving New Orleans dry. It has, however, caused a political brouhaha by intentionally pushing people toward better insurance plans and having a glitchy website.
Republicans helped doom ObamaCare
Congressional Republicans have played a role in the ObamaCare debacle. They've done everything in their power to undermine the law, repeatedly voting to repeal it, barring efforts to improve it, and withholding funds that would have made implementation smoother.
Primarily Republican-controlled state governments also refused to set up their own exchange websites, putting a higher burden on the federal government. (Remember, states that opted to build their own exchange marketplaces have fared comparatively well.)
The Obama administration absolutely screwed up the ObamaCare rollout. They were either ignorant of or declined to address glaring problems with the law before it went live, and the president has had to implement multiple tweaks and offer a couple of mea culpas to quell outrage over those flaws. But the administration does not bear all the responsibility for the debut's spectacular failure.
Bush's hurricane response was historically abysmal
The federal response to Katrina was, by all accounts, an epic fail.
It took Bush — who was on vacation when the storm hit — two days to start coordinating the federal response. At the height of one of the worst natural disasters in American history, he was busy, among other things, having a photo op with country singer Mark Wills.
Bush's flyover of New Orleans spawned one of the more iconic images of his presidency: Him peeking out the window of Air Force, surveying the destruction from a distance of thousands of feet. Even Bush has since admitted his decision not to touch down was a "huge mistake" that made him appear "detached and uncaring."
Katrina wasn't Bush's only problem
Bush's woeful approval rating during his second term was not solely because he screwed up the Katrina response. He was also still pursuing a war that, at the time, six in ten Americans thought was a terrible idea.
The BP oil spill was already Obama's Katrina, apparently
Both were disasters that took place in the Gulf, which was enough for some to call the oil spill Obama's Katrina moment. Like a Highlander, there can be only one Katrina metaphor per presidency, so Obama can't have a second one now.
Then again, Bush's response to California wildfires was labeled his Katrina's Katrina, which made even less sense. Thanks, journalism.

Continue reading for free
We hope you're enjoying The Week's refreshingly open-minded journalism.
Subscribed to The Week? Register your account with the same email as your subscription.