The ObamaCare ads for millennial women are actually worse than the Brosurance ones
The new ads make women seem dopey, and foster some unsafe sex myths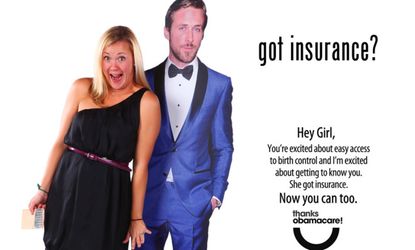 (Image credit: (<a href="http://www.doyougotinsurance.com/index.php?id=18" target="_blank">doyougotinsurance.com</a>))
I am really loath to criticize the new ObamaCare ads targeting millennial women because they have already been beaten down by many conservative commentators and for all the wrong reasons (more on that to come). But these ads are actually worse than the stupid and deceptive Brosurance ones.
The same groups behind those keg stand-loving ObamaCare ads — the Colorado Consumer Health Initiative and ProgressNow Colorado Education — have launched a new series of ads focused on the ladies. But since women obviously don't do keg stands or drink or engage in dangerous physical activities like the dudes, they need to be lured to sign up for ObamaCare with free birth control pills and the prospect of having sex with Ryan Gosling. Because that's all they care about.
The ads getting heat feature two women excited about putting their birth control pills to use — which is fine, except they're made to look exceptionally dopey and irresponsible. One features a woman who is just way too excited given the super-sketchy-looking guy she's with. And what's with this caption?
Subscribe to The Week
Escape your echo chamber. Get the facts behind the news, plus analysis from multiple perspectives.
SUBSCRIBE & SAVE
Sign up for The Week's Free Newsletters
From our morning news briefing to a weekly Good News Newsletter, get the best of The Week delivered directly to your inbox.
From our morning news briefing to a weekly Good News Newsletter, get the best of The Week delivered directly to your inbox.
The other shows a woman who is super giddy to be next to a cardboard cut-out of Ryan Gosling, accompanied by the text "Hey Girl, you're excited about easy access to birth control and I'm excited about getting to know you." Okay, at least that one is a little funny, but the girl still looks like an overgrown teenybopper.
Millennial women are understandably offended by these ads, because they make women who use birth control and have sex look really dumb and prone to silly sexual decisions, which is not particularly empowering, let alone accurate.
It's as if the groups behind the ads are using this approach to purposefully dare conservatives to criticize young women who are sexually active. Elias Isquith at Salon writes that all of their ads "seem designed first and foremost to troll people — especially people who might hate millennials and ObamaCare."
If that was their plan, they certainly succeeded. Reactions from the right have been nothing more than veiled attacks on millennial women, with some referring to the program derisively as "hosurance." Mark Hemingway at The Weekly Standard managed to criticize it with a horrible, badly misguided reference to Sandra Fluke:
Still, the ads themselves aren't much better. They suggest that the only way to get female millennials to care about ObamaCare is through sex, which is exactly what many conservatives have argued.
Also, on a public health note, the ads foster some unsafe sex myths. They make it seem like birth control pills are all that's needed for that free-wheeling sexual adventure. Only one of the two ads mentions condoms, and only in the "fine print" at the bottom, noting that "the pill doesn't protect you from STDs; condoms and common sense do."
Funny that they should say "common sense," because millennial Americans are far worse about using condoms than previous generations. The Centers for Disease Control and Prevention says condom use peaked a decade ago and has since stalled or decreased. Americans between the ages of 15 and 24 contract Chlamydia and gonorrhea at four times the general rate, and people in their early twenties have "the highest reported cases of syphilis and HIV," writes Katy Steinmetz at TIME. Downplaying the importance of condoms was not the smartest move for an ad targeting millennials' health interests.
Overall, there is little to like about ads that stereotype, patronize, and arguably misinform women. Even a Ryan Gosling reference can't make up for that.

Continue reading for free
We hope you're enjoying The Week's refreshingly open-minded journalism.
Subscribed to The Week? Register your account with the same email as your subscription.