How Chris Christie could stumble
Never too early to worry about flap potential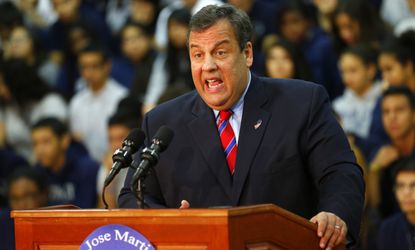 (Image credit: (AP Photo/Rich Schultz))
So now that New Jersey Gov. Chris Christie is well on his way to sainthood, at least among the Republican establishment in Washington, and since it's en vogue to speculate about his intentions two years hence, I thought I'd take a step back and list the potential landmines that Christie must dance around if he wants to be a successful presidential candidate. None of these disqualify him. Some are not exactly "fair." All of them he will have to deal with at some point.
1. The I/Me syndrome. Christie shares this in common with successful presidents — the last two Democratic presidents, in particular. He believes in himself, which is good, and confidence is a sexy trait for voters, but he is self-assured, or self-possessed, to a degree that is already noticeable. While it's true that presidential campaigns are cults of personality, we tend to notice when someone makes it all about himself. Christie's 2012 convention speech, his keynote, was supposed to be a testament to another guy, Mitt Romney. Instead, it was self-referential. Self-reverential, even. Christie disagrees. That he disagrees is evidence itself of a willful blindness to the way his self-possession comes across. Christie will learn, over time, that what he did matters as much (if not more) than how great he is.
2. Blindness. Overconfidence, and an overage of self-piety, will lead Christie to insist that certain potential problems are simply not. (There's no way that, I, Chris Christie, would allow myself to make that mistake.) To admit otherwise is to introduce cognitive dissonance. But as the Romney vet of Christie showed, there are potentially significant questions about his judgment that will dog Christie until he answers them without being defensive. This blindness will serve Christie poorly when it comes to choosing advisers, too. (Rudy Giuliani had his Bernie Kerik. And what was galling about it was how Giuliani simply could not contemplate the idea that Kerik was not up to snuff. Giuliani, after all, had picked him to be part of his inner circle.)
Subscribe to The Week
Escape your echo chamber. Get the facts behind the news, plus analysis from multiple perspectives.
SUBSCRIBE & SAVE
Sign up for The Week's Free Newsletters
From our morning news briefing to a weekly Good News Newsletter, get the best of The Week delivered directly to your inbox.
From our morning news briefing to a weekly Good News Newsletter, get the best of The Week delivered directly to your inbox.
3. Temper. As a human being, Christie is entitled to get angry. As a presidential candidate, he can use his anger productively. A few flashes of uncontrolled annoyance are fine, too, making Christie seem like he responds to events just like you or I would. In a Republican primary, there's also something to be said for lashing out at the media. Newt Gingrich became the frontrunner by tweaking debate moderators. But Christie's flashes of temper tend to be volcanic and even scary.
Christie was not always Christie. Before he became governor, he was more cautious and less viscerally attractive as a candidate. When he tries to speak like a politician, he sounds like a Saturday Night Live parody of an unctuous and empty windbag. When he speaks his mind, his style is as natural to the ears of folks in the Northeast as George W. Bush's unaffected communication style was to Southerners. Bush and Christie are very different communicators, of course, but both offered something different. Bush's two opponents, Al Gore and John Kerry, talked like politicians. Christie, very deliberately, talks like a regular guy. His candor is both true to life and calculated. As much as we like to pretend we aren't influenced by affect, voice, looks, mien or personality, we totally are. It's what the media and voters jointly and with no shame obsess about. Most of us are going to vote for our party's nominee anyway; we deal with the issues even before we assess the candidates. And those of us who are independents like to use issues as a proxy for questioning who people are at their core.
Chris Christie's success or failure will depend in part upon how well he inoculates himself against himself.

Continue reading for free
We hope you're enjoying The Week's refreshingly open-minded journalism.
Subscribed to The Week? Register your account with the same email as your subscription.