Has John Boehner already caved on the debt ceiling?
Multiple reports suggest that the House Speaker won't let the U.S. default on its debt, even if he has to rely on Democrats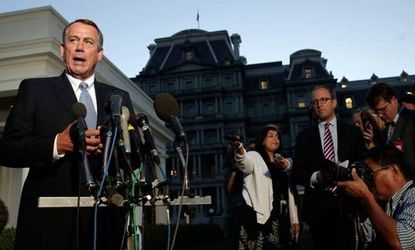 (Image credit: (Win McNamee/Getty Images))
Sign up to our 10 Things You Need to Know Today newsletter
A free daily digest of the biggest news stories of the day - and the best features from our website
Thank you for signing up to TheWeek. You will receive a verification email shortly.
There was a problem. Please refresh the page and try again.
There's been a lot of talk about hostage-taking in this government shutdown. Most of the time, Republicans are cast in the role of the hostage-takers.
Senate Majority Leader Harry Reid (D-Nev.) has pledged that Democrats won't negotiate "with a gun to our head," White House adviser Dan Pfeiffer told CNN that the Obama administration isn't inclined toward "negotiating with people with a bomb strapped to their chest," and even former George W. Bush speechwriter Marc Thiessen got in on the metaphor, lamenting in The Washington Post that the GOP is flunking "Hostage Taking 101" because they "they took the wrong hostage" — the government shutdown instead of the debt ceiling.
On Thursday, several House Republicans told The New York Times and The Washington Post that House Speaker John Boehner (R-Ohio) says privately he won't let the U.S. break through the debt ceiling on October 17, even if he has to rely on Democrats to pass a bill to raise borrowing authority. Not surprisingly, the news prompted headlines like this one from the Lawyers, Guns, & Money blog's Robert Farley: "Boehner: We won't shoot the hostage."
Subscribe to The Week
Escape your echo chamber. Get the facts behind the news, plus analysis from multiple perspectives.
SUBSCRIBE & SAVE
Sign up for The Week's Free Newsletters
From our morning news briefing to a weekly Good News Newsletter, get the best of The Week delivered directly to your inbox.
From our morning news briefing to a weekly Good News Newsletter, get the best of The Week delivered directly to your inbox.
This really is a big deal, if true. Earlier in September, Boehner proposed using the debt limit as leverage to get concessions from Democrats on ObamaCare, but he pulled the plan when his restive Tea Party wing insisted on using the federal budget instead. He followed that strategy, and now the U.S. is in a government shutdown. The threat of a shutdown got no concessions, and if Boehner takes the debt ceiling off the table, that would appear to be game, set, and match.
But is it true? We don't know what Boehner has said exactly, just paraphrases and impressions from named and anonymous lawmakers. But we do have a statement from Boehner's spokesman, Michael Steel.
"The speaker has always been clear that a default would be disastrous for our economy," Steel told The New York Times. "He's also been clear that a 'clean' debt hike cannot pass the House. That's why the president and Senate Democrats should drop their 'no negotiations' stance, and work with us on a plan to raise the debt limit in a responsible way, with spending cuts and reforms to get our economy moving again and create jobs."
In other words, false alarms, says Slate's Matthew Yglesias. The news that Boehner is taking the debt ceiling off the table has "a lot of folks jumping for joy," but "Steele has this right." Boehner's position has been consistent since the debt-limit standoff in 2011: He says that failing to raise the debt ceiling would be a catastrophe he wants to avoid, but "he requires unrelated public policy concessions in order to agree to a measure that he himself says he supports."
This is still "the classic suicide hostage strategy," says Yglesias: "Do what I want or I'll detonate the bomb strapped to my chest."
On the other hand, Boehner is under a lot of pressure to not tank the economy — not only from Democrats but also Republican governors and well-heeled GOP donors. Given those pressures, there's always the possibility that "some random Republican in the House is worried about Boehner caving and concocted this story for reporters in hopes that there'll be an uproar on the right over it and Boehner will get nervous," says Allahpundit at the conservative site Hot Air. But it's more likely that Boehner is waving the white flag:
Doug Mataconis at Outside the Beltway, for one. Boehner could have passed a clean debt limit hike with Democratic support during the 2011 standoff, but didn't, he says. "So, the suggesting that he will do it this time around seems rather fanciful at best." The more likely scenario is that the Democrats come to the bargaining table. "With the public overwhelmingly favoring the idea of the parties negotiating with each other," Mataconis predicts, Democrats won't stick with their "no negotiation" strategy much longer.
Obama won't negotiate over the debt limit, and the reason Boehner is floating this trial balloon is that he and his party are starting to realize that, says Brian Beutler at Salon. That doesn't necessarily mean "Republicans have 'folded' exactly, but they've pulled the curtain back before the stage has been fully set for the final act, and revealed who's being fitted with the red dye packet." They've lost, they know it, and all that's left is finding a way to save face.
Boehner's comments may be "a trial balloon designed to gauge how this will play with conservatives," says Greg Sargent at The Washington Post. But skepticism is certainly warranted — both that Boehner is serious, and that he would even follow through.
At the same time, "the mere fact that Boehner sees a need to telegraph nominal flexibility to begin with could be a key tell," Sargent adds. Wall Street is getting very nervous, and "Boehner seems to see a need to underscore, again, that he will not allow default under any circumstances, and that keeping alive any doubts about this is politically untenable."
This tea-leaf reading of Boehner's intentions is part of a larger issue with the shutdown and debt ceiling crises. Nobody seems to know where the lines are. We're all just following bread crumbs through a dark forest.
Obama and the Democrats have a unified message, and they seem willing to stick to their guns about not negotiating before the debt ceiling is raised. Republicans are a mystery.
There are two possibilities: House Republicans are flailing about without a plan, throwing Hail Maries or just playing Calvinball — a game from the Calvin and Hobbes comic strip where you make up the rules as you go along — or they are brilliantly executing a very secret long-term strategy.
Let's hope we find out which it is before October 17.
Continue reading for free
We hope you're enjoying The Week's refreshingly open-minded journalism.
Subscribed to The Week? Register your account with the same email as your subscription.
Sign up to our 10 Things You Need to Know Today newsletter
A free daily digest of the biggest news stories of the day - and the best features from our website
Peter Weber is a senior editor at TheWeek.com, and has handled the editorial night shift since the website launched in 2008. A graduate of Northwestern University, Peter has worked at Facts on File and The New York Times Magazine. He speaks Spanish and Italian and plays bass and rhythm cello in an Austin rock band. Follow him on Twitter.