Why other countries don't shut down their governments
Except Australia, once, for a few hours in 1975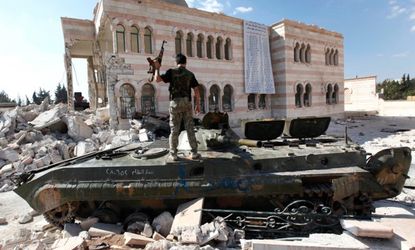 (Image credit: (AP Photo/Hussein Malla))
When U.S. politicians talk about American exceptionalism, it's a positive thing: The United States is singularly stable and prosperous because of its unique political, economic, and cultural history. But the U.S. is peerless in some less desirable ways, too. No other country makes its legislature vote to raise the country's borrowing limit, for example, to pay for spending the legislature has already approved.
And no other country shuts down its government in the same way the U.S. does.
That's not to say that other nations don't have budgetary disagreements and worse. They do. But "for most of the world, a government shutdown is very bad news — the result of revolution, invasion, or disaster," says Anthony Zurcher at BBC News. Seriously, "even in the middle of its ongoing civil war, the Syrian government has continued to pay its bills and workers' wages."
Subscribe to The Week
Escape your echo chamber. Get the facts behind the news, plus analysis from multiple perspectives.
SUBSCRIBE & SAVE
Sign up for The Week's Free Newsletters
From our morning news briefing to a weekly Good News Newsletter, get the best of The Week delivered directly to your inbox.
From our morning news briefing to a weekly Good News Newsletter, get the best of The Week delivered directly to your inbox.
Syria's not alone. "Countries like Pakistan and Colombia have had civil wars, coups, financial crises, even defaults but never a government shutdown," says Erik Voeten at The Washington Post's Monkey Cage blog.
In Belgium, tensions between the Flemish (Dutch speakers) and Walloons (French speakers) got so heated in 2010 and 2011 that the country had no elected government for 589 days — "yet, budgets were passed, government workers were paid, and government services continued to be provided," says Voeten. In fact, Voeten adds, "I cannot think of a single foreign analogy to what is happening in the U.S. today."
So why don't other countries shutter their governments over budgetary disputes?
First, here's why the U.S. government does shut down
You can blame Jimmy Carter for this one. Or the Congress of 1884. Take your pick.
Technically, there have been 18 government shutdowns since 1976, including the current one. Why 1976? In 1974, Congress revised the budget process with the Congressional Budget and Impoundment Act, which set out the modern budgetary calendar, created the Congressional Budget Office, and most germanely, seized budgetary authority away from the White House. The first fruits of that decision were harvested in 1976, in a budget showdown between President Gerald Ford and the Democratic-led Congress.
But the raw number of shutdowns since then don't tell the whole story.
In the six shutdowns before 1980, "if Congress could not pass a budget, federal employees continued operating as usual, even while waiting for a spending bill to pass," says VOA News' Alex Villarreal. "Once it did, that bill would retroactively fund the spending gap."
Such civility officially ended in the last year of Carter's administration, however. In 1980, Attorney General Benjamin Civiletti issued a legal opinion, based on the 1884 Antideficiency Act, that forbade government operations if Congress hadn't agreed to fund them.
Even still, the subsequent eight Reagan-era shutdowns weren't big deals either, mostly due to their brevity. "From 1981 to 1989, shutdowns were relatively common," says VOA News' Villarreal, "but none of them lasted more than three days, and many occurred over a weekend." George H.W. Bush had one four-day shutdown, but the current one is aiming to be more like the long, costly debacle in 1995 and 1996, when Bill Clinton and House Speaker Newt Gingrich faced off over the budget for a total of four weeks.
So why don't other countries have government shutdowns?
There are a few reasons. Parliamentary democracies — like those in Europe and most former British colonies — typically have two chambers, but they don't have separate executive and legislative branches. The prime minister, or head of government, is considered a member of parliament. The party that controls parliament controls the government.
"Conceivably, a parliament could refuse to pass a budget proposed by the prime minister, but such an action would likely trigger a failure of the government and a new election," says BBC News' Zurcher. And even in the rare case where "there is a gap prior to a new government taking office, national services continue to operate."
In non-parliamentary democracies with strong executive branches, like Brazil, the president can simply keep the government running while the legislature gets its act together — sort of like in the U.S., pre-1980. Dictators have it even easier.
Another big factor, says The Washington Post's Voeten, has to with "something we call the 'reversion value' for annual budgets."
There's one last reason for this particular brand of American exceptionalism: The U.S. is the only country that can afford crises like this. "As a matter of substance, constant-shutdown, permanent-emergency governance is so destructive that no other serious country engages in or could tolerate it," says James Fallows at The Atlantic. "The United States can afford it only because we are — still — so rich, with so much margin for waste and error."
There is one exception to the rule, though
Australia. "In 1975, the Australian government shut down because the legislature had failed to fund it, deadlocked by a budgetary squabble," says Max Fisher at The Washington Post. So far this should look familiar to any American who's read the news in the past few days. But the resolution was quite different in Australia. Here's Fisher:
Fisher tells the whole story, and it's pretty amazing. But it wouldn't work in the U.S., he adds, "because we haven't recognized the British monarchy or had a London-appointed governor-general in more than two centuries." Still, "maybe, if we ask nicely, Britain will take us back?"

Continue reading for free
We hope you're enjoying The Week's refreshingly open-minded journalism.
Subscribed to The Week? Register your account with the same email as your subscription.