5 embarrassing times politicians got caught playing around on their gadgets
Sen. John McCain's surreptitious online poker playing is relatively tame by comparison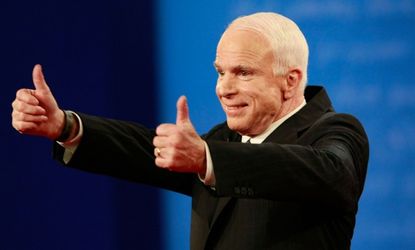 (Image credit: Win McNamee/Getty Images)
1. John McCain caught playing online poker during a Senate hearing on Syria
Sen. John McCain (R-Ariz.) sure does love his iPhone. And eagled-eyed Washington Post photographer Melina Mara caught the senator peering down into his phone's tiny screen during a Senate hearing on Syria yesterday. She has a pretty clear photo of McCain engaged in a casual round of online poker to prove it.
Ever light-hearted, McCain later responded to the poker allegations with a chuckle on Twitter:
Subscribe to The Week
Escape your echo chamber. Get the facts behind the news, plus analysis from multiple perspectives.
SUBSCRIBE & SAVE
Sign up for The Week's Free Newsletters
From our morning news briefing to a weekly Good News Newsletter, get the best of The Week delivered directly to your inbox.
From our morning news briefing to a weekly Good News Newsletter, get the best of The Week delivered directly to your inbox.
Politicians — they get bored just like us! Only they're charged with making weighty decisions concerning things like warfare.
2. The Bulgarian politician caught playing FarmVille
Dimitar Kerin, a city councilman from Bulgaria's second-largest city, was thrown out of a 2010 budget meeting when he wouldn't stop tending to his virtual cows. Soon thereafter, his colleagues narrowly voted to remove him from his seat with a 20-19 vote. On his way out, Kerin attempted to defend his apparent FarmVille addiction, claiming that some of his fellow councilmen had reached Level 46 during those very same debates. He was a mere Level 40.
3. The Italian politician caught browsing for prostitutes
Simeone Di Cagno Abbrescia has quite the resume: Former mayor of Bari in southern Italy, member of Silvio Berlusconi's People of Freedom Party, and more. But in 2011, Abbrescia was photographed looking at something a tad unbecoming during what the Telegraph termed a "crucial no confidence vote" to decide the future of the country's beleaguered culture minister.
What, pray tell, was Abbrescia looking at? Images of sexy women in sexy underwear.
Two of the women in the photos were later identified as Romanian prostitutes. Abbrescia said he stumbled on the listings by accident while catching up on the day's news. "Normally I use my iPad to keep myself informed and to read the news agencies," he said. "But one can end up lingering over these sorts of, let's say, pornographic images, which once in a while appear."
4. The anti-porn Indonesian lawmaker caught looking at porn
An Indonesian politician named Arifinto, who helped pass the country's controversial anti-pornography laws in 2008, was caught, in 2011 watching pornography on his iPad during a hearing. A photojournalist filmed the then-50-year-old member of the Islamic Prosperous Justice Party watching sexually explicit footage for minutes on end, which inevitably led to him vacating his seat.
The anti-porn laws he helped pass previously called for up to 15 years in prison for — including but not limited to — "broadcasting, possessing and storing pornographic material," reported the Associated Press.
While no charges were apparently filed, Arifinto later told The Jakarta Post: "I am a human. I err like anyone else."
5. The Connecticut lawmakers caught playing solitaire
A photo splashed on the front page of newspapers across the country in 2009 highlighted two apparently bored House Democrats wasting time during a lengthy, $37 billion budget debate by playing a fittingly boring card game called solitaire. (Someone else was apparently reading ESPN.) The game-loving pols were later identified as state Rep. Barbara Lambert and state Rep. Jack F. Hennessy.
Soon after the photo emerged, Republican Governor Jodi Rell had a laugh at their expense. "I think if they'd spend less time playing computer games and more time looking for spending cuts, then we would have been out of here a lot sooner," she said.
Lambert was playing spider solitaire, while Hennessy was playing the regular version. Lambert opted to not seek re-election; Hennessy went on to win his race. No word on how they fared in their respective games.

Continue reading for free
We hope you're enjoying The Week's refreshingly open-minded journalism.
Subscribed to The Week? Register your account with the same email as your subscription.