Why Obama won't close Guantanamo
The president's big policy speech was all smoke and mirrors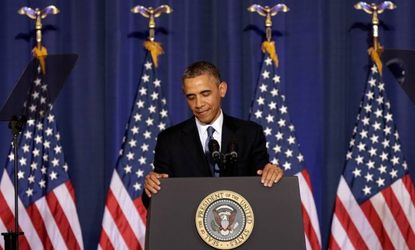 (Image credit: Getty Images/Win McNamee)
Sign up to our 10 Things You Need to Know Today newsletter
A free daily digest of the biggest news stories of the day - and the best features from our website
Thank you for signing up to TheWeek. You will receive a verification email shortly.
There was a problem. Please refresh the page and try again.
On Thursday, President Obama gave a speech that, in the greatest detail to date, laid out the legal rationale for the continued use of lethal force in theaters in which we are not overtly engaged in hostilities. This is a welcome and long overdue development. By refusing to elaborate on the legal justification for a drone program that is frequently employed and highly controversial, the administration has undercut the legitimacy of a perfectly legal and exceptionally important national security program. In that regard, today's speech was of vital importance.
But in another regard, the speech was a wash. I am referring to the president's ill-fated bid to close the U.S. military detention facility based at Guantanamo Bay, Cuba. Perhaps "political" is not the right word to describe his reasons for doing so — but they are certainly not grounded in any sound policy rationale.
The so-called changes are wholly cosmetic and utterly untethered to anything resembling a meaningful policy idea. Just take a look at what the president actually said:
Subscribe to The Week
Escape your echo chamber. Get the facts behind the news, plus analysis from multiple perspectives.
SUBSCRIBE & SAVE
Sign up for The Week's Free Newsletters
From our morning news briefing to a weekly Good News Newsletter, get the best of The Week delivered directly to your inbox.
From our morning news briefing to a weekly Good News Newsletter, get the best of The Week delivered directly to your inbox.
The above paragraph is a testament to the sort of grand obfuscation that can be achieved when lawyers and political speech-writers join forces. Lest you be fooled into thinking that anything proposed or said in that paragraph is new or will make a meaningful difference in current policy, think again. Let's break the paragraph down:
First, the president restates a request he has made many times for Congress to end the restrictions on detainee transfers from Guantanamo. The request is reasonable — the prohibition is idiotic — but not new.
Then, the president blows us away with the creation of a new job: A "senior envoy" who will spend all of his time looking for countries willing to take detainees without torturing them or letting them return to the battlefield. It's a new proposal, I guess, but God bless whoever gets stuck with that job, because he or she is going to quickly find that all of the detainees that could be transferred without any problem were transferred many moons ago (at the end of the Bush administration and the beginning of the Obama administration).
In what also sounds like new policy, but is in fact merely a description of the administration's longstanding procedures, Obama says his administration will transfer detainees to other countries and try terrorists in our courts. But the lawyers inserted "to the greatest extent possible" and "where appropriate" for a reason. Thus qualified, the assertions are meaningless.
The president did announce one new shift. Before, the idea of sending Guantanamo detainees back to Yemen, where the U.S. is busy as hell fighting Al Qaeda in the Arabian Peninsula, was so preposterously laughable that the administration simply ruled it out categorically. Now, administration lawyers will reject the transfers individually. If one detainee is transferred back to Yemen between now and the end of Obama's second term, I would be stunned.
Finally, the president nobly announces that Guantanamo detainees will have access to judicial review. Of course, it's not like the administration has a choice, since the Supreme Court extended habeas review to all Guantanamo detainees when it handed down Boumediene way back in 2008. Every single detainee at Guantanamo has had at least one shot at the habeas apple, and I suspect that the administration's official position will remain that you only get one shot. No one who has already had their habeas petition rejected (pretty much all of them) will get another chance to challenge their detention again, unless some court decides to go way out on a limb and redefine a whole lot of law.
So where does that leave us? When you boil it down, the president's radical policy proposal is basically to move the prison facility to the States. Other than that, it's the same 166 detainees, and the same policies for evaluating, adjudicating, and holding them. I repeat, not a single detainee who is facing indefinite preventative detention will see his situation change if we move Gitmo to Denver or the Baha Desert or wherever. That's because the administration quite rightly accepts that some detainees are simply too dangerous to let go, ever.
Nor will any detainee slotted to face a military tribunal today be moved to the civil system if the government closes Guantanamo. All that will change is the detainee's home address.
Maybe the President is cynical enough to believe that if he just moves the facility, none of our enemies will notice that we are still using preventative detention — but I suspect they are not that stupid. The more aggressive members of the human rights community who reject the applicability of the law of armed conflict, or do not believe that it justifies indefinite detention, will not be fooled by the move.
To govern is to choose, and the president is choosing to expend his rapidly diminishing political capital on a wholly superficial change that will have no discernable impact on U.S. detainee policy. What a waste of a choice.
Continue reading for free
We hope you're enjoying The Week's refreshingly open-minded journalism.
Subscribed to The Week? Register your account with the same email as your subscription.
Sign up to our 10 Things You Need to Know Today newsletter
A free daily digest of the biggest news stories of the day - and the best features from our website
Jeb Golinkin is an attorney from Houston, Texas. You can follow him on twitter @jgolinkin.