Will Guantanamo ever be closed?
President Obama said Tuesday he's looking for new ways to close the prison camp, with or without Congress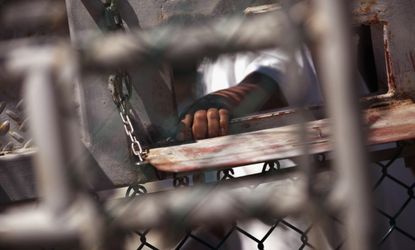 (Image credit: John Moore/Getty Images)
When President Obama fielded a question at his Tuesday press conference on the hunger strikes at the U.S. prison camp at Guantanamo Bay, Cuba, "a lot of people listening or reading the transcript had to do either a major memory retrieval or some quick research," says Ed Kilgore at Washington Monthly. "Gitmo? Oh yeah, Gitmo."
Here's a brief refresher: Obama campaigned on closing Guantanamo in 2008, and one of his first acts as president was an executive order to close the prison camp within a year. "To do so, however, detainees must be transferred or released," says the National Security Network. But "after an initial round of transfers, other nations proved reluctant to accept detainees unless some were accepted by the U.S. itself for trial or resettlement." Congress stepped in and blocked Obama from transferring any prisoners to U.S. soil.
On Tuesday, Obama mentioned that "Congress determined that they would not let us close it and despite the fact that there are a number of the folks who are currently in Guantanamo who the courts have said could be returned to their country of origin or potentially a third country." He then pledged a renewed push to close the Cuban facility:
Subscribe to The Week
Escape your echo chamber. Get the facts behind the news, plus analysis from multiple perspectives.
SUBSCRIBE & SAVE
Sign up for The Week's Free Newsletters
From our morning news briefing to a weekly Good News Newsletter, get the best of The Week delivered directly to your inbox.
From our morning news briefing to a weekly Good News Newsletter, get the best of The Week delivered directly to your inbox.
Obama "was eloquent Tuesday in describing why the situation at the Guantanamo Bay prison is 'unsustainable,'" says The Washington Post in an editorial. And "he was justified in blaming Congress for frustrating his effort to close the facility." But at the same time, Obama was "disingenuous in failing to acknowledge that his own actions — or his own inaction — have substantially contributed" to Gitmo staying open, the editorial states.
Of the 166 prisoners still at Guantanamo, 86 were cleared for transfer to their home countries three years ago, but Obama himself placed a moratorium on repatriating detainees to Yemen — 56 are green-lighted — after an underwear bombing attempt in late 2010. And his State Department in January reassigned the top official in charge of finding other countries to take detainees; Obama has yet to refill the position.
"For the prison to close, lawmakers would have to lift a ban on transferring prisoners to the United States," says the Post editorial. But the president can do more than he's doing even without Congress, and "what is needed above all is genuine political commitment from Mr. Obama.... That resistance may be, as he argued yesterday, unreasonable; but it won't be overcome if the president doesn't make it a priority."
"Obama does need Congress' help to close Gitmo," says Marcy Wheeler at Emptywheel. He also needs Congress to "to try the actual terrorists in civilian courts," rather than the failing military tribunals. "But most of the detainees at Gitmo won't ever be tried in civilian courts, either because they were tortured so badly they couldn't be tried without also admitting we tortured them (and, presumably, try the torturers), or because we don't have a case against them," says Wheeler.
The amount that Obama is doing "in terms of work to close the prison or further whittle down its population, appears to be: Not much," says Politico's Josh Gerstein. But that doesn't mean that the clock isn't ticking. "Some advocates said that, in addition to the hunger strike, there's another factor that may be driving Obama to pick up the issue again: Legal questions about whether an end to the war in Afghanistan will undercut the basis for holding any of the Guantanamo prisoners without trial."
That was the opinion of now-former Pentagon General Counsel Jeh Johnson, and some analysts think the warning will spur Obama to action. "Assuming the president wants to keep his word and pull the troops out of Afghanistan by the end of 2014, that thread is beginning to wear a little thin," Morris Davis, a former chief military prosecutor at Gitmo, tells Politico. "It seems now that with Obama in his second term and no re-election to worry about, Guantanamo may not be back on the front burner but is at least back on the stove."

Continue reading for free
We hope you're enjoying The Week's refreshingly open-minded journalism.
Subscribed to The Week? Register your account with the same email as your subscription.