Immigration reform: The Senate and the House are on a collision course
A House plan to address immigration piecemeal could threaten the Senate's bipartisan efforts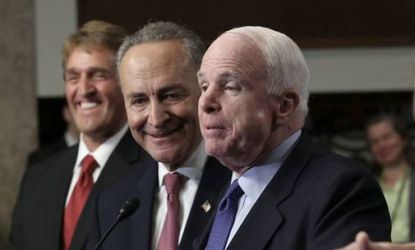 (Image credit: Getty Images/Alex Wong)
One week after a bipartisan group of senators introduced a broad immigration reform bill, members of that group predicted today that the bill could soon sail through the Senate. But at the same time, House Republicans indicated they were prepared to take up the issue on their own — and in a way that directly contradicts the Senate's efforts.
The divergence sets Congress on a path toward a major clash between the two chambers over the proper ways to address immigration reform, both in terms of policy and procedure. And it has some warning that the disparity could wind up dooming immigration reform entirely in this legislative session.
On Thursday, Gang of Eight members Sens. John McCain (R-Ariz.) and Chuck Schumer (D-N.Y.) told reporters they were optimistic their bill could garner 70 yea votes, a majority so large it would, they hope, persuade the House to pass it as well. McCain said that prospect was "very doable," in part because the tense political climate in Washington has thawed since gun-control legislation went down earlier this month.
Subscribe to The Week
Escape your echo chamber. Get the facts behind the news, plus analysis from multiple perspectives.
SUBSCRIBE & SAVE
Sign up for The Week's Free Newsletters
From our morning news briefing to a weekly Good News Newsletter, get the best of The Week delivered directly to your inbox.
From our morning news briefing to a weekly Good News Newsletter, get the best of The Week delivered directly to your inbox.
"There's a different mood in the Senate," Schumer added.
That may be true in the Senate, but the House is a different matter. Shortly after McCain and Schumer's presser, House Judiciary Committee Chairman Bob Goodlatte (R-Va.) announced that the Republican-led House would this week begin considering piecemeal immigration bills — even though the Gang of Eight has specifically said such efforts wouldn't work and could ultimately harm the chances of any deal.
"We can't do individual bills because the problem is people say, 'What about me?'" Schumer said. "The best way to pass immigration legislation is actually a comprehensive bill because that can achieve more balance and everybody can get much, but not all, of what they want."
Schumer and others' concern is that, should the bill be broken into pieces, some of the larger ones could be lost, chief among them the so-called pathway to citizenship. As a comprehensive bill, the legislation can include items both parties like and dislike; the 844-page Senate bill, for example, includes tougher border security for the GOP, and a citizenship provision for Democrats. But when done in parts, many of the individual chunks may prove too divisive to pass both chambers of Congress, let alone one.
McCain reiterated that concern Thursday and threw in a challenge to House Republicans, saying, "There's no way of getting this job done without giving people a path to citizenship."
"McCain made things pretty clear this morning: There are only two paths forward," says the Washington Post's Greg Sargent. "The first is immigration reform with a path to citizenship. The second is failure."
Goodlatte has said he may be open to a introducing a bill granting some kind of legal status to undocumented workers, though there is no guarantee he'll actually do so. And even should the House consider such a bill, many House Republicans remain deeply skeptical about a pathway to citizenship, likening it to outright amnesty for scofflaws. Several prominent conservatives have publicly threatened to thwart legislation one way or another, possibly by attaching poison pill amendments to larger immigration bills.
That's why the Gang of Eight is so focused on assembling not just the 60 votes needed to advance their legislation, but an overwhelming super-majority. The bigger the margin of victory, the more pressure House lawmakers will feel to adopt the bill, pathway and all.

Continue reading for free
We hope you're enjoying The Week's refreshingly open-minded journalism.
Subscribed to The Week? Register your account with the same email as your subscription.