The Tea Party has sold out
A grassroots movement has been turned into a money-making political brand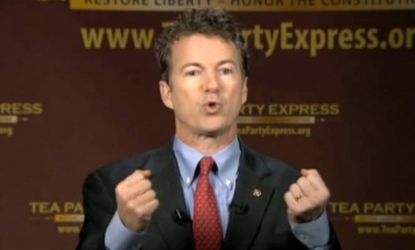 (Image credit: Screen shot)
Sign up to our 10 Things You Need to Know Today newsletter
A free daily digest of the biggest news stories of the day - and the best features from our website
Thank you for signing up to TheWeek. You will receive a verification email shortly.
There was a problem. Please refresh the page and try again.
On Wednesday, I had the pleasure of joining the lovely Abby Huntsman on HuffPost Live to discuss Sen. Rand Paul's Tea Party response to the State of the Union address. While the discussion was lively and touched on several issues, Abby's questions generally focused on a common theme: Why the hell did the Tea Party feel the need to give an address separate from the GOP response, which was delivered by Sen. Marco Rubio? I wondered the same thing when I read a transcript of Paul's remarks — then I actually saw footage of Paul giving the speech, and the answer was staring me right in the face. Literally.
Obama spoke in front of Joe Biden, Speaker John Boehner, and an American flag. Rubio chose a window in the speaker's conference room as the backdrop for his speech. Paul could have chosen from a wide variety of settings. How about the Jefferson Memorial? Or the desk in his Senate office building, flanked by two American flags? Instead, Paul delivered his address in front of a giant advertisement: "Restore Liberty — Honor the Constitution….WWW.TEAPARTYEXPRESS.ORG." If Paul managed the Boston Red Sox and was giving a postgame press conference, the backdrop advertisement would not have gotten my attention. But Paul, in theory, was supposed to be giving a policy speech to the entire country, not raising money for a PAC.
Which brings us back to the original question: Why did Paul even speak on Tuesday night? It is certainly not because Paul represents a movement wholly apart from the Republican Party. While the Tea Party faithful would have you believe they are not really Republicans, the reality is that they simply represent the most extreme, intransigent, and radical members of the broader conservative movement. Paul's speech added almost nothing to Rubio's comments. All Paul did was insist that conservative principles be applied in their most extreme form. For instance, he proposed a balanced budget amendment, which is an idea that is unworkable, quasi-crazy, and fiscally irresponsible. Most importantly, it has zero chance of ever passing.
Subscribe to The Week
Escape your echo chamber. Get the facts behind the news, plus analysis from multiple perspectives.
SUBSCRIBE & SAVE
Sign up for The Week's Free Newsletters
From our morning news briefing to a weekly Good News Newsletter, get the best of The Week delivered directly to your inbox.
From our morning news briefing to a weekly Good News Newsletter, get the best of The Week delivered directly to your inbox.
Paul also complained about foreign aid, but he largely avoided the foreign policy debate, probably because many Tea Partiers would be unnerved to find out that their chosen spokesman has a dangerously narrow understanding of the proper role of American foreign policy. (Aside from attacking foreign aid, Paul's only hint at the true radicalism of his isolationist tendencies came when he observed that "it is time Republicans realize that military spending is not immune to waste and fraud," which is not exactly a statement any reasonable person could dispute). But beyond those small differences, Paul's address was basically a more extreme explication of the conservative belief in the superiority of low-tax, low-spend policies.
In other words, Paul's speech was only remotely rooted in ideological differences. His real reason for speaking has everything to do with the advertisement he spoke in front of. While the Tea Party may have begun as a genuine grassroots movement, those days have long since passed. Any natural momentum has subsequently been appropriated by a new class of political insiders, be they candidates (now members of Congress) or strategists who run PACs. All of them owe their power to the existence of this thing called the Tea Party. But now they have to maintain the illusion that the Tea Party is totally distinct from the GOP, and stands for meaningfully different values. Otherwise, those candidates may no longer seem quite so special, and those PACs may be viewed as the latest in a long line of conservative money-gathering operations.
And what was in it for Paul? He didn't speak because he felt that Rubio, another Tea Party favorite, did not represent the views of people like him. He spoke because being the de facto leader of the Tea Party (at least for a night) means that Rand Paul is the spokesperson for a national political movement, rather than just the junior senator from Kentucky. Furthermore, the Tea Party Express wants to continue to emphasize how unique Paul's extremism is, because the people who run the group have real power in Washington right now — power they would not have if Paul were simply understood as occupying the far right of the political spectrum (the right's equivalent of self-avowed socialist Sen. Bernie Sanders of Vermont).
This is a bad omen for government and the Republican Party. Paul cannot compromise — no matter how compelling the deal, or how much it would advance the ball towards Paul's ultimate goals — because cutting a deal would make him just another politician. No, he has to be so extreme that he gets noticed. The same goes for organizations like Tea Party Express: They need to raise money and back crazy candidates irrespective of whether they can actually win a primary election, because the fear it inspires within GOP circles will perpetuate the myth that the Tea Party is a movement worth taking seriously.
For all of those people who maintain that the Tea Party is not run by elites, the giant advertisement you saw behind Paul says it all. He is beholden to the Tea Party money machine, while delivering a speech that did nothing to advance any novel policy arguments of consequence. It should be a painful reminder that your own leaders have ridden your passion to power — and now they are busy erecting the walls that will ensure they never have to surrender it.
Jeb Golinkin is a 3L at the University of Texas School of Law and writes about U.S. politics and policy for TheWeek.com. From 2008 to 2011, he served as an editor and reporter for Frum Forum/New Majority. Follow him on Twitter (@JGolinkin) and email him at jgolinkin@gmail.com.
Continue reading for free
We hope you're enjoying The Week's refreshingly open-minded journalism.
Subscribed to The Week? Register your account with the same email as your subscription.
Sign up to our 10 Things You Need to Know Today newsletter
A free daily digest of the biggest news stories of the day - and the best features from our website
Jeb Golinkin is an attorney from Houston, Texas. You can follow him on twitter @jgolinkin.