Why the House GOP's clever 'No Budget, No Pay' ploy is pointless
Republicans have found a way to pressure Senate Democrats into finally passing a budget. So what?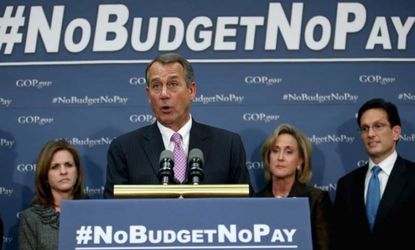 (Image credit: Chip Somodevilla/Getty Images)
The sugar coating for many of the House Republicans who voted Wednesday, for all intents and purposes, to raise the debt ceiling was a provision they inserted to pressure the Democrat-controlled Senate to pass a budget resolution, something it hasn't done since 2009. The "No Budget, No Pay" measure, if it clears the Senate, will withhold the paychecks of all lawmakers in whichever chamber of Congress doesn't pass a budget by April 15, as required under the 1974 Congressional Budget and Impoundment Control Act. "All told, the Senate Democrats received a total of $46 million in compensation since they last passed a budget," calculates Joel Gehrke at The Washington Examiner. If you accept that 40 cents of every dollar spent by the government since 2009 was borrowed, that means about $19 million of that sum was added to the national debt "to pay the Senate Democrats who refused to pass the budget."
"'No Budget, No Pay' is a no-brainer," says John Avlon at CNN. For most of us, "if you don't get the job done at work, you won't get paid." Congress needs play by that rule, too. Budget resolutions aren't binding, but "without a budget, it becomes difficult for government to make long-term spending decisions that affect us all."
It's easy to explain why Senate Democrats haven't passed a budget in almost four years, though, says Rachel Weiner at The Washington Post: They don't have to. Spending is determined by appropriations bills, not the budget, and while the upper chamber is "legally required to pass a budget, there is no penalty for not doing so." But it's also pretty clear why House Republicans — who have passed controversial budget resolutions — want to pressure the Senate into action.
Subscribe to The Week
Escape your echo chamber. Get the facts behind the news, plus analysis from multiple perspectives.
SUBSCRIBE & SAVE
Sign up for The Week's Free Newsletters
From our morning news briefing to a weekly Good News Newsletter, get the best of The Week delivered directly to your inbox.
From our morning news briefing to a weekly Good News Newsletter, get the best of The Week delivered directly to your inbox.
Or as Rep. Trey Gowdy (R-S.C.) tells The New York Times, House Republicans "have a budget that's described as draconian, that decimates this program or that. They have a phrase, 'balanced approach'.... I'm tired of debating against a phrase." Now, the Democrats have to put their mouths where their money is. "It's annoying that we have to trade a short-term extension of the debt ceiling in exchange for getting the Democrats to do their jobs," says Moe Lane at RedState. "Always having to be the adults in the room gets old, fast," but "tactically speaking, the GOP won this one, fair and square."
"Senate Democrats deserve scorn aplenty for not passing a budget resolution," says Jon Healy at The Los Angeles Times. But "this little dagger" from the House GOP seems pretty pointless.
Besides, while there's no question that for most of us, losing a $174,000 annual paycheck would hurt, as Alex Pareene points out at Salon, it's doubtful it would "scare all the millionaires in the Senate into action." And "No Budget, No Pay" is misleading, since it wouldn't actually cut the pay of anyone — the 27th Amendment forbids any law "varying the compensation for the services of Senators and Representatives" to "take effect, until an election of Representatives shall have intervened." To get around that, the bill would put senators' salaries into escrow until they pass a budget, or the 113th Congress ends in 2015. "The only way to enforce a No Pay rule would be to pass it now and make it apply to the 114th Congress," says David Weigel at Slate.
The final flaw in the GOP's otherwise clever plan: Senate Democrats are actually eager to pass a budget this year, explain's The Washington Post's Weiner:

Continue reading for free
We hope you're enjoying The Week's refreshingly open-minded journalism.
Subscribed to The Week? Register your account with the same email as your subscription.